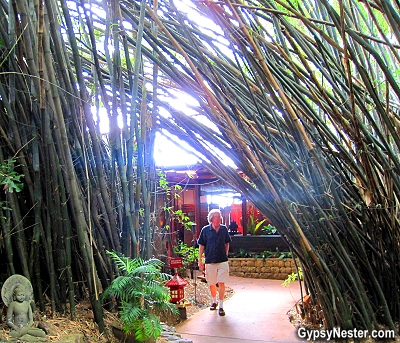 The zen vibes were pulsating as we walked through the Asian-style gardens on the grounds of Spirit House Cooking School before our class began.
Flamboyant flora surrounding a picturesque pond, and signs warning us about the care and not feeding of water dragons, gave us the feeling that we had somehow left Australia for a moment.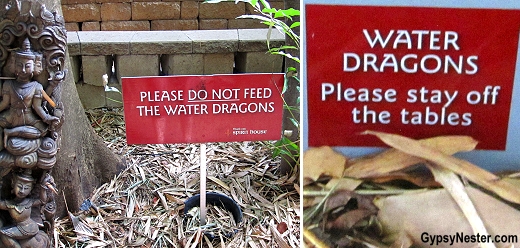 Our lesson, Taste of Vietnam, wouldn't change that impression much, as we learned some of the finer points of Southeast Asian cuisine.
The geographic proximity of Southeast Asia has influenced the culinary scene of Australia and most restaurants feature a chef's take on the fare.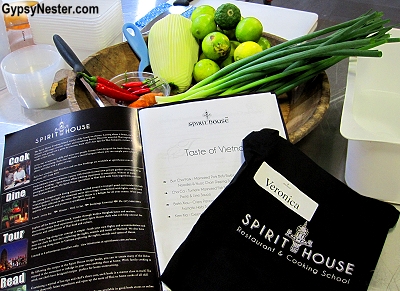 After a little safety talk about the use of super sharp knives, we began to prep by slicing, dicing, and chopping the herbs, vegetables, and meats we would be using in our recipes.
Chef Kelly guided us through the process step by step as we prepared our dishes.
Grilled pork belly (pork belly is HUGE in Queensland and it's freaking delicious) known as Bun Cha Pork; Cha Ca fish fillets served with vermicelli noodles and Nước chấm dipping sauce; Bahn Xiou, a type of savory pancakes with pork and prawns; and finally, a dessert called Kem Xio, which is sweet, sticky rice with ice cream on top.
With the exception of the dessert, fish sauce is a staple ingredient. While we were familiar with it, we had never used it before.
Another element that was new to us was shrimp paste, which consists of fermented ground shrimp and salt. Mighty strong stuff, a little dab'll do ya!
The end result was an amazing meal, and a few new wrinkles on the foodie side of our brains.
With our horizons, minds, and palates expanded, we felt ready to move on and burn off some calories on our next Australian adventure… perhaps we should jump out of a plane?
Do you love cooking classes like we do? Click here to see our classes from around the world!
David & Veronica, GypsyNester.com
Visit the Spirit House Website
Delve Deeper:
Visit the Spirit House Website
See where we stayed! Spicers Tamarind Retreat
See more Glasshouse Gourmet Snails!
Watch us skydive above beautiful Queensland – yikes!
Follow us into the Australian Hinterland and kayak the Noosa Everglades!
Go for the Gold Coast of Queensland and watch us feed crocs!
Bucket list check! We snorkeled the Great Barrier Reef!
Find out how we saw all of the bizarre Australian animals in one place!
Let Us Introdoos-ya to Noosa and Spread a Little Sunshine Coast
Huge thanks to Tourism and Events Queensland for providing this adventure! As always, all opinions are our own.
Click here to see all of our adventures in Queensland!