How many states have you been to in one day? Oh, and by the way, airplanes don't count.
I can remember a few times when driving on Interstate 81 that we passed through Pennsylvania, Maryland, West Virginia, and Virginia in the span of about fifty miles.
And in New England it is certainly possible to drive through four or five states in a day. But out West, where the states are big, it is hard to get into more than two or three on any given day. Heck, I recall several times when I drove all day in the same state… Montana and Texas come to mind.
So, a place where you can stand in four states all at the very same time is pretty unique. Yes, it is actually possible to set foot in Utah, Colorado, Arizona, and New Mexico all at once.
This was my third time accomplishing this trick. Once as a small child, then again as a young parent with our kids, and now as an aging wanderer. It has been cool each time. However, now that we have the wisdom of age, we have come to realize that the nearby attractions may be even cooler than the actual meeting of these four states.
A quick rundown of some of these surrounding sites shows just how intriguing this area truly is. Let's take a look:
Mesa Verde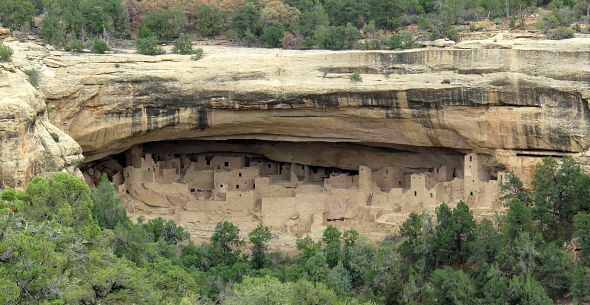 This is likely the best known of the region's many native American ruins and holds the title as the largest archaeological preserve in the United States. As one of the five National Parks and eighteen National Monuments declared by President Theodore Roosevelt, Mesa Verde is one of the oldest in our National Parks system. Of course, back in 1906 this was some mighty remote territory, and still is to some degree, so be ready for some winding two lane roads.
As a kid we were allowed to climb around in the ruins, and even later with our kids that was allowed. Now things are much more supervised and visits into the dwellings are only allowed as part of a tour.
Unfortunately, even that wasn't available on our recent trip because the road to the main portion of the ruins was washed out and impassable. We did get to see the Cliff Palace, largest of the dwellings, from across the canyon. As a small bonus, a ranger pointed out that because of the washout we got to take photos of the famous structure with no people in them.
Not quite a fair trade but we decided we'd count it as a plus anyway.
(Check back here soon because we will explore several of the area's native sites in depth over the coming weeks.)
Shiprock
This may be one of New Mexico's most iconic landmarks, but to us we just couldn't quite see the name appearing in the stone. Maybe we just didn't get it from the correct angle but we never could quite make out a ship. Looks more like a cathedral to us, but then there is already a Church Rock just across the border in Arizona.
Later we learned that the Navajo name for it is Tsé Bit' A'í, which means winged rock. Now that seems like a much better description to us.
Either way, this volcanic remnant towers some fifteen hundred feet above the desert and can be seen for miles and miles in every direction.
The Durango & Silverton Narrow Gauge Railroad
Opened in 1882 as a part of the Denver and Rio Grande Western Railroad, this is another of the 4 Corners attractions that I visited as a kid. No, not back in the eighteen-hundreds, more like the nineteen-sixties. I'm old, but not THAT old.
I am happy to report that it hasn't changed all that much over those past fifty some years. The vintage steam locomotives, rolling stock, depot, and even the old roundhouse are all still in service. Part of the roundhouse is now a museum, which is very much worth a visit.
While talking to one of the engineers, we found out that one of the biggest changes is that the old steam engines have been refitted to burn fuel oil instead of coal. This makes them cleaner, and almost eliminates the fire danger from sparks. An added bonus… no more cinders in your eyes!
Monument Valley
Because it has been used as the setting for so many movies, it can truthfully be said that for many people this valley is the first thing that comes to mind when they think of the American West.
John Wayne and Henry Fonda practically lived here through the nineteen-forties while filming some of John Ford's most famous Westerns. A little later, Victor Mature, Walter Brennan, and a very young Natalie Wood joined in.
Then Charles Bronson and Jason Robards came to play cowboys, and finally Johnny Depp stopped by as Tonto in 2013.
Yet even with all of those classic films shot here, perhaps the most famous scene of all is when Tom Hanks, as Forrest Gump, while running with the iconic rock formations we are all now so familiar with as his backdrop, suddenly stopped right in the middle of US Highway 163.
Honorable mention:
These five National Monuments are all within about an hour's drive from the 4 Corners and, even though we have not been to them yet, we have investigated and they are certainly worth a visit.
Canyons of the Ancients National Monument, Canyon de Chelly National Monument, Chimney Rock National Monument, Hovenweep National Monument, and Navajo National Monument.
Looks like a good reason to go back for another visit. Hope it doesn't take another fifty years!
David & Veronica, GypsyNester.com