News reports of The Windy City buried under two feet of snow made us think back to sunnier days last summer when we blazed through Chicago on a whirlwind tour.
The City On The Lake may be third largest in the country, but we can't think of another town that comes close in the nickname department, or for so many fun things to do!
Chi-town is most famously known as Windy, but supposedly that moniker is not harkened from the breezes blowing off Lake Michigan, but from the hot air billowing out of the mouths of politicians.
Another Chicago handle, The Second City, is often mistakenly referred to its population.
The name actually stems from the rebuilding of the city after the famous fire. But whatever you call it, Hog Butcher for the World, City of Big Shoulders, The City That Works, there was a whole lot to see, so we jumped right in.
The Field Museum is located downtown in the Museum Campus Chicago along the lake shore, a good place to start.
Over twenty-one million specimens are in the museum's collection, but only a fraction of those are on display at any given time.
One prized possession always out to greet visitors in the main hall is Sue, the largest and most complete Tyrannosaurus skeleton anywhere.
Sue is one big girl, covering forty-two feet from head to tail, still looking good for her age at sixty-seven million years young.
The Chicago skyline boasts four of the six tallest buildings in America.
The Willis Tower, better known as The Sears Tower, is the nation's highest skyscraper, joined by The Trump Tower at second, The Aon Center stands in fifth place and The John Hancock Center sixth.
The Chicago River runs through the heart of downtown and there were several boats willing to take us out on a guided architectural tour.
A relaxing cruise and the scoop on America's tallest downtown, heck yeah.
Beats hoofin' it on the streets on a busy weekday, dodging businessmen and cars. Veronica's father, a native Chicagoan, had warned us to watch out for locals behind the steering wheel – he's convinced they aim at pedestrians for sport.
The sky-piercing giants weren't the only buildings that caught our interest. The enormous Merchandise Mart stands only eighteen stories high, but it is one of largest buildings in the world.
With over four million square feet of floor space, its so big it has its own ZIP code.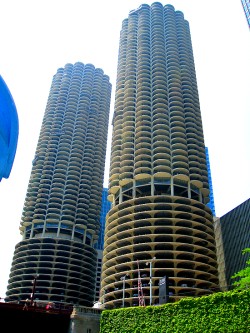 The Marina City complex also stood out on the north side of the river as we drifted by. The round residential towers look like something out of The Jetsons.
Built in the early sixties, these twin high-rises were billed as a city within a city that included a theater, gym, swimming pool, ice rink, bowling alley, stores, restaurants and the namesake marina.
The first nineteen floors are an exposed spiral parking lot with forty two floors of modern living on top of that.
We might have caught a glimpse of George walking Astro on a conveyor belt off a fifty-ninth floor balcony.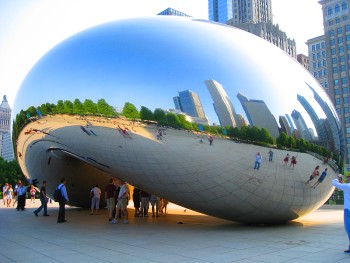 Back on dry land, we headed for Millennium Park to see Cloud Gate.
This amazing piece of interactive art has been nicknamed "The Bean" by folks of Chicagoland for its kidney-like shape.
But this is no ordinary legume.
At over forty feet high and sixty feet long, that's one big bean.
One hundred and ten tons of pure polished steel.
And when we say polished, we mean polished to a blinding gleam. The Cloud Gate has a buffed mirror-like surface that is completely irresistible.
We, and every other person that sees it, had to go up to it, stare at it, and especially touch it. The underside arches up in the middle, just enough to walk underneath, so we proceeded into the belly of the bean.
Cloud Gate's designer / artist, Anish Kapoor, installed a treat for those of us daring enough to venture directly under the giant pod, a concave indention in the surface that makes reflections go all-fun-house-mirror.
The Bean's belly button is called the Omphalos, Greek for navel. It's mesmerizing, and impossible to keep from poking a finger into, but all of that touching means a crazy amount of fingerprints.
To make sure everyone gets a clear reflection, the bottom part of the bean is wiped down with window cleaner twice a day. Twice a year the entire sculpture gets a thorough cleaning with detergent.
The design is meant to still be reflecting a thousand years from now. Then we really would see George Jetson, probably sticking his finger in the Omphalos.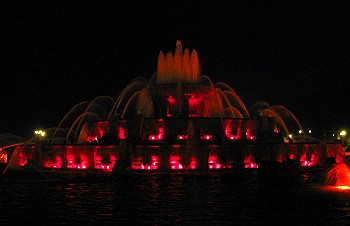 Buckingham Fountain dominates Grant Park, known as Chicago's front yard.
The fountain has been blasting out its million and a half gallon capacity since 1927.
Like a Midwestern Old Faithful, every hour on the hour one-hundred-ninety-three jets shoot water skyward up to one-hundred-fifty feet high.
We elected to wait until dark to catch the show, since colored lights are added to the extravaganza after sundown, and made it just in time for the evening's final fluid fling at ten o'clock.
While we were walking up we heard music start to build, and then gushing water, bathed in bright red lights, leapt into the air. The spectacle went on for twenty minutes, so we had plenty of time to walk around the fountain and check out every angle.
Later we learned that when Route 66 was built from Chicago to Los Angeles, Buckingham Fountain was designated as the official starting point.
No doubt a lot of kicks to be gotten along the way to the end at the Santa Monica Pier but it seems we found more than our share right there in The Windy City.
Our time in Second City was second-to-none, and on our second day we attended a Cubs game.
The Cubs gifted us with a winning game and the crowd was joyous. Maybe a bit too joyous, as we were making wagers on which fellow passenger was going to hurl up his celebratory beer on the EL taking us back to our hotel.
We were packed in pretty tight, and that wouldn't have been a pretty sight.
Luckily no one won that wager, making it even easier for us to agree with Francis Albert Sinatra when he called Chicago "My Kind of Town."
David & Veronica, GypsyNester.com
See all of our adventures in Illinois!
This post may contain sponsored links.