Up until this year's Asian adventure our entire understanding of Buddha consisted of cheesy gold statues of a smiling, pot-bellied guy we'd seen in some restaurants. We weren't exactly enlightened.
Perhaps we could clear up our conceptions a bit with a visit to The Tian Tan Buddha. He sits atop a hill on the outskirts of Hong Kong.
Normally a train, and then a ski-lift-type gondola suspended across three and a half miles of mountains, valleys, and lakes would take us up to Ngong Ping.
But when we got off the train the cable car was out of commission, so we had to take a bus. No doubt less spectacular, but still quite an experience on the narrow, winding mountain roads.
After a ride that gave us a pretty good idea of how a pinball feels, we arrived and entered through the main gate.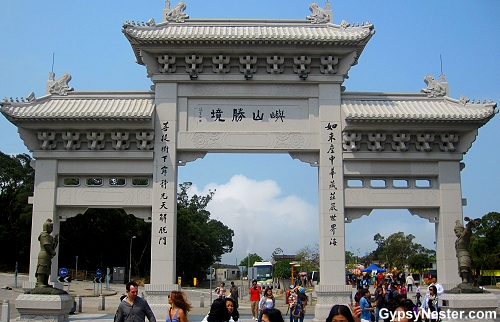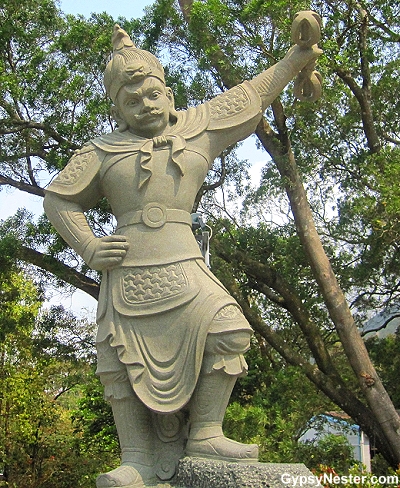 The ornate archway led to a path flanked by The Twelve Divine Generals, representing protective deities that correspond to the animals in the Chinese zodiac.
See all of these spectacular Divine Generals – they have so much personality!
At the end of the walkway we reached a circular area perfectly aligned with stairs leading up Muyu Mountain to The Tian Tan Buddha.
He loomed as we climbed the 240 steps up, and at the top we could see for miles.
We also got a close up view of The Buddha, and The Offering of the Six Devas, six smaller statues making an offering of flowers, a lamp, incense, ointment, fruit, and music.
The offerings represent the virtues of charity, morality, patience, zeal, meditation, and wisdom.
From The Devas' point of view we could certainly see why this is commonly called Big Buddha. He is really, really big, but since buddhas come sitting, standing, or reclining, it is difficult to judge just which one is the largest, still The Tian Tan is one of the biggest in the world.
He stands, oops, I mean sits, one hundred and twelve feet high, and weighs in at a slender 280 tons of bronze.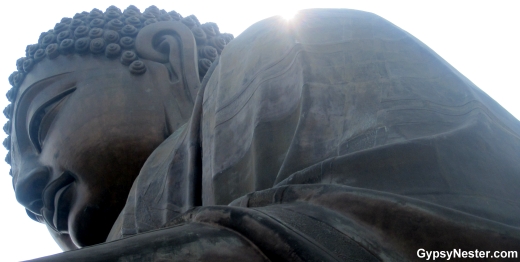 Believe it or not, we do mean slender. The Tian Tan looks nothing like those paunchy plastic cash register buddhas, he's quite svelte. That's because this is a depiction of the Gautama Buddha.
The little guy that we were familiar with is an entirely different fellow. Those little statues are of Hotei, the laughing buddha (small b), also called Budai, and have become associated with good luck and prosperity.
As we learned about these differences we became more and more aware of our glaring lack of knowledge, so in the hope of gaining some enlightenment we felt we should see the adjacent Po Lin (Precious Lotus) Monastery.
The monastery was founded by three monks back when this was a secluded hilltop, in 1906, and was known as The Big Hut.
It is much more than a hut these days, with several large halls housing dozens of statues.
On our way to the Da Xiong Bao Dian (Great Hall of Treasure), the first thing we encountered was a cloud of thick smoke.
Fortunately there wasn't a fire, it was incense.
Worshipers were burning massive amounts of the stuff, some holding the sticks, and others placing them in racks or sand.
It was our understanding that this is meant to purify the surroundings, and bring forth an assembly of buddhas to hear the prayers.
We could not discern the significance of the various sizes of the incense sticks though. They ranged from the normal little hippie-style sticks we are used to seeing, to veritable baseball bats of aromatic fumigation.
These, and many other items of religious swag, were on sale in stands lining one side of the courtyard. While we are far from experts on the trappings of worship for any religion, we could only speculate that bigger must be better.
Inside the hall there are three Buddhas – Gautama, Dipamkarara, and Maitreya representing the past, present and the future.
Buddhism teaches that there have been many Buddhas, and there are more to come. Gautama is the most recent, and Dīpankara is one of the Buddhas that came before him, while Maitreya will be the next Buddha to come in the future.
Outside, another monk swung what looked to be a small telephone pole at a 1,000 kilogram bronze bell. That is over a ton of bell!
In Buddhism, bells have an important role, their ringing is said to drive away evil spirits and represent an offering to all the buddhas in order to accumulate positive karma.
Bells also represent wisdom, so ringing the bell is the sound of wisdom that can clarify confusion.
Confused or not, we didn't need to ask for whom the bell tolled, because the bus back to Hong Kong tolled for us.
David & Veronica, GypsyNester.com
Delve deeper:
See all of our antics in Hong Kong!
Check out the celebrated Jumbo Kingdom in Aberdeen Harbor
View the wares on the Tonic Food & Dried Seafood Streets
Find out more about the whimsical Panda Hotel
Learn our tips on how (and how NOT to) fly to Asia
Continue along with us on our Amazing Asian Cruise though China, South Korea and Japan!