Whooo-hoooo! We WON the Motel 6 all-expenses-paid Ultimate Bucket List Contest! As always, all opinions are our own.
Biking the Canyon

Good Morning! The view outside our room!
A staggering 90 percent of visitors to Arizona's Grand Canyon never venture beyond the South Rim. Very much like the time we stopped by with our three kids (one still in diapers and the other two under six) on a crazy cross-country camping adventure.
We took a peek over the rim, snapped a shot or two and then got back in the car and left.
All in all a successful visit — not a single toddler toddled over the edge.
Hint: To enlarge Instagram thumbnails click on the Instagram logo, then use your browser's back button to return to our Grand Canyon Photo Gallery.
| | |
| --- | --- |
| First glimpse of the Canyon! |     David channels "Titanic" |
But now that our offspring are grown and on their own, we decided to take the canyon a little more seriously, and add some adventure beyond child catastrophe prevention.

HAWK!

Surreal
Bikes are available for rental near the Visitor's Center on the South Rim. The rental guys were glad to give us the lowdown on the best way to combine the easier hills on the bike with the harder ones by hitching a ride on the bike-rack-enhanced shuttle buses.
They even threw in a personal tutorial on rack operation.
| | |
| --- | --- |
| Grand Canyon Magic | Ecofriendly National Park |
Mounting our trusty steeds, we headed west on the road that skirts the Rim Trail. Clouds meandered in and out that day, allowing the sun to peek out and give us a different perspective every time we blinked our eyes.
Just Mule-in' Around

The stunning Vermillion Cliffs in Navaho Nation on the way to our mule ride
There are precious few things in life that combine breathtaking scenery, hysterical antics and outright fear. We figured that straddling a cliff-clinging beast of burden would certainly do the trick.
| | |
| --- | --- |
| Why we never work with kids & animals – they always steal our thunder! | A quicky video sneak peek! |

Take 2 – Veronica and her new Grand Canyon mule buddy, Slim
WATCH: Mule Cam! A between-the-ears, cliff-hugging adventure!

There's really nothing to fear — helpful chap-wearin' guides are there to make sure that newbies feel comfortable, and that the more advanced riders don't do anything stupid. Besides, the mules didn't want to fall to the bottom any more than we did.
They're stubborn about that.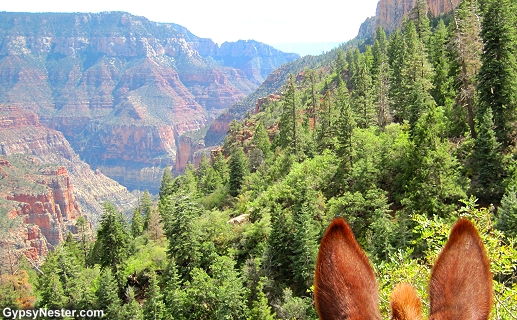 Through Slim's eyes
Among the mule ride options are a South Rim tour, a down-to-the-floor overnighter, and the one we chose, a half-day, half-way down trek that is only available on the North Rim. Well worth the incredibly scenic four-hour drive around to the other side of the canyon.

Through David's mule, Mac's, eyes
Feeling Above it All

Flying over the rim!
If there is a definition of a bucket list item, flying over the Grand Canyon should be included in the text. The moment we crossed over the rim and watched the ground drop a mile in an instant is something that will be forever imprinted in our minds.
No fear of flying could possibly survive the sight.
WATCH: The grandeur of the Grand Canyon from above

| | |
| --- | --- |
| Words can't describe, Veronica cried like a baby. | Our trusty steed! |
Veronica literally bawled like a baby in awe, got out of one helicopter and turned around and did it again.
David had to restrain her from going a third time.
| | |
| --- | --- |
| Delicious Mexican food…bliss… |     Meet Amber – she's smiling 'cause she's staying at our pet-friendly Motel 6 |

Back "home" to our cute orange room, exhausted and happy. 🙂
Sweet Sedona
| | |
| --- | --- |
| Do you think whoever lives here will let us move in? | Amazing formations on the way! |

The 40th Annual Fiesta del Tlaquepaque – oh YEAH!
| | |
| --- | --- |
| Amazing traditional dancing | Blue corn flautas! |
Good-bye from "Kodak Rock"!
David & Veronica, GypsyNester.com
See all of our Arizona Adventures!
We WON the Motel 6 all-expenses-paid Ultimate Bucket List Contest! As always, all opinions are our own.
YOUR TURN: Have we inspired you to take on the Grand Canyon? What's the best way to see it?