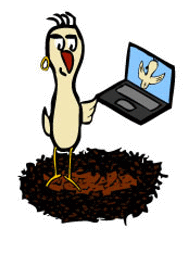 Have you ever found the PERFECT Birthday Card? The absolute ONLY one that will make the receiver's day?
We had been carting this card around with us for quite some time – months.
That's what we do, when we find the ideal card for one of our family or friends we buy it, no matter how long it may be until the occasion that it celebrates.
This one was perfect for our oldest, The notoriously carrot-hating Piglet.
Flash forward to a sunny, wildly windy day in Lafayette, Louisiana, a parade of dogs and a birthday card for our eldest to be mailed. What a pretty picture. And it was, until I noticed that the card was no longer in my coat pocket.
That morning we had written a semi-naughty little note inside (referring to The Piglet's agonizing over turning twenty-seven – we couldn't let THAT go by without a sarcastic little jibe!), enclosed a check and stamped and addressed the envelope.
I carried the card in my pocket figuring that we'd see a mailbox somewhere along the parade route. But the ridiculously cute dogs in the Krewe de Chiens Mardi Gras Parade must have distracted me. I never noticed a mailbox.
What I did notice, a little while later, was that the card was gone. It had been poking out of my pocket all day. I kept shoving it back in, but it obviously made one final poke before I could administer another shove. I panicked. How were we going to find another perfect card in time for The Piglet's birthday?
I surveyed the immediate area, nothing. Time to retrace my steps. We hadn't gone too far from the last place I remembered shoving the rascal back down, plus the envelope was bright blue, so I felt good about my prospects of finding the escapee.
But I retraced like a kindergartner drawing a Thanksgiving hand turkey and found nothing. The wind was whipping around and could have easily picked up the card and carried it off, but I thought the crowd or bushes or gutter or something would have stopped it. No such luck.
So I doubled back and covered our entire path for the day, still no sign of it. Time to switch into optimist mode, most certainly not my natural state. Perhaps someone picked it up and dropped it into a mailbox.
It was already stamped, so it wouldn't take much effort, I reasoned, but I didn't really buy it. Between the wind, the foot traffic and the dog poop – it most likely looked like just another piece of trash amongst the Mardi Gras beads and revelry.
Veronica, on the other hand is God's own optimist. She decided it would make an interesting social experiment. She called up The Piglet and told her the story.
Now The Piglet was excited to see if the card would show up to her apartment on Manhattan. Suddenly this was way more exciting than just any old birthday card.
About a week later we got a text message, "It came!!!!!!"
Wow, someone did mail it! My faith in humanity was bolstered.
We were curious as to what kind of shape the wayward card was in, so we asked The Piglet for a picture. It was torn up, crinkled and stepped on. To think that someone took the time to mail that battered mess truly warmed our hearts. We wish we knew who it was.
So – to the caring Cajun at the dog parade in Lafayette who had a heart big enough to send kindness our way, thanks.
You added another seasoning to the grand gumbo of our Mardi Gras experience.
Les Bons Temps Rouler!
David, GypsyNester.com
YOUR TURN: Isn't this incredible? It really made us think how little acts of kindness can have gigantic implications – how 'bout you?