We all want that perfect getaway. Many places come into mind when planning for a trip, especially places with white-sand beaches, good food, and interesting art and culture. The Algarve, which is the southernmost region of Portugal, is a name that has been coming up more frequently in recent years. But why is the Algarve becoming popular, and why should you travel there?
1. Best golf villas
 There's a reason why Portugal has been awarded as the "World's Best Golf Destination" for the fifth consecutive time this year. Portugal has more than 80 golf courses, most of which are in the Algarve. One of the criteria for such award was the number of rounds played in the country, and the competition-level golf courses and amenities have significantly contributed to Portugal's success as the most popular golfing destination. Haven on Earth's Algarve properties are great examples of villas that are perfect for your getaway, with complete amenities and stunning views.
2. Pristine beaches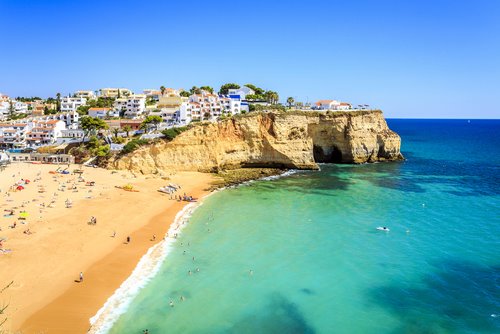 Many of the Algarve's beaches have received the Blue Flag award, which is a certification given by the Foundation of Environmental Education (FEE). The coasts of the Algarve are dubbed as Europe's best-kept secrets, with tourists either beach hopping, relaxing by the shore, or enjoying water sports activities. In addition, many beaches have scenic views of rock cliffs and caves that make the beach more picturesque. Praia da Amoreira is known for surfers due to plentiful waves, and Praia da Marinha for the best Algarve sand. Other beautiful beaches are Falesia and São Rafael, Praia do Vale de Centeanes, and Vale de Covo Beach.
3. Gastronomic experience
 The Algarve is also known for delicious food, wine, and Algarvian coffee. There are even food tours that you can join where you can taste Algarvian cuisine. Some food you can try are:
• Caldo verde – which means "green soup" and is cooked with olive oil, cabbage, and other local products
• Sopa da Pedra – which means "stone soup," literally, and originated from an old folk story
• Enchidos – different kinds of filled smoked sausages
• Francesinhas – a kind of sandwich filled with enchidos and various kinds of meat, topped with cheese
• Pastéis de bacalhau – salt cod fritters made of shredded codfish, onion, eggs, and parsley
• Bacalhau à brás – shredded codfish, thinly chopped fried potatoes, onions, and scrambled eggs
• Ameijoas na cataplana – which means "clams in the cataplana"; a cataplana is a kind of cooking pan that is used in traditional Algarvian cuisine
• Pastéis de nata – Portuguese egg tart dessert dusted with cinnamon
• Arroz doce – which means "sweet rice" and is made of rice, milk, and sugar and is chilled and served with cinnamon
4. Many sunny days
 The Algarve is also known for having many sunny days. With most days of the year being sunny, it's no wonder that Algarve is a prime wedding destination. July to August are peak seasons; hotels are often fully booked, and beaches are flocked by tourists. The best time to go to the beach would be from May until the end of September, so that's a lot of time to get some tan, have fun surfing or other water sports, and engage in activities like dolphin watching, cave tours, snorkel trips, and boat cruises.
5. Activities for every kind of traveler
 Besides being one of the cheapest places to travel in 2018, the Algarve is becoming a favorite because of its versatility to tourists. Whether you're a solo traveler or you're with your family and with children, the Algarve has the perfect places to suit your needs. Here are some examples:
• Place to surf – Sagres
• Best for golfing – Albufeira, Quarteira, and Vilamoura
• Historical and cultural preferences  – Tavira, Faro, Lagos, and Vila Real de Santo António
• Places to party – Praia da Rocha, Albufeira, and Lagos
• More exclusive and stylish towns – Vale do Lobo Region, and Vilamoura
• Best areas with large resorts – Albufeira, Vilamoura, and Lagos
• Best areas with smaller resorts – Alvor, Carvoeiro, and Praia da Luz
• Suitable for teenagers – Praia da Rocha, and Albufeira to Olhos de Agua
• Suitable for older tourists and relaxing travel – Alvor, Tavira, Praia da Luz, Carvoeiro, and Olhos de Agua
• Suitable for those with young children – Mostly all of central Algarve (just not the Strip in the Albufeira)
There is always something to do in the Algarve, Portugal. You can stay in the best golf villas and tick off items in your Algarve bucket list like watching the sunset in Cape St. Vincent, take Instagram-worthy photos of the Ponta da Piedade rock formations, or purchase colorful pottery in Porches. The Algarve definitely has a lot to offer. Be spontaneous and explore!
We are happy to present this collaborative post to offer valuable information to our readers.