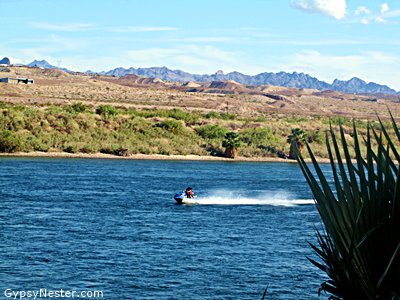 There's no better way to spend your free time during the warm months than engaging in water sports away from all the people. Who doesn't like that summer breeze and soft beach sand? If you could get away from it all, an ocean or a lake would be a perfect destination. Why not live through the last weeks of this year's summer season to the fullest?
If you want more action than just sipping drinks and getting a nice tan, you may be tempted to hop on a jet ski and jump across the waves right into the sunset. Luckily, there are many beautiful places in the US where you can do it! Below, you'll find a list of the best US destinations for this amazing water sport. Get ready for your ultimate summer experience!
Tampa Bay, Florida
Let's start from the Sunshine State and one of the best areas to enjoy hot summer weather to its fullest. Located on the west-central coast of Florida, Tampa Bay is connected to the Gulf of Mexico, which makes it a perfect starting point for exciting trips.
You can have more quiet time near the mainland; just hop on your fishing jet ski and enjoy the weather. Keep in mind, though, that this area is relatively popular among the tourists, which can make your trip more exciting, but less private.
Lake Erie, Pennsylvania
Despite being the smallest of the Great Lakes by depth and volume, Lake Erie is one of the best water sports destinations in Pennsylvania; by the surface area, it's also the world's eleventh largest lake. Because of that, it's divided into three sectors: the western, eastern, and central basins.
You can easily access the eastern part of the lake from Pennsylvania. You'll be in for a great adventure in the deepest of the three basins, with an average depth ranging from 80 to 210 feet. Adding to that, Lake Erie is known for its warm waters, not as challenging as those in the other Great Lakes, making it a popular destination for jet ski lovers.
Lake Elsinore, Southern California
Located just two hours east of downtown Los Angeles, Lake Elsinore is the largest jet ski friendly lake in Southern California. If you don't own a jet ski, you can find many watercraft rentals along the lake's 14-mile shoreline. Don't forget to purchase a boating permit from the city hall or a local marina, and you're free to spend all the time you want (between sunset and sunrise, of course) on the lake's 3,000-acre surface.
With year-round jet ski weather, Lake Elsinore is a great place to visit. Keep in mind that during the weekend, you may encounter increased traffic.
Lake Michigan
Lake Michigan is one of the most favorite spots for all water sports lovers out there. With four different states sharing its beaches, you can plan an unforgettable adventure on gorgeous waterfronts and with the wind as your companion.
Jump across the waves along the long coast of Lake Michigan and feel free to stay in some of the best resorts in the area. This popular summer destination is well known for its numerous rentals and sports clubs, not to mention magnificent views you'll see along the way and plenty of activities you can do along the shore. Usually, the waters are calm, which makes Lake Michigan a perfect spot for those who are new to water sports. Nevertheless, keep in mind that the weather conditions can change fast, and some parts of the lake are more difficult to navigate.
Sand Island, Hawaii
Formerly known as Quarantine Island, this small island is located in Hawaii, within the city of Honolulu. It's a place with a long, fascinating history that's also often overlooked by tourists. As such, if you want to spend some time away from the crowds, it might be a perfect destination for you.
Easily accessible by a car, Sand Island is well known for its long beach, small waves, and crystal clear waters. It's a perfect place to visit regardless of the season, and you can be sure to enjoy your time off the beaten track. Even though there are some restricted areas due to the proximity of Honolulu Harbor, there are many picturesque places where you can swim on your jet ski, fish, and rest.
The Bottom Line
You don't have to go abroad to enjoy a wild ride on your jet ski or spend a quiet time swimming around, fishing, and admiring the view. There are many places in the United States alone that can take your breath away and make you want to come back for more.
Remember about the safety measures and enjoy your time on the jet ski responsibly! Pay attention to weather conditions and avoid swimming in difficult areas. Plan your trip well, and get ready for another unforgettable adventure.
We are happy to present this collaborative post to offer valuable information to our readers.