Does having a small, intimate wedding always result in a stress-free day?
From experience, I can say NO!
David and I had a tiny wedding and we had our fair share of anxious moments and hilarious snafus.
Happily, The Piglet and Frenchie broke that mold. They hoped for a calm, joyful day of love, a day in contrast to the crazybusy lives that they as NYC dwellers live – and that's exactly what they received.
There were no rehearsal dinners, no formal invites, no showers or gift registrations – just two people sharing the love they have for each other.
An elopement of sorts – but with parents and siblings in attendance.
Our younger daughter, Decibel, served as a maid of honor and — as a hair and makeup artist — has a vast knowledge of the matrimonial ropes.
But The Piglet and Frenchie didn't want a long engagement — they've been together for four years and felt that was enough of a wait — thereby alleviating Decibel's duties as a "traditional" maid of honor.
What she could do was what she does best, create a visually stunning wedding for her sister.
Decibel works with some of New York City's finest photographers, and hired the best to capture the essence of the happy couple.
And because she knows The Piglet better than anyone (okay, except Frenchie), together they came up with a simple, yet chic look for the big day.
The preparations weren't completely without tradition.
I got to tag along for some of them; the finding of the perfect dress and, my favorite, getting ready in the hours before the tying of the knot.
To be with my girls in those special moments was pure joy.
Watching Decibel work her magic with The Piglet's look, then affixing my grandmother's jewelry in her hair, brought happy tears to my eyes. And though it had been many a year since I'd dressed The Piglet, it felt like the most natural thing in the world to me.
It would have been greedy of me to wish for more than those two hours of laughter, love and — because it was us — goofiness in one day, but there was so much more to come.

Photo: Kimberly Coccagnia
Arriving at City Hall by taxi, The Piglet burst out to find Frenchie and his parents waiting with David.
Frenchie's mother burst as well – into tears.
It took just one of her should-be patented hugs to have me joining in the waterworks (I had held mine back to plain welling-up until that moment) and Piglet wasn't far behind.
While standing on on the steps of New York City Hall it occurred to me that the site should be a major tourist attraction (and I've seen a lot of tourist attractions!).
I could easily see spending a day people watching on those stairs, eye-stalking the hundreds of happy couples preparing for their nuptials.
But on this day I was too preoccupied with my own happy couple to give the others much heed.
There is quite a bit of waiting involved in a City Hall wedding, but the wait was never dull. All of our senses were completely engaged while reveling in the historic, retro setting.
| | |
| --- | --- |
| | |
| David & Frenchie | The Mommys – still hugging! |
Entering the Hall, The Piglet and Frenchie took a ticket similar to those spit out at the DMV or a deli counter. Then, when the big train station-like panel lit up their magic number, they headed to a counter to submit their paperwork.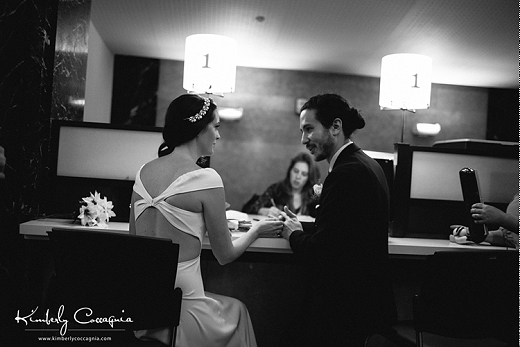 Photo: Kimberly Coccagnia
With that squared away, we were led to a large round room to await the big moment in a loose queue of other wedding parties.
It was like a bridal fashion show with the many dresses represented and, of course, I deemed The Piglet's ensemble the most stunning.
In David and my eyes, there has never been a more beautiful bride.
The Piglet is a modern woman who shuns the notion of being "given away" (rightfully so in my book too!) and, since there was no rehearsal, David was tearfully touched when she asked him to escort her through the door and into the officiant's office.
Together, they made the few small steps to the front of the room.
In that tiny office, while she laughed and cried at the same time, we watched our over-the-moon-beaming daughter marry the man she loves.
And, in that moment, we gained a son – a man we've grown to love as our own.
(I can't convey my feelings through the written word sufficiently here, but let it be known I'm bawling my eyes out as I type this.)
The ceremony was quick (maybe ten minutes) and it was all it needed to be.
It was perfect.
From City Hall, The Piglet and her Frenchie began their walk — as partners in life, as family, as their own Nation of Two — through the city they love.
Veronica, GypsyNester.com
DELVE DEEPER:
Read the Seven Things I Vow to My First Son-in-law (and the One Thing I Ask of Him!)
Check out The GypsyNesters' snafu-laden wedding
See why I don't believe in nagging for grandchildren