Our visit to the John Deere Pavilion was special to us because it was my birthday, and John Deere is my great-great-great Grandfather.
I grew up knowing about this legacy, but without much knowledge of the machinery that bears my ancestor's name. That was certain to change.
The pavilion has everything from one of Deere's original steel plows, to the most massive modern heavy equipment.
Veronica wanted pictures of me with all of it. So I stood beside antique tractors, gawked at earth movers, pointed implements, and marveled at a prototype concept machine for cutting trees that looked like it was straight out of Star Wars.
I even climbed into the high tech cab of a combine the size of a small town. Then, the moment I'd been waiting for, the birthday boy got to try his hand on one of the heavy equipment simulators.
The idea was to bulldoze dirt into a marked area, but my skills were less than up to the task, guess the ancestral skills didn't get passed down.
I ended up digging a big hole, backing the dozer into the pit, and then trying to escape the construction area by plowing through a fence. Luckily the program was smart enough to thwart my attempt.
WATCH: David tests out (and wrecks) his grandfather's heavy equipment. So much for this kind of stuff being in his blood!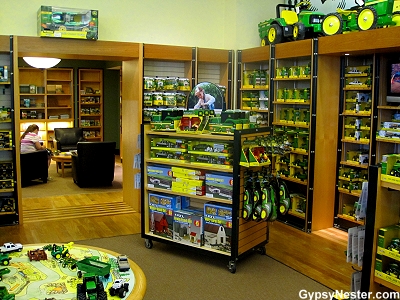 Adjacent to the pavilion, The John Deere Store has all the green and gold any fan, or kinfolk, could dream of.
Tons of apparel, such as the classic hats and jackets, but also toys, collectibles, books, videos, posters and more.
I was immediately taken back to my childhood when I spotted a cast iron pedal tractor just like the one I used to ride up and down my grandmother's driveway.
David, GypsyNester.com
Click here to see our full adventure down The Great River Road
Thanks to Enjoy Illinois for making this adventure possible! Our opinions, as always, are our own.