Built in 1910, the Hermitage Hotel in Nashville is a 5-Star accommodation that might be best known for a restroom.
The downstairs men's room, just off of the hotel's Capitol Grille, has been voted best bathroom in America several times in online polls.
We strongly feel that it deserves the title.
In fact, when we lived in Nashville, we used to sneak all of our female out-of-town visitors in for a peek, adding in an extra thrill element.
It's a little sad to us now that management has given up on trying to keep curious female observers out.
They've put up a plaque welcoming everyone, regardless of gender, to take a look inside.
It makes us miss the covert action of the good old days.
Shiny and adorned in black and green art deco (including the toilets and urinals), the luxurious loo boasts a shoeshine station and a vintage phone that calls up the front desk – just in case.
Because of it's location near Nashville's Legislative Plaza, lawmakers, lobbyists, and the press tend to hang out at the hotel – and we would assume, need to use the facilities from time to time.
The Hermitage has also played host to many US presidents, but as far as we know their only public thoughts on the public toilet was… no comment.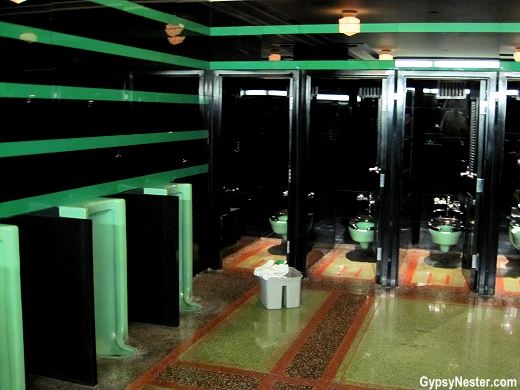 Talk about a flush with greatness!
David & Veronica, GypsyNester.com
Are you thinking about creating your own fantastic bathroom? The one and only Toilet Planner can help.
See all of our adventures in Tennessee!
YOUR turn: Have you been to Nashville? Did you sneak in to the Hermitage's bathroom?
This post may contain sponsored links.
---
Did you enjoy what you just read? Then you'll LOVE our book!
---