My birthday of perusing the family tree continued when we toured the Deere-Wiman House.
This was the home of John Deere's son Charles, who followed his father as head of the company.
Our guide, Gretchen Small, was incredibly knowledgeable, not only about the history of the house, but the genealogy of the family.
She laughed that she knows more about the Deere family ancestry than her own.
The house is impeccably preserved with about eighty percent of the furnishings being original pieces owned by Deere.
The family lived in the house up until the 1970s and kept almost everything just as it had been a century before.
After touring the Deere home, we crossed the street over to The Butterworth Center.
Originally known as Hillcrest, this is the home that Charles built as a wedding present for his daughter Katherine upon marrying William Butterworth. Butterworth went on to succeed his father-in-law as president of The John Deere Company.
Needing to entertain for business, the couple added on to their home numerous times. They created a dwelling that could host the most lavish of parties.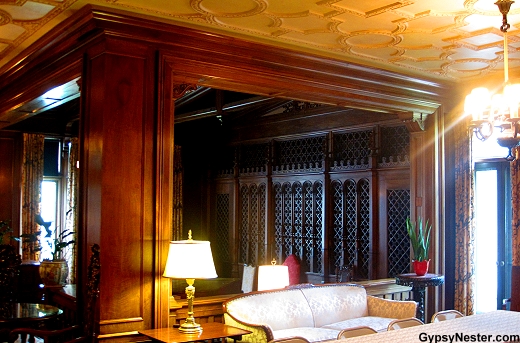 Each room was more amazing than the next, but it was the library that made our jaws hit the floor. Literally.
Built specifically to fit and display a 40 x 20 foot, eighteenth century ceiling painting that originally hung in Ca'Dandolo in Venice. We craned our necks and spun around, but try as we may there was no way to take it all in at once.
Finally, uncouth as it was, we asked if we could lay on our backs in the middle of the floor… viola, the perfect view. Gretchen insisted that we were not the first ones to do that, but maybe she was just being nice.

Gretchen's last surprise for me was a walk down the road to the historical society where she produced a book tracing the Deere family all the way down to my father.
Quite a memorable birthday.
Click here to see our full adventure down The Great River Road
David, GypsyNester.com
Thanks to Enjoy Illinois for making this adventure possible! Our opinions, as always, are our own.
YOUR TURN: Have we inspired you to take an Illinois Road Trip?