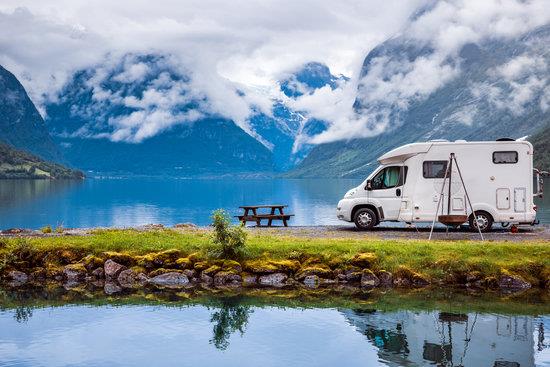 You don't have to plan out the most perfect route. All you need is the best RV for that road trip you've been planning. A luxury travel trailer is the best RV to get you from point A to point B while taking the time to pause and explore all the stops in between without losing any of the amenities of home.
We've pulled together seven incredibly common road trips for taking the best RV trips with your family in this post.
Blue Ridge Parkway
The Blue Ridge Parkway is a widespread driving path that wiggles its way through almost five hundred miles of beautiful forested Appalachian mountains. Along the route are several overlooks, pull-offs, and campgrounds, making it extremely accessible to the new RV family.
Coastal Highway of Big Sur
Are you looking to witness comprehensive ocean views? The Big Sur Coastal Highway is an absolute must-see national gem. Skipping your way between tourist-friendly urban centers along the coasts of northern and southern California, the path travels along California's central coast, making it an excellent option for families who enjoy pit stops and viewpoints alike.
Route 66
Route 66 is the ultimate nostalgic cross-country road trip. And wouldn't your shiny luxury travel trailer look great in photoshoots at stops along the way? This iconic roadway runs all the way from Illinois to Southern California. Route 66 is larger-than-life, and for over 60 years, it has been featured heavily in popular Americana. Your luxury travel trailer RV with built just for lengthy road trips like Route 66.
Historic New England
An RV trip through New England is a dynamic experience that involves both natural wonders and historic sites. Drive from Maine, through New Hampshire, Vermont, and onto Massachusetts for a look back through time at America's history and humble, beautiful beginnings.
Yellowstone National Park and the Rockies
Montana's Yellowstone National Park is the perfect family destination for RVing. It is worth a trip all on its own so that you will have a chance to see and experience everything. Try to plan your trip so you can take in the beautiful scenic highways through the Rocky Mountains while making your way to the Yellowstone National Park.
Desert Southwest
A breathtaking and unique landscape worth discovering with the whole family in your luxury travel trailer RV is the American Southwest. The area includes amazing parks like the Grand Canyon National Park and Zion National Park. However, you mustn't forget to check out Southwest's flourishing urban centers like Santa Fe, New Mexico, renowned for its Native American architecture. The beautiful and colorful creative arts scene in the pueblo style that Santa Fe has to offer.
New Orleans and the Gulf Coast
New Orleans has undergone a spectacular revival. Plan your trip to head down through the Gulf Coast beaches before traveling on down into the vibrant heart of the bayou. Where an incredible creole and jazz-inspired lifestyle permeates the every day with music, culture, history, and architectural design unlike anywhere else in the US.
Take to the Road Whether it is Less Traveled or More
In conclusion, the best RV will be the RV that you and your family can make lasting memories in. The best RV will be the one that you visit all these places in and mark off on your map.
Let your luxury travel trailer be the guide that leads you down the path of adventure and long-lasting fun together with your family. There is no destination too far or even too close to get out there and explore.