A big thank you to the Ballard Inn & The Gathering Table and Select Registry hotels for providing this adventure, as always, all opinions are our own.
Say California and images of sun drenched seashores spring to mind. We think of surfers catching a wave while the Beach Boys blast in the background.
Nothing wrong with that, but just two hours up the coast highway, and a short turn inland, we came upon an unexpected surprise, a horse of a different color so to speak. Or size to be more accurate.
This is the Santa Ynez Valley, a wondrous land of mountains and valleys, vineyards, miniature livestock, exotic birds, old west storefronts, and even some windmills to tilt at.
Located right in the middle of it all, we found a perfect lodge to base our operations, rest and rejuvenate, and sup on sustenance to gather strength for our explorations, the Ballard Inn & The Gathering Table.
The award-winning bed and breakfast, along with gourmet cuisine, made for a practically perfect weekend getaway.
After a drive through the town of Ballard, and a quick stop at its historic schoolhouse that has been in continuous service since 1883, we arrived just in time for the complimentary wine and cheese cocktail hour that happens every afternoon.
This is wine country after all, but we soon discovered so much more. Our first stop the next morning was just a stone's throw away from the inn at the Seein' Spots Farm.
This rescue farm provides a home to a menagerie of goats, sheep, pigs, turkeys, ducks, chickens, geese, and tortoises that have been injured or abandoned.
While these guys are all hunky-dory, it's the miniature donkeys that are the stars of Seein' Spots. They are specially bred to be precise mini versions of the burros we are used to seeing.
The fuzzy little fellahs (shall we call them burritos?) wander freely among the other animals and we were allowed to walk right up to them. Veronica grabbed one of the many brushes provided and proceeded to make some new friends.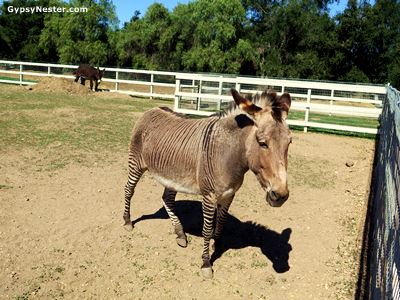 There is one resident of the farm not allowed to hang out with the rest, Zeeyore the Zonkey. No matter that he looked almost as cool as his name, by all accounts when zebras breed with donkeys the resulting offspring tend to pick up much of the zebra's ornery nature. That's why we were only introduced to with a stout fence between us.
Just in case we hadn't had our fill of itty-bitty animals, we found another farm featuring diminutive duplicates of large equine originals less than a mile away. Maybe there is something in the water here in the hinterlands
Quicksilver Miniature Horse Ranch is more of a real working ranch though, since their one and only goal is to sell these little horses. And they are horses, don't call them ponies. Great care is taken to produce anatomically correct replicas of their full-sized cousins.
Another thing in the water around here is the ability to turn it into wine, so we could hardly spend the day without a stop at one of the local vineyards. The nearby town of Los Olivos has plenty to choose from and we popped in to the Stolpman Vineyard's tasting room for a sip or two.
After sampling several we selected a bottle of their silky Syrah, Para Maria, which has as an added bonus we really liked. The proceeds from this particular wine go into a profit sharing program that is divided among all of the vineyard's crew.
From Los Olivos, we drove a short stretch up the road to Los Alamos for a look at an amazing antique outlet. Along with wine, antiques are definitely big in this area, and The Depot Antique Mall is the biggest.
Housed in the last remaining station of the old Pacific Coast Railway, the sheer volume of historic memorabilia was staggering. We weren't in the market for anything, but this was like visiting a museum of kitschy Americana.
On our way back to Ballard, we made one more quick stop at the town of Santa Ynez and felt like we had stepped back in time. The main street looks like an old West cow town right down to the horseshoes embedded in the crosswalks.
We had to hurry back for our reservation at The Gathering Table because there was no way we were going to miss this dinner. Chef Budi Kazali creatively blends Asian and French influences using locally sourced produce, seafood, and meats to deliver outstanding dishes as small plates meant to be shared.
That is right up our alley; we can't help but share even when the plates aren't intended to be, so we ordered several. For a starter we chose the Kabocha Squash Soup, which certainly hit the spot on an evening that had a bit of a chill in the air.
Additional dishes arrived leasurly as we dined on Pork Belly with Napa Cabbage Fondue, Wild Mushroom Risotto, Seared Spanish Octopus with squid ink, Pork & Shrimp Shumai, and a finally of salted caramel topped with crème fresh.
Everything was beyond our expectations, truly gourmet dishes served in a rustic farmhouse kitchen setting made for an evening to remember.
We awoke to another gorgeous California morning and thought, Gee, this would be a good day to see some ostriches. Lucky for us OstrichLand USA was right up the road in the incredibly quaint Danish style village of Solvang.
Even though we had visited Solvang before (see that adventure here), we couldn't help but pause for a few well-placed windmill shots before pulling up to the bird land.
Hidden behind high wooden fences (no free viewing of the big birds) we found more ostriches and emus than we ever could have imagined. They roam the range like cattle but, just like those little doggies, they come a'runnin' when it's supper time.
Feeding these colossal flightless feathered fowl is the main event, and they know it. We bought a pan of giant bird chow and immediately drew a crowd. A tight grip was required to maintain control while they greedily pecked and grabbed every last pellet.
We laughed the entire time at these bird brains because their goofy heads flopping around on those spindly necks was hilarious in a three stooges sort of way. Goes to show that weird notion or not, this was a good idea.
Before leaving the Santa Ynez Valley we had one more site to see, one that contributed greatly to the history of the region, Mission Santa Inés.
For over two hundred years it has served as a spiritual center for the community, but originally provided government and protection as well while Spain spread its influence northward from Mexico. The missions were used as a way of claiming territory, so were a combination of fortress, courthouse, and church.
Santa Inés is one of twenty-one such outposts established between 1769 and 1833 in what is now California, along with scores more throughout the Southwest, and we could say that we are on a mission to see as many as possible.
Wait, is that a mission impossible?
David & Veronica, GypsyNester.com