What would a visit to Spain be without sampling the tapas?
Incomplete we'd say.
But then tapas are a culinary style that is right up our alley. It's as if the entire nation adopted our idea of appy crawling, a system of eating appetizers in several different places instead of a sit down meal.
Barcelona
Our introduction to the Spanish version of this concept was in Barcelona.
Here we learned that the word tapas comes from the Spanish verb tapar, to cover, and there are a few versions of why.
One legend claims it stems from King Alfonso being served a glass of wine that was covered with a slice of ham to keep the sand and/or bugs out, while another speculates that tavern owners served sherry with strong cheese or salty meats to "cover" the poor quality of the drink.
Either, or some other, may be true, but the practice of snacking fits into the Spanish afternoon schedule perfectly because dinner usually doesn't happen until after nine.
With our partying days well behind us we knew we might not even make it that long, so we decided to make a meal of the tapas.
Classic tapas range from as simple as mixed olives, to meticulously prepared bites of seafood, cured meats, veggies and baked cheese.
In addition to these delectable bits our quest included an olive and pepper medley on toast that was reminiscent of Italian bruschetta, roasted hot peppers, and a bomba which, as the name implies, is a type of gut bomb made with mashed potatoes and meat.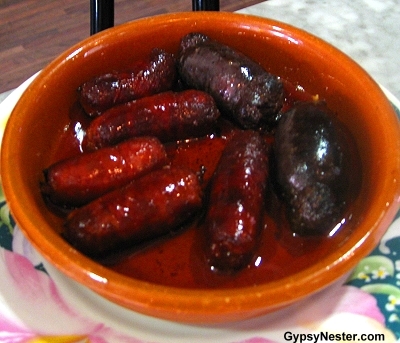 As we got more adventurous we expanded our culinary horizon to try calamari, chorizo al vino, mussels, and blood sausage.
We were determined to get our mitts on every type of tapa we could, and believe we achieved greatness.
Madrid
The mobile meal model moved forward full speed in Madrid.
Here the tradition seems to also include escaping from the harsh afternoon sun, so cool beverages are a big part of the experience.
Ducking into the shade at a sidewalk café, we opted to blindly order a combination plate of five tapas and take our chances as to what might show up. Classic Iberian ham, fish with garlic, crab, salmon, and some ridiculously strong blue cheese arrived, so we were thrilled.
Well, maybe not so much with the blue cheese.
Oh, and I almost forgot, they brought out some of the best olives we have ever tasted. Seriously, ever! Those easily made up for the cheese.
In order to prove to ourselves that Spanish food can be more than tapas, our big plan for the next day was to make like Ernest Hemingway and have lunch at Sobrino de Botín.
In addition to being mentioned in his novel, The Sun Also Rises, Botín is certified by Guinness as the oldest continually operating restaurant in the world. They haven't missed a meal since 1725.
It was imperative that we have their signature dish, cochinillo asado, which is roast suckling pig. After all, that is what Papa ate and wrote about.
Another house specialty is sopa de ajo, a garlic soup laced with sherry and sporting an egg poached in the broth. Both were more than worthy of their fame and accolades.
For good measure, we also added some artichoke hearts with Iberian ham, which could have been a tapa, and were unbelievable. They must not have had this dish back in Hemingway's day or it would have deserved a whole chapter.
This also led to us learning the valuable lesson that absolutely everything is better, no, not just better, fantastic with Iberian ham.
Basque Country
The Basque may have perfected tapas with what are locally referred to as pintxos, and THE place for pintxos in the Basque Country is San Sebastian.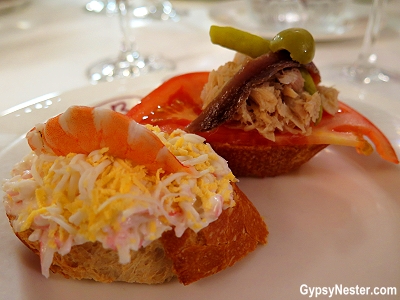 These typical snacks are generally made with small slices of bread topped by a mixture of ingredients, with a toothpick to hold things together. That is where the name comes from, "pincho", meaning spike, and the "tx" spelling is Basque for the "ch" sound.
Since San Sebastian is by the sea, shrimp, crab, tuna, anchovies, and even caviar are commonly incorporated, but our hands-down favorite were the pimientos de Padrón.
These pan fried peppers are to die for. Most are mild, but every now and then a hot one sneaks in. As an added bonus, they were made off the charts incredible by adding crispy, fried Iberian ham.
Our visit also included a truly unique experience when our guide Txaro (pronounced Charo, there's that Basque tx again) took us to a txoko (choko), which is a members-only private gastronomic society that in the past was only open to men.
The idea is get together to cook, and of course eat, while trying out new recipes and ideas along with a healthy dose of socializing.
When Basque culture was suppressed under the reign of Francisco Franco, txokos became safe havens where members could share their language and traditions as well as their love of cooking.
We all pitched in making dinner, sticking to fairly simple dishes, beginning with salad. Then tortilla de patatas, egg with potatoes, which is much more like an omelet than what we think of as a tortilla.
We finished with two main courses, chicken with carrots, leeks, and garlic, along with salt cod in a cream sauce.
None of this required being a gourmet chef to prepare, but like the old Shake-N-Bake commercials, it was better because we helped.
Bilbao
In Bilbao we realized that we'd been in Spain for two weeks and hadn't had any paella. The city doesn't have any historic connection to the dish, but this was our last chance.
So with nothing more than luck to guide us, we picked one of the many eateries available in the old city center and happened upon a good pan of the classic seafood and rice dish.
Afterwards, the plate piled with shells indicated that our mission had been accomplished.
Not a bad way to end our time in Spain.
David & Veronica, GypsyNester.com