What would a visit to Spain be without sampling the tapas? Incomplete we'd say. But then tapas are a culinary style that is right up our alley, kind of a national tradition of appy crawling.
We were determined to get our mitts on every type of tapa we could during our stay in Barcelona. We believe we achieved greatness.
The tradition of appetizers in the afternoon has several stories pertaining to its origin, but they all agree that the word tapas comes from the Spanish verb tapar, to cover.
Depending on the legend, this either stems from King Alfonso being served a glass of wine that was covered with a slice of ham to keep the sand and/or bugs out, or tavern owners serving sherry with strong cheese or salty meats to "cover" the poor quality of the drink.
The real story is likely long lost to history, but the idea has found complete acceptance throughout Spain. Tapas fit into the Spanish afternoon schedule perfectly because dinner usually doesn't happen until after nine.
Tapas hold off the hunger until then and are designed to encourage conversation while snacking. A great way to kick off an evening, we'd say.
Considering our culinary affinity for trying a little of this and a little of that, the whole idea sounded perfect to us.
Our first evening in Barcelona we spent strolling, taking in the sights, and window shopping the tapas, until we came upon the Trobador in the Gothic Quarter.
Their large glass case of mouth-watering munchies brought us right in. Not that we knew it at the time, but many of these were the staples of classic tapas, ranging from as simple as mixed olives to meticulously prepared bites of seafood, veggies and baked cheese.
We blithered questions in bad Spanglish, pointed to our desired plates, and wound up with an incredible shrimp and salmon skewer on tomato and bread, and a baked bell pepper, onion and cheese concoction.
Both were out of this world. We even managed to get a cerveza and a white wine to wash them down. Our Spanglish must have been improving.
The next stop involved an olive and pepper medley on toast that was reminiscent of Italian bruschetta, roasted hot peppers, and a bomba, which, as the name implies, is a type of gut bomb made with mashed potatoes and meat.
The combination made a pretty good gastronomic grenade. (Want to see what it looks like on the inside? Watch the video above.)
The next day, while wandering through an out-of-the-way neighborhood in search of Park Güell, we discovered Bar "EL LLUMI" and that tapas are often served as a weekend lunch.
Actually we were more interested in a cool drink and a restroom when we stumbled into the Barcelona version of a corner bar on a Saturday afternoon. Futbol on the tube, old guys shooting the breeze, a few cervezas, some sangria and a whole lot of good grub.
We found home. The park could wait a few hours.
We were never offered a menu, don't think one existed, we were only asked how many tapas we wanted.
Soon food and drink started showing up at the table and we kept accepting. This was the real deal, nothing fancy, just the most traditional Spanish tapas dishes, classic tomato bread, calamari, marinated shrimp, mussels, chorizo al vino, and funny looking black sausage-esque tubes with weird stuff jutting out the ends.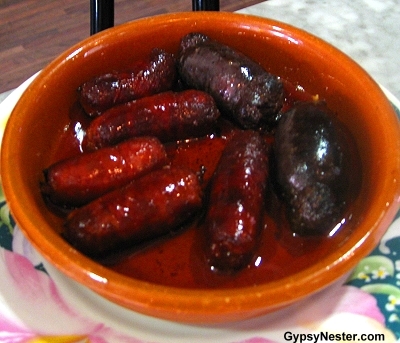 Not exactly sure what the the little black tubes were, we dug right in to find out. Sage, oregano, bread – we could identify the obvious – but asked the waitress what rounded out the taste. She smiled, and because we had previously conversed in international sign language, mimicked slitting her wrist. Ah. Blood. The infamous blood sausage.
By the end of this food orgy we had basically become family, so it was insisted that we not leave without a toast of the local Licor de Hierbas to everyone present, and of course mama for cooking.
We were more than happy to oblige and learned why this sweet herb liqueur is the traditional top off to tapas. (See the video above for more about this, our host and the eating of the blood sausage).
Our explorations in Barcelona included two other discoveries that, while not exactly tapas, certainly are related, especially when it comes to finding proper ingredients. First, everything any tapas preparer or consumer could ever desire is in the markets at La Boqueria Barcelona.
Just off of the famous La Rambla, this covered, but still open air market has it all. The massive crowds proved to be a little too much for us to linger, but many folks were managing to shop, and even stop to grab a bite at the counters, despite the throngs.
Later, along the historic Carrer de Ferran which is kind of the main drag through the ancient Gotic District, we came upon a little shop called Enrique Tomas. Not exactly a spot for tapas, but Barcelona is famous for cured meats and this is the place to get them.
We're talking ham, as in Iberian ham, pata negra, Jamon Bellota… but doesn't ham by any other name taste just as sweet?
How about those names? Well, Jamon is of course Spanish for ham, and Bellota means acorn. Wait, acorn? Yes, acorn. Because the tastiest pigs it seems, are fed a strict diet of acorns before becoming jamon.
And pata negra? That is a way of identifying the pigs by the color of their hooves, negra means black. We've never really checked, but according to the experts most little porkers have white hooves, but the better ones have black.
So once Enrique finds a black hooved pig stuffed with acorns, and we know for sure the hooves were black because they were still on the legs in the shop, he sets about making some ham. It is quite a process, the salting, drying and curing takes three years.
Then the leg-o-pig hams are displayed in the Enrique Tomas shop window awaiting unsuspecting passersby like us to wander in and sample a slice carved right off the leg.
Seems like no place for a self proclaimed meat avoider like Veronica, but we were intrigued and just had to watch and taste. This was no Oscar Meyer, there is serious flavor involved. Must be the acorns.
Having lived on nothing but various small portions for several days, we thought our tapas tour should probably come to an end, but honestly couldn't find anything we would rather eat.
But alas, the next day an airplane put an abrupt end to our intrepid tapas trek and returned us to our regular routine of rations.
How dull.
David & Veronica, GypsyNester.com
Delve Deeper into Barcelona:
Sagrada Familia
The Gothic Quarter and La Rambla
Gaudí or Gaudy – You Decide