Just below, as in south of, the famous Carolina Lowcountry lies a lesser known region, Coastal Georgia.
Geographically, culturally, and historically this area is virtually indistinguishable from its northern neighbor, it's simply the Savannah River that separates them.
Swamps and islands, surrounded by brackish tidal rivers, define the topography from Savannah down to The St. Marys River, which marks the Florida State Line.
The few parcels of dry land among the marshes are inhabited by pine and live oak trees, and a handful of hardy souls. Traditionally, most of these souls make their living off the sea.
We had no idea that Georgia had such fantastic seafood until we stumbled upon The Shrimp Shack in Eulonia.
The shack is exactly as advertised, a seriously tiny building with nothing inside but a table, a scale, and a cooler filled with fresh-off-the-boat shrimp.
When we stopped by, Margie Sawyer was behind the table. She reached into the cooler and pulled out a couple pounds by the antennae, then tossed them on the scale.
While weighing our order, she told us how the family operation has worked for over twenty years.
Every day during the shrimping season the boat goes out, and that's all they sell, each day's fresh catch. And, that day, they were only four dollars a pound.
With a quick stop off at the Piggly Wiggly for some seasoning, potatoes, and corn on the cob, we were chompin' at the bit to whip up our own version of a Lowcountry boil.
The finished product was so good that we went back to the shack the next day for another couple pounds. Without a doubt the best shrimp we have ever put in our mouths.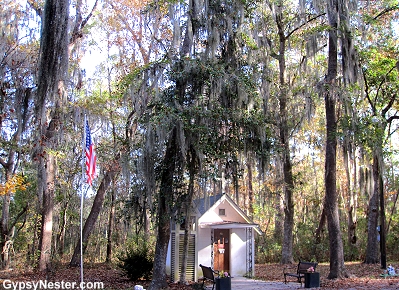 Just up the road from the shack is the self proclaimed Smallest Church in America. Built in 1949 as Christ Chapel, a sanctuary for travellers, at only ten feet by fifteen feet it is one tiny house of worship.
But a little investigation revealed that several other churches have laid claim to being the smallest. Let the debate rage on.
See more about the Smallest Church in America (and see inside!)
Another issue up for discussion in these parts is the existence of local legend Altie. This Loch Ness Monster type sea serpent is said to reside in the Atlantic waters around the mouth of The Altamaha River, perhaps coming upstream to feed or breed.
Named Altamaha-ha by the Tama Tribe of Native Americans, stories about the creature go back hundreds of years.
We kept our eyes peeled whenever we crossed a bridge, but over the centuries sightings have been very rare so we didn't feel too bad about not getting a grainy, out of focus photo to put up on the web.
We did get a perfect picture of Altie at The Darien – McIntosh Visitor's Center though, so we posted it instead.
In Darien we also found something much less mythological, Fort King George.
In 1721 this southernmost outpost in The British Colonies was built to defend against the Spanish, who were already well established a few miles down the coast in St. Augustine.
The fort suffered much more from it's environment than enemy attacks. Disease and starvation made it nearly impossible to keep a garrison in fighting shape.
But those same harsh surroundings kept Spain from ever mounting a serious invasion.
After the death of the commanding officer, Colonel Barnwell, in 1724, and a suspicious fire that the soldiers did little to extinguish in 1726, the fort was abandoned in 1727.
See more photos of Fort King George
Even after consuming all of that history, we still had seafood on the brain.
In our travels we had seen several beat up old billboards bragging about a seafood buffet at Pelican Point Restaurant in Townsend, and decided it was worth a trip to see if it still existed.
It did… and how! We took seats right by the water, then proceeded to belly up to the buffet. Huge steamed crab legs, and of course shrimp.
Enough to make Bubba Gump proud. Broiled shrimp, Peel and eat shrimp, fried shrimp, shrimp cocktail… and all delectable.
This was not a five star type of place, but the food was definitely top notch.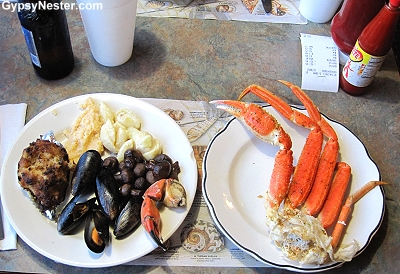 There are some luxury resorts along the Georgia shore, most notably on St. Simons and Jeckyll Island, but we chose to confine our explorations to the more everyday.
As in, "It's not every day that people see Altie swimming up The Altamaha River."
No it's not.
David & Veronica, GypsyNester.com
See more about the Smallest Church in America (and see inside!)
More photos of Fort King George