Our visit to Southern California last year could have never been complete without calling on The Negretes, a family I have known my entire life. I literally have no memories without them being there.
Lorri and I have been friends since our first day in kindergarten. Family legend is that while lined up to go in to our classroom, one of us turned to the other and said, "Do you want to be my best friend?" The other returned by answering, "OK." We took each other by the hand and entered our new lives together.
That simple child-like question was the beginning of an amazing friendship – one that spanned generations. Lorri and I found out that we lived in the same neighborhood, in the exact same tract home design, in the same bedroom within those houses.
Our mothers became best friends, and Sally was my mother's constant companion through thick and thin, until the day my mother died of cancer in 2001. Lorri selflessly shared "Mommy Sally" with me from that day on.
Prior to our visit it was decided that we should have a tamale party. It was close to the holidays and I have many cozy memories of getting together with the entire Negrete clan to share the love and companionship that comes with making the massive amount of tamales needed for the season.
The whole family would come together, catch up, share laughter and cook together. The meal afterward was a celebration filled with love. And there was always enormous piles of tamales left over to take home to share with friends and neighbors as Christmas gifts.
I was beside myself with excitement, I hadn't been to one of these occasions since childhood and couldn't wait to share the experience with David.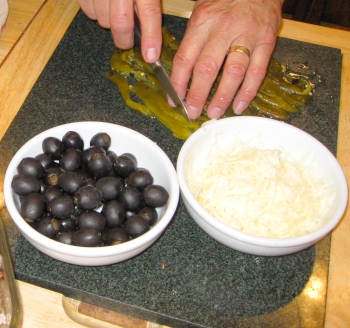 Sally had been roasting the meat all day, so her home was warm and well-scented when we arrived. I'll quote her recipe as I go, as I feel tradition is better served when passed on in the giver's voice.
"Cook a big shoulder or butt pork roast until meat is so tender that it shreds easily (5-6 hours)
depending on the size. Season with favorite herbs like oregano, chile – the sky is the limit -and salt and pepper."
Margaritas are a key ingredient at a tamale party. Sally's husband, David, was our bartender for the evening and David never disappoints. While he blended and concocted, the rest of us pulled the pork, prepared the tamale fillers and toasted life.
"Along with the meat, you can add variety of goodies. Our fave is Green chiles and cheese. Use your imagination."
Sally and David had made a special trip for the masa. There are only two ingredients in plain masa, corn and lime, but the process is time consuming and it is not suggested for the novice, especially in the large quantity needed for a party.
"We buy our masa at Carrillo's in San Fernando. We go there because of long-standing good reputation. They also have a restaurant with yummy stuff. It is best to call ahead to order your masa, especially around the holidays. Tamale making is very popular in Hispanic neighborhoods like San Fernando."
"When you order, you can choose from plain, red – which is what we buy – and sweet. The red has a mild chile flavor and that adds depth to the overall flavor. Masa can also be purchased at all Mexican markets."
"Form tamales in specially packaged corn husks (also available in Mexican markets). These husks should be soaked in warm water to soften (about 1 hour) prior to assembly of the tamales."
This is the fun part. The Negrete kitchen is large and an island is set in the middle. We all gathered around, facing each other, sharing stories from our childhoods and the time that had passed since we last saw each other.
David sure got an earful of the antics of Lorri and me, including the time we used a bench in my backyard as a stage. We WERE the Supremes, hairbrush mics and all.
We used sweet masa for the dessert tamales, again, feel free to jam with the ingredients. We stuck with the traditional pineapple and raisin.
Once each tamale's filling is finished, tuck in the bottom and roll 'em up.
Tear strips from the husks to tie it all together.
Party-goers come and go from the island, to the bar, to the living room. The stories get more and more jovial. Soon Sally started manning the stove top.
"Steam cook finished tamales for about 1 hour until masa is firm and serve. We use a purchased sauce from Carrillo's. You can purchase a good Mexican enchilada sauce at the market. Enjoy!!"
And boy did we! Not only had we made enough to stuff ourselves silly, we brought bags and bags along with us to share with everyone we encountered for weeks.
Tamales freeze exceptionally well and it's just a quick pop into the microwave to revive them. I've been known to eat 'em straight out of the fridge using the husk for a holder.
Whether it's a tamale party or your own special holiday tradition, please be sure to get together with family and friends this year. Enjoy each other.
On a sad note, as I am writing this post, Sally lost her own battle with cancer. It was very close to a year to the day from when she threw a tamale party for me. She was the most giving soul I've ever known.
A rare combination of vibrancy in life and calm within a storm. I will miss her counsel and her constant reminders that there is good in everyone. She could have invented the phrase "Maybe she's just having a bad day."
My days are so much better because of Sally.
Seriously folks, try her tamales. And be good to each other.
Veronica, GypsyNester.com