Don't get me wrong – I love being with David.
We're pretty much together 24/7 and it's seldom a problem with us.
We work hard on keeping our relationship fresh (to varying degrees, of course!) and continue to try new things together.
But sometimes a girl's gotta get away.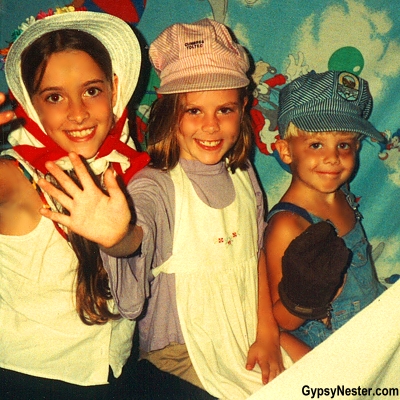 When the chicks were in the nest, our family was very girl-centric.
Our daughters, The Piglet and Decibel, are very dynamic people and, if we weren't careful, they would overshadow their more reserved younger brother, The Boy.
The men in our family were outnumbered and, many times, outmatched.
When the girls graduated from high school and struck out on their own, I found myself in a whole new world. Sports were — more often than not — blaring from the TV, scores and stats that I didn't understand (or, frankly, had no interest in) were bandied about until I was blurry-eyed.
Coupled with The Boy being more comfortable discussing personal issues with David, my mommy role had diminished greatly.
I became the odd man out.
I'm so glad that David and The Boy had that bonding period; it did them both a world of good.
But I did feel lonely. I missed my estrogen-infused days, when we girls ruled the roost (that's a little heavy-handed, but we were, as team, a force to be reckoned with!).
Once David and I sold the nest and hit the road, we became very focused on rekindling our relationship, our Nation of Two.
Until that point, raising The Spawn to be happy, healthy, productive adults became our main focus in life and had been – and always will be — our greatest achievement.
But we had half a lifetime stretching out before us and if we didn't get off of our butts and get to working with each other, that second half could become an ugly eternity. So we got to working.
But sometimes a girl's gotta get away.
Now we are six years into our grand GypsyNesting experiment, and we are currently in The States traversing the now familiar family-and-friends route.
We're making frequent trips to NYC to horn in on the girls, and spent a month near The Boy before he made his big move to Alaska. We're spending time with our parents and siblings, and seeing a lot of our friends.
I've realized through these visits that I miss my girlfriends more than I had thought. Sure, we talk on the phone, and sure we banter on Facebook, but having my gals around me in person is not always so easy to do.
And forget about that big, nurturing group of ladies I used to have – now that our nests are all empty, many of us have relocated, or taken on jobs with more responsibly or — gasp — found a new group of friends.  How dare they not wait around for me!
Ann Voorhees Baker
And then, in steps Ann Voorhees Baker who invites me to be her guest at Women At Woodstock.
When she first brought up the idea, I literally thought UGH. Is a women's retreat for me?
It didn't sound like my thing – at all. Then I looked into Women At Woodstock a bit further and became intrigued. I was first compelled by the locations (imagine that!), but was hooked when I saw the workshops.
This Ann V. Baker lady's pretty wily and she knew how to hook me! I'm always looking to beef up my writing skills, so the writing workshops are really exciting to me, and the business stuff looks invaluable.
But, oddly enough (and I hate to admit this) it was the estrogen-infused events that made me accept the invite.
Obviously, I need some girl time, STAT.
Come join me and let's get our girl on! I'll be at the Woodstock, NY retreat on October 13th, 2014 and there are later ones in Palm Springs, CA and Charleston, SC.
Veronica, GypsyNester.com
Click here to see how my Women At Woodstock experience went!
YOUR TURN:  Have you ever been to a retreat? What can I expect? Am I overthinking this whole thing?