Buon appetito! A highlight of any trip to Italy is always the food, but for those of us who grew up thinking Chef Boyardee represented Italian food, discovering real Italian cuisine can be quite an eye opening experience.
Pacing Ourselves
David fondly remembers the first night of his first trip to Italy. We all sat down to a family style dinner and they brought out spaghetti Bolognese.
It seemed like good old spaghetti to us, so we chowed down, even ordering up seconds.
Not knowing prima piatti from prime rib, we thought this was the whole meal. There was surprise, and a bit of embarrassment, when they brought out a big platter of veal, potatoes, and vegetables for the main course, then salad, and finally dessert, but we learned.
An even better way to learn can be to settle into the local culture and discover these beautiful villas in Sicily.
Over our many ensuing visits to Italia we have also learned that there are as many different styles of Italian food as there are regions in the country, so traveling to Sicily for the first time we weren't exactly sure just what to expect.
We did know that we could eat our fill guilt free on this visit since we were touring Sicily on bicycles.
As with most places, the food in Sicily is primarily based on local ingredients. That means that seafood is a big part of the menu, but the long, sunny Mediterranean growing season makes for an abundance of fruits and vegetables too.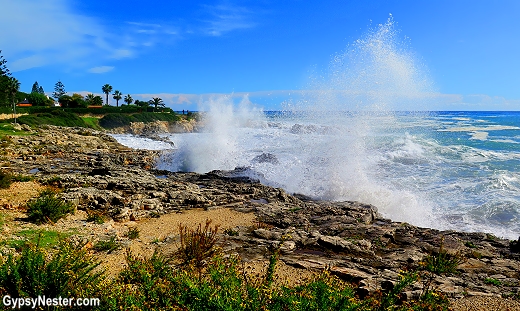 A new favorite, and something we had never seen before, was an apple and hybrid called caco mela. Mela, is the Italian word for apple, and caco for persimmon. The taste is very similar to a persimmon, but the fruit is more hearty and easier to slice. Perfect for a quick bike snack.
Watch: Our expert guide, Edoardo, shows off his energy-producing al fresco spread—including caco mela!

The Importance of Olives
One of the main crops on the island is olives, and as we rode along we saw trees laden with them. At some point David decided that if cured olives are good, ones fresh from the tree must be great.
All we can say is ladies and gentlemen, do not try this at home! An uncured green olive could be the most bitter thing on the entire planet, perhaps even the universe.
It happened to be olive harvest time in Sicily while we were visiting, and we passed through numerous groves while farmers were knocking the fruit off of the trees into nets waiting on the ground. These were then cased up and trucked to the nearest mill.
We had the chance to stop at a mill and see the olives squeezed into the finest olio di olive.
The process is actually fairly simple, once cleaned the olives are crushed, then pressed, then run through a centrifuge to separate the oil from the pulp and water.
It all happens in just a few minutes on one assembly line. Fresh olives go in one side and extra virgin oil comes out the other.
This oil will then be used in almost every dish, and we found no better way to sample several of them than by ordering a Sicilian Plate.
The Sicilian Plate
Most every eating establishment had their own version consisting of a mixture of salamis, cheeses, peppers, tuna, olives, and tomatoes, but there were always variations.
The many different plates that we sampled along the way included combinations of the above along with mackerel, grilled zucchini, artichokes, and panella, a fried bread made from chickpea flour.
Each time we ordered a plate was a delicious surprise.
In the seaside village of Marzamemi, the Restaurant Liccamuciula set up their ingredients for a classic Sicilian Plate in the form of a buffet.
Each item was from nearby, local food, or as our Italian friends like to call it, Kilometer Zero.
The specialties featured tuna, cheeses, tomatoes, salami, mackerel, and of course, red and white wine.
Because, as they proclaim in these parts, "a meal without wine is called breakfast."
We finished up our feast with a refreshing peach granita – fruit and crushed ice. YUM.
Pulling Out All the Stops
A few days later we stopped for lunch at Agriturismo Agri Milo, a farm up in the hills of Monte Iblei.  In addition to running an animal rescue focused mainly on donkeys, the farm prepares fresh locally grown and sourced meals, more Kilometer Zero.
We began with another Sicilian Plate.
Next came babbaluci, snails that are similar to escargot but smaller, and prepared with celery, parsley, and garlic lightly sautéed in olive oil. Magnifico!
These little guys of goodness were followed by a selection of ravioli…
then  rollatini, tasty rolled sandwiches that we saw many places around the island…
… and fresh ricotta.
As any real headliner should, the true star of the show came out last. The beignets brought out for dessert were light, fluffy pastries filled with the best chocolate crème ever to come anywhere near our taste buds!
We were forced to double check to see if St. Peter had just let us through the pearly gates.
Balls of Goodness
We discovered another classic traditional Sicilian dish in our travels, arancino. These are balls of risotto filled with ragù, beef, and mozzarella deep-fried to a golden brown.
They are thought to date back about a thousand years to when the Arabs ruled the island, and are especially popular in Palermo, but seem to be available most everywhere.
Another dish that we found in many places was the Spaghetti alla Sicilian.
We can only assume that like the plates the recipe varies from place to place, because the two versions we tried were quite a bit different.
Both were good, but our favorite was made with rustic sausage, sun-dried tomatoes, and zucchini.
The other featured a variety of seafood, almost like a frutti di mare.
Wait. Eggplant Parm has WHAT in it?
At the Kallikoros Country Resort in Val di Noto, which features farm-to-table dining, and we had the chance to see a true Italian classic, eggplant parmigiana, prepared step by step.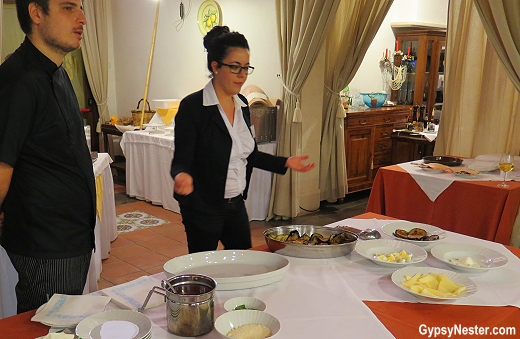 The resort's chef, Andre, demonstrated the proper Sicilian way to layer the ingredients and gave us some valuable tips such as soaking and pressing the eggplant to take the bitterness out.
Watch:

Do you love cooking classes like we do? Click here to see our classes from around the world!
With the main dish safely in the oven, he proceeded to show us how to stuff a cannoli.
Our hostess, Francesca, passed along some info that we filed under you learn something new every day, the name comes from the piece of cane that the shells are formed around.
Oh. And Chocolate.
Speaking of sweets, as a reward at the end of one of our morning rides we stopped for a tasting and tour of Sicily's oldest chocolate maker, Antica Dolceria Bonajuto in Modica.
They have been processing cocoa beans since 1880, using methods brought to Italy from the Aztecs.
Watch: Uh, yum. A chocoholic's paradise

After watching a demonstration of the entire process, they invited us to give it a try.
We had to call that an offer we couldn't refuse.
David & Veronica, GypsyNester.com
DELVE DEEPER:
How did we hang on our bicycle tour? See it from the beginning!
See all of our adventures in Italy!
A big thank you to VBT Bicycling and Walking Vacations for providing this adventure where we ate all of this delicious food without worrying about the calorie count! As always, all opinions are our own.
YOUR TURN: