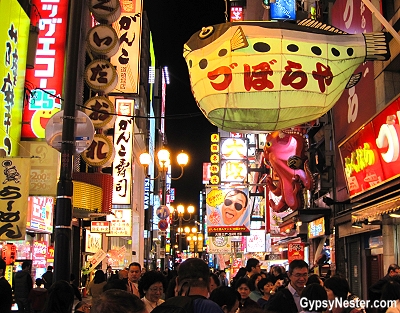 Kuidaore, a Japanese word meaning "to ruin yourself with extravagant food," has become synonymous with the city of Osaka.
How could we possibly not love this place?
Osaka is the undisputed culinary center of Japan, in fact several writers have proclaimed it the food capital of the world, but we were determined to find the heart of the center.
That could only be the small downtown district known as Dōtonbori.
Named for the seventeenth century canal that runs through it, Dōtonbori has become the epicenter of kuidaore.
For hundreds of years the area was famous as the place for Kabuki theatres, but they are all gone now.
Restaurants began replacing them after World War II, and with their arrival came some creative signage.
Signs that Foretold a Big Night Ahead
In fact, the competition for most eye-catching advertising extravaganza is nearly as much of a draw as the food.
Several signs are tourist attractions in their own right, especially the giant neon Glico Man (see him in the video below), famous for being the first on the block.
Almost as popular is the mechanical drumming clown, Kuidaore Taro, who stood guard in front of the Cui-daore Restaurant for years.
Since the restaurant closed he has been enshrined at the Nakaza Cuidaore Building, where he draws crowds into the shopping center.
When the crab restaurant Kani Doraku erected their giant mechanized crab sign back in 1960 they kicked off quite a craze of giant animated seafood signs.
See more of these fabulous signs here!
Several spectacular giant octopus renditions marking spots for Osaka's signature dish, takoyaki, vied for our attention.
And a huge blowfish lantern adorns Zubora-ya, a fugu (deadly poison blowfish) restaurant that, believe it or not, we didn't try.
WATCH: The pictures CAN'T do full justice! You've GOTTA see it "in motion"


See more of these fabulous signs here!
Tying on the Old Feed Bag
Even fire breathing dragons beckoned us in for some noodles, but we had that other Osaka signature dish, Udon, for lunch so we passed up their flaming invitations.
See all of our adventures in Japan!
Eating Octopus Balls (we know what you're thinking, you dirty bird!)
As overwhelming as the displays could be, we were not going to allow ourselves to be distracted from our primary goal… kuidaore, and the obvious starting point had to be with takoyaki.
No food says Osaka more than these hot octopus-stuffed balls of deliciousness. Takoyaki, which translates to fried octopus, is said to have been invented in 1935 by a street vendor named Tomekichi Endo, and has become the definitive Osaka snack.
We were captivated by the expert cooking demonstration going on beneath one of the giant cephalopod signs and stopped to observe.
The chef began by pouring batter into a specially designed pan with dozens of round indentations.
Once the batter was bubbling he dropped chunks of octopus into each hole, added more batter on top, and some chopped spring onion, red ginger, and tempura for crunch.
Then, with the most skilled use of chopsticks we had ever seen, he flipped each ball in its socket for perfectly even frying.
Watching the creation of the golden brown balls, we knew we had to have some, even if neither of us is that big a fan of octopus.
WATCH: How to make (and EAT!) Octopus Balls! YUM!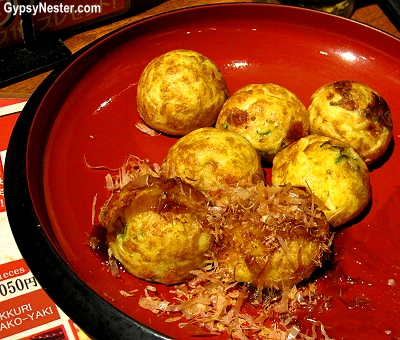 So in we went and with the first taste we understood why takoyaki is so popular, it's freakin' delicious.
The nugget of tentacle in the center was tender and tasty, and the coating hot, crispy, and just plain good.
By watching the other customers we learned to add some of the smoked, shaved bonita, along with the rich, semi-sweet brown sauce that were on the tables.
The combination gave the balls of eight-legged wonder an almost barbecue flavor.
Do you love cooking classes like we do? Click here to see our classes from around the world!
Life is Better When Food is on a Stick!
We certainly could have gone through another order, but we knew there was more food to discover.
So we fought off the urge and hit the street again to see what might strike our fancy.
While walking along the canal side of the street one of the many barkers that try to persuade every passerby to come into their establishment caught our attention.
In this case our guy wasn't exaggerating, there really was quite a spectacle taking place inside.
One whole wall of the narrow basement restaurant was an open kitchen, so the food preparation was also the entertainment.
A seemingly choreographed ballet between about a half dozen chefs was taking place before our eyes while every imaginable meat, seafood, fungus, vegetable, egg, or combination thereof, was being whomped onto the enormous grill with flair and panache.
Periodically a sort of cheer, rallying cry, or chant type of unison yell would engulf the staff. We were clueless as to the meaning but completely enthralled. We opened our order with beef kalbi (ribs), chicken wing, and lotus root stuffed with shitaki mushrooms.
All of these were grilled right in front of us by our own showman / chef and served directly over the counter the moment they were done. Fantastic! We immediately ordered more.
WATCH: Dinner AND a show! Fantastic!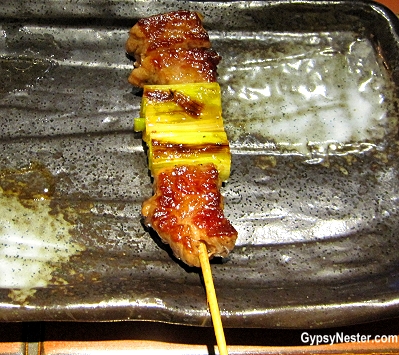 This time we went for beef neck, asparagus wrapped in pork, duck with scallions, and shrimp bread.
Again, perfection, sizzling hot from grill to plate.
By the time we had finished we both agreed that this evening had introduced us to some of the best food we had ever eaten.
Kuidaore!
Waddling Back to Our Hotel
But between the lights, the food, the crowds and a couple beers, we had had about all the fun we could stand for one night.
Plus the trains stop running before midnight on a Monday, yes Dōtonbori was this crazy on a Monday.
So we wandered down a few side streets back to the station, confident that it was a good thing we were leaving in the morning or we would surely be back to live up to the old saying of kuidaore.
Ah yes, to be ruined by food. But what a way to go!
David & Veronica, GypsyNester.com
Delve Deeper:
Click here to see the cherry blossoms in full bloom in Osaka!
See more of the fabulous signs of The Dotonbori here

See all of our adventures in Japan!
YOUR TURN: How do YOU feel about kuidaore? Are you all in?