Driving is a great way to travel and still maintain safe social distancing. With that in mind, here is another fantastic drive from a few years ago…
First Stop: Beautiful, Historic Galena
Galena, Illinois was at one time the center of attention for not only the state, but the United States, as her most prized resident was President Ulysses S. Grant.
Through our hilarious, yet informative guide on the Galena Trolley we learned the history, lore and politics of this architecturally rich city.
Galena's Main Street has been named a National Register Historic District and it's easy to see why. The buildings have been wonderfully preserved and most serve as shops and restaurants, making Galena not only a delight for history buffs, but foodies and shoppers alike!

Click here to enlarge photos and learn more about beautiful, historic Galena
One of those restaurants is Vinny Vanucchi's, and some Italian food was sounding pretty darn good to us.
The historic building has been transformed into four distinctive dining areas, including an outdoor cappuccino garden.
Testing our theory that the way to judge an Italian restaurant is by their meatballs, Vinny passed with flying colors.

Click here to enlarge photos and get a load of the food at Vinny Venucchi's
By traveling just about a mile, we were magically transported from Italy to Ireland.
The Irish Cottage Boutique Hotel accomplished that journey when we checked into County Clare. Actually it was our suite for the night, as each guest room is decorated and named after an Irish county.
We were astounded by the attention to detail the Irish Cottage brings to all aspects of their service.

Click here to learn what a "pub snug" is and why we think ALL hotel breakfasts should be like the Irish Cottage's!
They Have Wine In Illinois?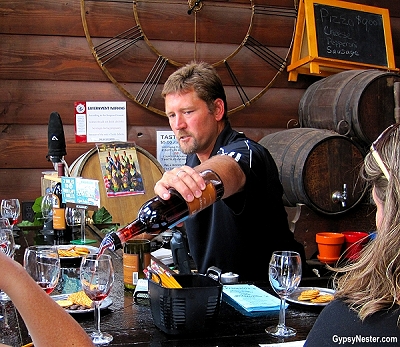 Making our way down the big river, our next stop was the Rocky Waters Vineyard and Winery just outside the little town of Hanover.
About twenty years ago, Jared & Phyllis Spahn purchased a lovely fruit tree-laced piece of land that inspired the planting of a vineyard.
While the grapes grew, Jared designed the fantastic building that houses the winery and tasting room and Phyllis tended the fledgling adventure.

Click here to see more about Rocky Waters
Yup, There's a Place Called Poopy's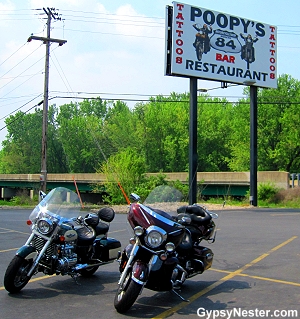 From the relaxed to the rambunctious, we made that transition in just a few short miles when we stopped in at Poopy's in Savanna.
Billed as "Illinois' Biggest Biker Destination," Poopy's is way more than just a biker bar.
What began as a motorcycle parts shop has evolved into everything anyone who's ever thrown a leg over a Harley could want.

Click here to find out what goes on at Skid Mark Stadium and see one of the funniest menu's we've ever seen!

Peace in the Palisades
Wow, that was enough to send us looking for a peaceful place to commune with nature, and there's no more scenic a spot along The Great River Road than Mississippi Palisades State Park.
Trails along the palisades edge, high above the river, led us to several precariously perched overlooks. The panoramic views from atop the bluffs seemed endless. It was like we could see the entire Midwest laid out before us. An unbeatable photo op of Old Man River.
Tracing Our Roots in Moline
In Moline, of Quad Cities fame, we checked into The Stoney Creek Inn before heading to dinner at Johnny's Italian Steakhouse.
Stoney Creek Inn feels like a wilderness lodge, complete with the elevator hidden inside a giant stone chimney.
By contrast, Johnny's is sleek and modern, and they know what to do with a slab of beef. We figured about half a cow ought to be enough to get us fueled up for the next day's activities.
We hit the ground running, or more precisely riding, as we biked along The Great River Trail from Moline to Rock Island, another of The Quad Cities.
The trail runs over sixty miles along The Mississippi, but we felt like five was about enough for this morning. Besides, we had a date with The John Deere Pavilion.
David's Such a Deere!
This was doubly special to us because it was David's birthday, and John Deere is his Great, Great, Great Grandfather.
We experienced everything — from one of Grandpa Deere's original steel plows to the most massive of modern machinery — and even climbed aboard a combine the size of a small town.

See a "Star Wars"-like walking machine and find out what happens when David wrecks a piece of his grandfather's heavy equipment!
The tracing of the family tree continued when we toured the Deere Family Homes at The Butterworth Center.
Our guide, Gretchen, was incredibly knowledgable, not only about the history of the house, but the genealogy of the family. She laughed that she knows more about the Deere family background than her own.
At the historical society we found a book tracing the family all the way down to David's father. Quite a memorable birthday.

See more of these fantastic homes and the ceiling that was imported from Venice!
What's a Birthday Without a Treat?
Luckily for us, since 1908, the folks of Moline have been satisfying their sweet teeth at a fourth-generation, family-owned establishment, Lagomarcino's.
Upon entering, we were engulfed by nostalgia and the enticing smell of handmade chocolate. The custom made booths, Tiffany lamps, the terrazzo tile floor and metal ceiling combined to transport us to the Illinois of yore.

Click here to learn what a "Green River" is and why we think hot fudge should always be served on the side
The Oldest Winery in Illinois
Our trek down The Mighty Mississippi next brought us to Nauvoo, home of Illinois' oldest winery, Baxter's Vineyards.
The Baxter family has been making wine for five generations, and their experience and attention to detail shows.
The wines are still made the old fashioned way, no big machinery or assembly lines, right in the specially designed basement of the winery.

Click to find out more about the family behind the oldest vineyard in Illinois
How Can Buffet Food Be This Good?
Nauvoo is known for more than its wine, Hotel Nauvoo, is not to be missed. Built as a home in 1840, it became the Hotel Oriental in 1885 and has been under the current name since 1946.
Beautifully maintained and decorated, the building really is a showplace, but that's not why most people come to the hotel.
It's the superb buffet the brings in the crowds.

Find out what its like to eat under an indoor apple tree and why cinnamon rolls are not just for breakfast!
Just a short stretch down the road was our final destination, Quincy.
We hit a local favorite, The Abbey, for a cozy dinner before checking into The Town & Country Inn to rest up for our last day along the river.
A Visit With "The Nutroll Nazi" of Quincy Illinois
We started our day in Quincy with a visit to Underbrink's Bakery, and a trip back to a simpler time when baked goods were made with care, by hand, from scratch.
Owner and baker extrodinaire, LeRoy Rossmiller showed us all of the inner workings, all while delivering a running commentary popping fresh with humor and sarcasm. In a nod to Seinfeld's "Soup Nazi," he calls himself The Nutroll Nazi. Folks come from all over for his angel food cupcakes and verbal abuse.

Click find out why that baby is in the mixer and watch the video of the "Nutroll Nazi" and his antics!
3665 Strong
With our minimum daily requirement of sugar more than met, we were ready to take in some of what sets Quincy apart, its incredibly preserved historic architecture.
The city has 3,665 buildings listed on The National Register.
Our exploration of Quincy began at Villa Katherine, a Moorish styled castle perched above the Mississippi River. Built in 1900 by eccentric world traveler George Metz based on Villa ben Ahben in Morocco, it now houses the Tourist Information Center.

Click here to enlarge these photos and to see which building was sawed in half to move it across the street!
Riding our bikes along Quincy's waterfront gave us a fantastic view of the Bayview Bridge over The Mississippi. We stopped for a photo, and one last look at the legendary river that inspired our incredible journey along The Great River Road.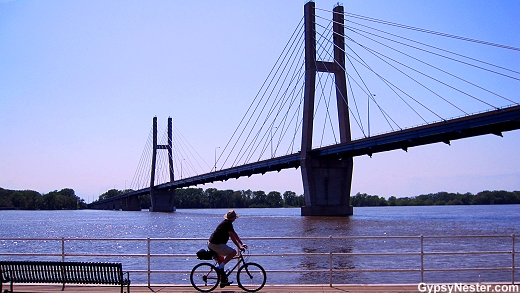 David & Veronica, GypsyNester.com
Thanks to Enjoy Illinois for making this adventure possible! Our opinions, as always, are our own.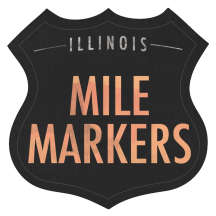 YOUR TURN: Have you visited any of these amazing places? Have we inspired you to take an Illinois Road Trip?