We are huge fans of street food. These tasty morsels of walking wonderfulness really help us connect to a place while we travel.
But sometimes weather, or tradition, don't always allow for eating on the run. We have found pubs to often offer outstanding alternatives that can be just as regionally enlightening, and with pub gift vouchers they can also be very affordable.
Short for public house, these neighborhood watering holes have served as thirst quenching gathering places for centuries. They also have traditionally fed patrons with quick, hearty, and locally unique meals.
In the British Isles, pubs date back nearly two thousand years to the arrival of the Romans. When the centurions left some five centuries later, the Anglo-Saxons continued to operate taverns. Over time the pubs became a focal point in many communities, as people frequented their "local" near home or work.
For us Ireland springs to mind when the word pub is mentioned, and there is good reason for that since it is home to some of the oldest. So Dublin is where we will begin this look at our experiences with pub grub.
We sought out M.J. O'Niell's in the Temple Bar district because it came highly recommended, and happily we found they lived up to their reputation.
The location, in the heart of the city's cultural quarter, has been home to a pub for some three hundred years.
Lamb stew and a slab of corned beef, both served with plenty of Irish potatoes, seemed like the right orders, along with a couple o' pints. It is a pub after all.
Picking our poison was no easy task at O'Neill's, since they pour forty-five different brews on tap, and a bunch more in bottles, from all over the world.
But when in Ireland a Guinness is always a good call.
The next day we returned to the Temple Bar section for a meal at the Turks Head. This eclectic establishment opened in 1760 and features decor that wildly mixes Turkish Bazaar with corner bar.
The Beef and Guinness casserole, along with the fish & chips, was classic Irish fare. For a change of pace we tried a Bulmer's Cider to wash it down.
Great Britain also celebrates pub culture. While the number of pubs in London has been declining in recent years, there are still a solid thirty-five-hundred of them across the city. Believe us, finding one wasn't hard.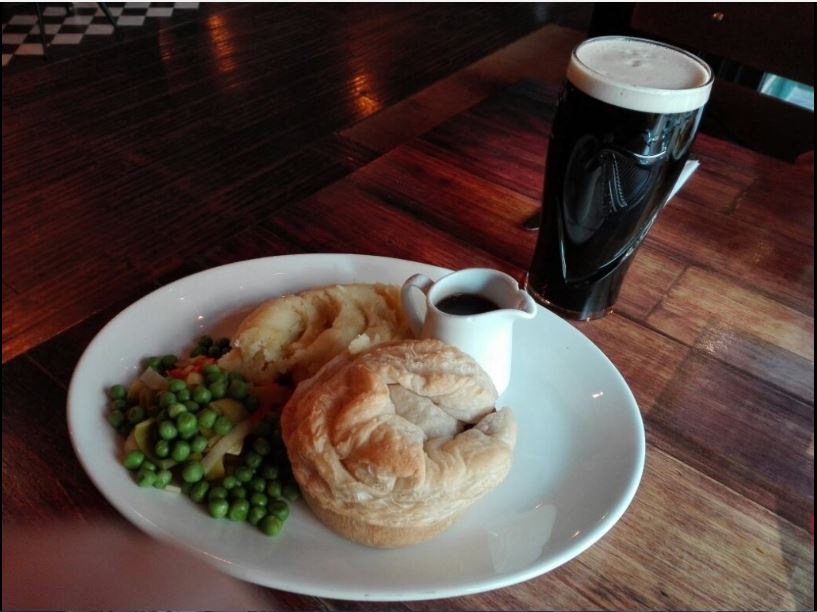 Since we were staying by the Paddington station, Dickens Tavern was our "local." Their menu is packed with great British pub food standards, including iconic dishes like hand-battered fish and chips, pie and mash, and our choice, steak & Ruddles Ale pie, which rocked.
Pudding for breakfast and pie for lunch, we learned to like it… a lot.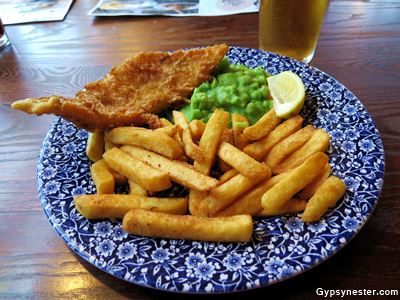 In our experience, great pubs are not confined to the big cities. We also found stellar fare in Salisbury, where classic fish and chips with mushy peas at The King's Head saved us from succumbing to jet lag. The sustenance was enough to give us the strength to make it to Stonehenge a few miles away.
The town also seemed to be the home of quirky pub names. The King's Head struck us as a little off beat, but right across the street we saw The Slug & Lettuce, and a bit later the Wig & Quill. Got to love it!
In Cornwall we found pub and street food intertwined as the pasty, pronounced pass-tee, was almost everywhere. They are so emblematic that they have been given Protected Geographical Indication status.
Traditional pasties consist of a sturdy crust filled with beef, potato, swede (also known as turnip in Cornwall) and onion. They are designed to be hand-held, as in hand to mouth, but will appear on a plate with gravy when feeling fancy.
Even though we may not have as long of pub history here in the U.S.A., the Brits definitely brought their love of taverns with them to America. Then we took the idea and ran with it.
No doubt the most famous and wide spread American addition to pub food has to be Buffalo Wings.
These tasty little morsels are said to have been invented by Teressa Bellissimo at the Anchor Bar in Buffalo, New York. This is where the name came from, not that somehow bison sprouted new appendages.
We made a pilgrimage to the source and found the bar awash in fanciful decor celebrating the achievement. Why not? They should be proud.
Their story behind the creation of the original hot wing appetizer back in 1964 is that Teressa's son and some friends came in for a late night snack. With nothing handy to feed them but chicken wings, which were considered superfluous soup bones back then, she decided to fry them up.
Adding some hot sauce and dressing, next thing you know the Anchor had a taste sensation on their hands. The rest, as they say, is history.
We can testify that they are near the top of the list of the many, many, many, many wings we have consumed.
And perhaps any pub food we have ever found.
David & Veronica, GypsyNester.com
We are always looking for good things to eat so let us know your favorite pub food in the comments below.
This post may contain sponsored links.