Buffalo wings: Teressa Bellissimo and the Anchor Bar
We have passed by Buffalo, New York many times on our way to Niagara Falls or into Canada, but never pulled off the highway.
It's not that we had anything against the Nickel City (hint: think buffalo on the back), we just had other things on our minds.
The last time we crossed the Rainbow Bridge back into the good old U. S. of A. we decided to fix our omission. We pulled off the highway and waded right into the heart of town on a quest to find the Anchor Bar.
Even though there is some dispute as to the exact story behind the original hot wing appetizer, there is no doubt that they were invented in Buffalo.
Hence, the name, Buffalo wings… and all of this time we were thinking bison must have sprouted some new appendages.
Our reason for seeking the Anchor Bar was that it holds claim to the creation of the delicacy. Owner Teressa Bellissimo first fried up some wings, bathed them in butter and hot sauce, and served them with celery and blue cheese dressing back in 1964.
There does seem to be some confusion as to why she did this and exactly who she served them to, but no doubt about where the historic event happened.
One story is that Teressa's son and some friends came in for a late snack, another says that the mostly Catholic clientele wanted a treat for Friday midnight when they were allowed to eat meat again.
Still another claims the invention stemmed from a messed up delivery that included too many wings. To us the accounts don't seem mutually exclusive, perhaps a little bit of each combined to make appetizer history.
One thing we know with complete certainty, we love them and will never pass by Buffalo again without stopping in for a plate… or two.
Our experience with the wings got us thinking about other signature dishes we had happened upon in our travels.
Many places across America have a certain food item that is emblematic to their city or region, and luckily we have found ourselves at the source of several.
New Orleans: A stomach can only hold so much
New Orleans, being the food-crazed city that it is, has at least two items that fit the bill, beignets from Café du Monde, and a muffuletta from Central Grocery.
Even better, we could try them both without walking more than two blocks.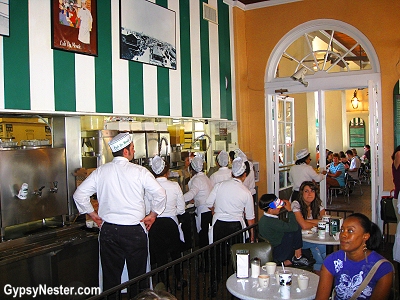 Almost every culture has a version of sweetened deep fried dough — donuts, sopaipillas, elephant ears, johnny cakes, spritzkuchen, zeppole, youtiao, oliebollen, chrusciki, fat balls, and beaver tails, to name a few.
While beignets belong to the French, the Louisiana version at Café du Monde stands alone… and beneath heaping piles of powdered sugar.
We never leave New Orleans without one, but have learned to shake off a good bit of the pulverized crystals before biting.
Otherwise an innocent breath could lead to massive, sticky, sugary sneezing fits.
See more of our perfect New Orleans food day!
Just down Decatur Street, the sandwich that we think embodies the Big Easy was invented.
Legend has it that Lupo Salvadore started making muffulettas for the dock workers on the mighty Mississippi soon after he opened Central Grocery back in 1906.
Lupo stumbled upon two secrets that make the original Central Grocery sandwich almost impossible to duplicate.
The bread, a round loaf of Italian, that somehow seems impossible to bake outside the city limits of New Orleans, and the olive salad spread, which no one has ever managed to match.
Without these a muffuletta is merely a salami, Italian ham and provolone cheese sandwich.
With them – and we're not exaggerating — this truly is the best sandwich ever in the entire history of the known universe… and the unknown as well. When God wants a sandwich, this is where he comes to get it.
See more of our perfect New Orleans food day!
Chicago's famous Italian beef – watch your shoes!
Chicago is known for their own style of hot dogs, and deep dish pizza, but for us the real Windy City delicacy is Italian Beef.
Created by immigrants in the early 1900s, we suppose no one knows exactly who made the initial sandwich, but Al Ferreri was definitely one of the first.
His new taste sensation caught on quickly after he opened Al's Beef in 1938, and soon stands were popping up all over town, but only Al can claim the original Italian beef sandwich.
We try to make a dash for the Adams Street location any time we have a few minutes to kill between trains at the nearby Amtrak station.
Even though it's not the original shop, which is still open about a mile away on Taylor Street, they make one fantastic, meaty, mouth-watering sandwich.
To really do it up right, we like to get it dipped, where the entire sandwich is submerged into the au jus gravy before serving.
This creates a juicy masterpiece that requires caution while consuming. Good thing there are instructions on the proper "Italian Stance" right on the wall:
Note: Elbows on the counter
Feet exactly 2 ½ feet from the counter
Mouth wide open.
Following the recommendation may not be attractive, but it definitely does reduce damage to clothing and shoes.
Pasties. The kind you eat
Not all of the characteristic foods come from cities; sometimes they permeate an entire region, such as pasties in Michigan's Upper Peninsula. Pronounced pass-tee, they are a sort of meat, potato, and rutabaga turnover.
Brought to the iron and copper mines of the U. P. by Cornish miners back in the 1800s, pasties were made so that miners could carry a portable meal that would stay warm while they worked underground.
The crust is made tough, it is said that a proper pasty should survive a drop down a mineshaft without breaking open, and the filling is dense to hold the heat.
We sampled several pasties across the U. P. and found some small, subtle differences in the seasoning or ratio of rutabaga to potato, but the recipes don't vary much.
Generally a pasty is a pasty is a pasty, and most of the establishments that sell them sell only one kind: meat, potato and rutabaga. A typical menu is: hot, cooled, or frozen. The only questions are, "How many ya want, eh?" and "What kinda paap you want with?" Check out our entire adventure on Michigan's Upper Peninsula!
David & Veronica, GypsyNester.com
See why we think food is such an important part of travel!
But wait. There's more!
There's SO much more iconic food to learn about in the US! Check out the roots of these:
YOUR turn: We are always on the lookout for other examples of hometown favorites that every visitor should experience, so we'd love to hear about ones we should check out as we roam about the country.