We love to ride our bikes.
However, we are not deck out in Lycra and knock out a hundred miles kind of cyclists. We are more in the stop and smell the roses (or restaurants), snap a few photos, and enjoy the view camp.
Perhaps some of this attitude stems from David's deep-seated determination to avoid becoming a MAMIL (a term we learned in Australia that stands for Middle Aged Men In Lycra).
Through the years we have pedaled across countless countries on three continents. For us, this is the best way to see the sights up close, at ground level,  and at a speed where we can cover more ground than walking yet still take everything in.
Our recent ride with Backroads Travel along the Seine River through the Normandy region of France certainly checked everything on that list.
And to make the whole thing even more enjoyable, we were aided by riding bikes that included pedal assist from BionX e-bike systems.
These don't turn the bike into a motorcycle, we still had to provide the pedal power, but it definitely helped out up the hills. That made a big difference over the course of the 162 miles we covered during the week.
The assistance comes in several levels, ranging from 1 through 4, with 1 being hardly noticeable and 4 powering us up almost any incline as if we were cruising on flat ground.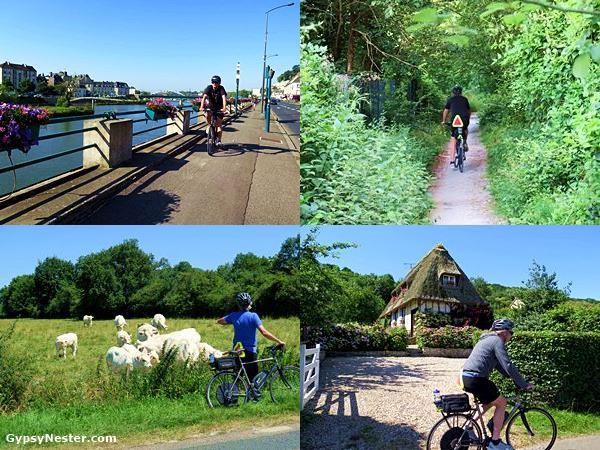 We must admit, at first we felt a little guilty passing our cycling cohorts as they huffed and puffed up a grade, but after a day or two we realized that our legs were still reasonably fresh, so we got over it.
Of course we could have turned it off, or way down, which we did sometimes, but by the end of the tour we were pretty much maxed out on 4 anytime there was a slight slope.
As we set out through the outskirts of Paris to Versailles we cautiously tested the system to get a feel for the power. Then, over the next few days our confidence grew while we made our way across the countryside checking out castles, abbeys, historic sites and the homes of legendary artists.
History came alive as we climbed up to Richard the Lionheart's Château Gaillard built in 1196, stood where Joan of Arc was burned at the stake, and rode right through the center of the D-day invasion at Omaha Beach.
We even had the energy left to climb 396 steps up to the top of the tower at Château de La Roche Guyon, where Field Marshal Rommel commanded the Axis forces as they fought to hold off the allied invasion.
By the time we made it to the garden that inspired many of Monet's most notable paintings, and Vincent van Gogh's last home just outside of Paris, we were firm believers in assisted living, or should we say pedaling.
Got to say, it made riding a whole lot easier, which freed us up to take photos, look around, get lost a couple of times, and just generally lollygag and still be able to catch up to the rest of the group in time for lunch.
Which brings us to a word about lunch.
We have always felt that one of the big upsides of these biking adventures is the guilt free chowing down (even more so in France) due to the energy exerted to make it to the meals. The pedal assist didn't change that.
As we mentioned at the outset, it doesn't do all of the work, just makes it a bit easier. So we felt warranted to partake of all of the excellent luscious local delicacies made available by our amazing Backroads crew.
We even felt that an ice cream break was perfectly acceptable… and justified.
Another cool feature of the system that we grew to seriously appreciate was the ability to use the charging mode as a braking device on downhill stretches.
Kick it up to full blast and not only was the battery filling back up, but the brakes almost never needed pumping.
Of course regular unassisted bikes were available for the serious cyclists, who made up the majority of our group, and our helmets are off to them, but for weekend warriors such as us, a little push made our journey just that much more enjoyable.
David & Veronica, GypsyNester.com
A big thank you to Backroads Travel  for providing this adventure, as always, all opinions are our own.
For those of you inspired by our experience and curious about how the latest technology can turn you into a fitter, faster cyclist, check our Dave Henly's Reviews.
Here's a look back at all of our entire adventure via Twitter, Facebook, and Instagram.
This post may contain sponsored links.