When the folks at Backroads contacted us about joining them for a bicycle tour in Cuba we were thrilled. The island had long been one of our dream destinations, high on the old bucket list we could say.
While we were preparing for the trip, I got to wondering if the stories about classic American cars roaming the roads were still true. I remembered hearing tales back in the seventies and eighties of Cubans maintaining their automobiles well beyond their normal life span because the embargo that was imposed after the revolution in 1959 prohibited new cars from being imported from the states.
Not only were the cars banned, but also parts, so innovative owners improvised and machine shops sprung up to create replacements that kept the wheels rolling. That made sense to me several decades ago, but it seemed to me that too much time had passed now for these vintage vehicles to still be operational.
I expected we might find a few remaining relics displayed as curiosities, or perhaps used as tourist attractions. Boy, was I wrong!
Just driving into Havana from the airport became a sort of mobile auto show. For quite a while we followed a perfectly preserved Plymouth Special Deluxe Convertible that rolled off of the assembly line in 1949.
Several more examples, in various conditions, passed us by before we pulled up next to a cherry 1957 Chevy Bel Air Convertible.
This baby would send any collector into a frenzy.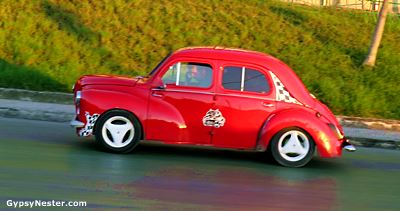 We learned that the local passion for keeping aging autos on the road was not confined to the so-called Yank Tanks from the US when we passed a mid-sixties model of a Zaporozhets.
Known as a ZAZ, these little bugs were designed and built from 1958 until 1994 at a factory in the Soviet Ukraine.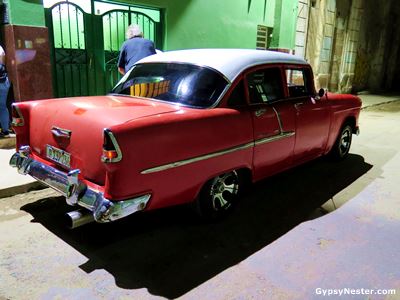 Our first night, when we called a taxi to take us out for a night on the town, another Chevy Bel Air showed up, this time a 1955 edition.  Easily the coolest taxi ride of our lives.
Turns out many Cuban taxis are amazing classics. Calling all classic car enthusiasts, your carriage awaits.
Not all of the taxis are heavy metal though, some are fiberglass. These three-wheeled motorcycle motored rickshaw style buggies are called Cocotaxis, because the bodies look like coconuts.
Many of the models we spotted on our tour were not the typical Fords and Chevys.
Those were relatively easy to recognize, but it took Google for us to properly identify a 1954 Buick Century… 
…and 1958 Oldsmobile Ninety-Eight that we admired.
That's not to say that we didn't see plenty of the more common classics like a 1959 Ford Fairlane 500…
…or a 1950 Chevrolet Fleetline along the way.
Sometimes the vehicles we encountered weren't cars at all. While biking through the countryside we often shared the road with horse drawn carts.
Without a doubt our ultimate auto experience on the trip came when a 1957 Desoto Diplomat showed up to haul us, and our bikes, back from the beach after a day of riding through the Viñales Valley.
We had vaguely heard of a Desoto, but certainly never seen, much less ridden, in one. With some investigation we learned that DeSoto was a division of the Chrysler Corporation from 1928 to the 1961.
The Diplomat would really be a rare find on the mainland because they were produced from 1946 to 1962 only for sale in export markets outside of the United States and Canada.
Perhaps inspired by the name, we diplomatically inquired of our driver what the value of a ride like this would be.
Our decorum flew out the window when he replied, "about $50,000."
Most likely some phrase involving the words "holy" and something else popped out of our dumbfounded mouths.
David & Veronica, GypsyNester.com
A big thank you to Backroads for providing this adventure, as always, all opinions are our own.