Big thanks to Viator for providing this enlightening adventure! As always, all opinions are our own.
With the television series Versailles gaining in popularity, we thought that we would revisit the foremost French château for another look around.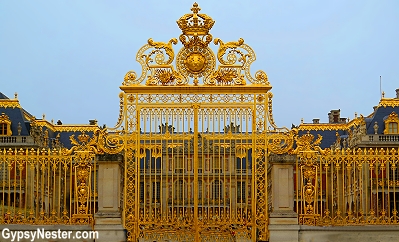 Besides, there's nothing quite like an afternoon of opulence at the Palace of Versailles.
After a short drive out from Paris, we bypassed the waiting crowds and walked right in (see how we pulled that off here).
It was almost as if we belonged in a crib like this… almost.
Truth is, it was a little before our time.
The Château de Versailles became the royal residence in 1682, when Louis the Fourteenth moved out of the Louvre in favor of the country house and gardens that had served as his father's hunting lodge since 1624.
If you have watched the show then you know that major renovations were in order. One simply can't rule properly from a hunting lodge.
From our point of view it looks as though the redecorating was quite a success! No wonder Louis is known for his furnishings.
We were particularly enthralled by the Hall of Mirrors, and the artwork on the ceilings, but every room made it quite obvious that it was good to be king… that is… until there is a revolution.

The royal beds – nice, eh?

But the rise of the republic did not vanquish the palace, even though many of the furnishings were hauled off by angry mobs — no cake for them — it has been restored to its previous glory.
Versailles continues to play host to political functions by hosting heads of state in the Hall of Mirrors, and housing meetings of the Sénat and the Assemblée whenever revisions or amendments are made to the French Constitution.
Nearly as impressive as the interior, the grounds have to be seen to be believed as well.
After all, what is an emperor's country château without a garden?
We wouldn't have to answer that question, because Versailles has the backyard to end all backyards.
Even in late autumn, we were easily engulfed by its lovely, lush repose.
Just have time for one day in Paris? Here's what to do!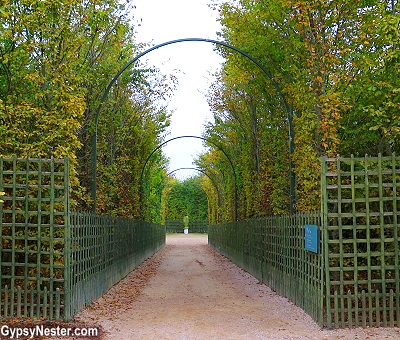 Almost two thousand acres of trees, flowers, fountains, ponds, statues, and perfectly trimmed hedges forming designs and mazes, all with string quartet music perfectly piped throughout.
No kidding, no matter where we walked it always sounded like they were right behind the next tree.
Over time the gardens fell into a state of overgrowth, but now the Petit Parc – Louis XIV's pleasure garden – is being restored to the same condition that it was in at the end of his reign in 1715.
And these are no made for TV reproductions either, this is the real deal.
Talk bout reality TV.
David & Veronica, GypsyNester.com
DELVE DEEPER:
Just have time for one day in Paris? Here's what to do!
See where we stayed in Paris
Want to see our full collection of odd art at the Louvre?
Head deep inside the Catacombes de Paris
Take a peek inside the Arc de Triomphe
Check out more about Notre Dame Cathedral
See more of our antics at the Eiffel Tower
Want more Paris? Click here!
Check out all of our adventures in France!
YOUR TURN: Is Paris at the top of your must-see list? Or have you already checked it off? What would be YOUR first stop in Paris?