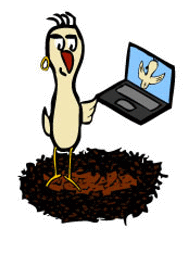 Our main goal as parents was to end up with happy, healthy, self-sufficient adults.
We can't tell anyone how to do this — everyone's different and Lord knows we made our share of mistakes along the way — but we can offer an insight that we've gained through our own offspring's transitions from childhood to adulthood.
Don't give kids everything they want, just everything they need.
A whole lot of what they want is stupid crap and they will never learn that it is stupid crap unless they are the ones paying for it.
When our kids were teenagers we made it clear that we would not be paying for many of the things that they were convinced they couldn't live without. They never lacked for any of life's necessities, but we were not in the business of buying personal phones, CD collections, piercings, fad fashions and the like.
So all of our kids had jobs by the time they were in high school. It wasn't mandatory, just the only way they were going to have any folding green.
Our daughters, The Piglet and Decibel, spent a lot their money on extra clothes, the kind that we weren't going to be coughing up the cash for. Our youngest, The Boy, put a death grip on every dollar he earned. They all learned very different, yet fundamental lessons about the value of a buck.
The Piglet found that she would have to work harder to afford the latest styles that she couldn't face the world without, while Decibel learned to search for values on more avant-garde items.
These concepts have stayed with them. The Piglet is still a fashion slave and for many years kept a weekend job to pay for her collection, Decibel finds threads for her more funky look at thrift shops and vintage stores. We suspect The Boy is still wearing the same clothes he wore in high school.
We also tried to make it clear that they had better hold on to some of the money they earned in high school for the future since they would be responsible for their own adult lives either by helping with college expenses or living on their own.
My father told me early and often, "you can go to college or you can go to work, but you can't just hang around here." I never even considered living at home after reaching adulthood because it was never offered as an option and it never occurred to me that it should be.
I count this as one of the best gifts my parents ever gave me.
We had decided long before the college applications were sent out that our kids would be responsible for their own bills while in college. College is NOT 13th grade — we wanted them to learn how to handle money and be personally invested in their education. Believe me, they cared a whole lot more about school when some of their dough was on the line.
We paid for tuition and living quarters for our little intellectuals but everything else, including textbooks, was on their shoulders. Even food and utilities were their responsibility once they moved out of the dorm, which they all did after the first year.
They wanted the freedom and were willing to pay for it. This meant that they would have to work while in school. It also taught them to save money while working summer jobs and it didn't kill a single one of them.
Our kids were shocked (and, yes, jealous at times) at the free money that many of their friends' parents were handing out. In addition to covering expenses, some of their fellow students were receiving $1000 a month or more to spend as they pleased.
Often, we were told, this money went towards things that didn't help with studies, unless getting all liquored up and kneeling to the porcelain god helps to foster enlightenment.
In fairly short order, they began to appreciate what we had expected by insisting that they be financially involved with their educations. They learned to work for what they wanted and sought out friends who did the same.
When graduation day arrived, The Piglet noticed that most of the kids that got the free money were moving back in with their parents after college. BOOMERANG! After four years they hadn't learned the real life skills needed to live as independent adults.
David, GypsyNester.com