We talk with fellow travelers a lot, and one thing we have learned is that almost all of us have woefully overlooked attractions right in our own backyards.
It is very common to go off exploring the far corners of the world and overlook the things that regularly bring visitors to our own hometowns.
We have certainly been guilty of this ourselves, having lived in two tourist destinations for most of our lives and neglecting the local attractions.
We recently decided to remedy one of those situations by booking Viator's Discover Nashville tour.
There was only one small flaw in our plan, we haven't lived in Nashville since 2001, but a recent stopover for the Southern Festival of Books solved that.
Nashville was our home for over twenty years, so the first thing we noticed was how much things have changed.
It is one of America's fastest growing cities so construction cranes are everywhere – they must be the city's new official bird (ba dum-ching!).
Why is Nashville Called Music City?
But this is still Music City, and after meeting the tour group near Opryland and heading downtown, our guide and driver, Terry, told us a story of how that name might have come about.
During a world tour in 1873, Nashville's Fisk University Jubilee Singers were performing for Queen Victoria and she was so impressed that she proclaimed that they must be from the Music City of the United States.
However, the name didn't really catch on until 1950, when radio announcer David Cobb dubbed Nashville "Music City U.S.A."
A Rich History
But Nashville has a lot more going on than catchy tunes, it has a rich history and it is the capital of Tennessee.
As we circled the statehouse grounds we were glad to see the capitol building hadn't changed while we were away.
The rest of downtown certainly has; Music City has become a city of skyscrapers. Happily, much of the city's past still remains in the shadows of those towers.
We drove by Printer's Alley, the (in)famous nightclub row named for the print shops that used to occupy the narrow passage.
We learned that it became an entertainment district during prohibition when the printers would secretly sell the alcohol they used in the printing process once the sun went down.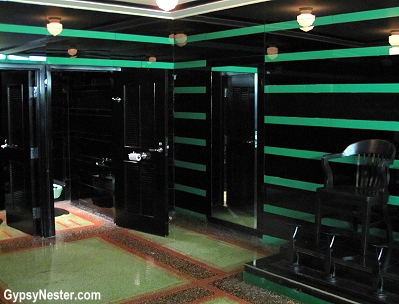 Pay attention to where the Hermitage Hotel is on the tour – you'll
want to stop in for a cocktail and a peek in the bathroom when
you're done! See more pics of this fab loo!
We also passed the Hermitage Hotel, a 5-Star accommodation that might actually be best known for a restroom.
The downstairs men's room just off of the hotel's Capitol Grille has been voted best bathroom in America several times in online polls.
We strongly feel that it deserves the title.
In fact, they have given up on trying to keep curious female observers out and put up a plaque welcoming everyone, regardless of gender, to take a look inside.
See more pics of the bathroom of the Hermitage Hotel's bathroom!
The Mother Church of Country Music
Downtown is also home to the Ryman Auditorium, longtime site of the Grand Ole Opry, so Terry stopped to give us about an hour to go inside and explore.
While the Opry didn't begin at the Ryman, it certainly grew into the national treasure that it is today while broadcasting from the auditorium.
Prior to hosting the Opry, the Ryman had already presented its share of big stars and political heavyweights.
Charlie Chaplin, Will Rogers, and Harry Houdini performed on the stage, and presidents Teddy Roosevelt and William Howard Taft delivered addresses in the early nineteen-hundreds.
The hall became known as "The Mother Church of Country Music" while hosting the Grand Ole Opry for thirty-one years, but the show moved to a modern new home at Opryland in 1974.
There were several reasons for the change, the need for more auditorium seating, the lack of air conditioning, and the fact that there was no backstage area. That last inconvenience actually led to another unique Nashville tradition.
And the Music Plays on…
Many of the performers would hang out behind the building, some sneaking across to Tootsie's Orchid Lounge or some of the other nearby bars for a drink between shows.
Sometimes they'd even sing a song or two, which made the honky-tonks along Nashville's Lower Broadway quite famous.
We were glad to see that these clubs have had quite a resurgence while we were away, with live music returning to most all of them.
The Athens of the South
From downtown we drove to Centennial Park, home to a full-scale replica of the original Parthenon in Athens. It was built in 1897 for the Tennessee Centennial Exposition because at that time Nashville was known as the Athens of the South for its many institutions of higher education, such as Fisk, Vanderbilt, Lipscomb, and Belmont universities.
The interior of this modern version of the temple is an art museum dominated by a re-creation of the Athena Parthenos statue precisely as it was in ancient Greece.
Standing nearly forty-two feet high, she is the largest piece of indoor sculpture in the Western hemisphere.
The park also presents movies and plays throughout the summer and serves as a recreational area for students from the neighboring colleges and musicians from nearby Music Row.
A Tribute to the Greats
Our final destination for the day was the Country Music Hall of Fame.
This is another thing that has changed drastically, and for the better, since we were Nashvillians.
The original Country Music Hall of Fame and Museum opened back in 1967, and even though we drove by it almost every day we never went inside.
While we were away a much larger, new Hall of Fame has taken its place, and it is fantastic. The building incorporates musical images such as windows patterned after piano keys and a radio tower with discs surrounding it representing records and CDs.
Inside, three floors are filled with incredible memorabilia and history going back to the very beginnings of country music in Nashville. We began at the first floor Rotunda, which displays bronze plaques of the over one hundred (and growing every year) inductees, before heading upstairs to the exhibits.
Most of the exhibitions change periodically, but one, Sing Me Back Home, named for Merle Haggard's hit song from the year that the Hall of Fame opened, is permanent.
It tells the story of country music from its pre-commercial roots in the nineteenth century through its current crop of artists.
The rotating displays during our visit featured a tribute to Sam Phillips, the founder of Sun Records.  Phillips left an indelible mark on music history by introducing the world to Johnny Cash, Jerry Lee Lewis, Roy Orbison, Carl Perkins, and Elvis Presley.
We loved the presentation called Dylan, Cash, and the Nashville Cats, which highlights the impact Nashville had on Bob Dylan, and many other artists.
By deciding to record in Nashville, Dylan attracted many other musicians and changed the dynamic of Music City.
Suddenly country was cool.
With their similar styles, Johnny Cash seemed like a perfect fit with Dylan and the two recorded more than a dozen duets.
One of them, Girl from the North Country, made it on to the Nashville Skyline album with Cash also writing the Grammy-winning liner notes.
Remember when albums had liner notes? And they could win a Grammy!
We especially appreciated the focus on some of the unsung musicians that performed in that era.
Sixteen listening booths are set up so visitors can listen to David Briggs, Kenny Buttrey, Fred Carter Jr., Charlie Daniels, Pete Drake, Mac Gayden, Lloyd Green, Ben Keith, Grady Martin, Charlie McCoy, Wayne Moss, Weldon Myrick, Norbert Putnam, Jerry Reed, Pig Robbins and Buddy Spicher perform on many of the greatest records of the sixties and seventies.
All That's Fit to Print
Before leaving we had to stop by Hatch Show Print on the ground floor.
Their history goes back over a hundred years, but the heyday corresponded to the Opry's Ryman days.
Many of the most iconic images of country music came out of their print shop, which was right behind the old auditorium back then.
After moving a few times, and nearly closing, it has now become a part of the new Hall of Fame and is thriving, still producing show posters for yet another generation of fans.
By the end of the day our obvious question to ourselves was, "What took you so long?"
Well, we don't have a good reply, but we can say that touring Nashville was well worth the wait.
As a very cool reminder of our trip, we were very excited to receive the Nashville version of an Explore Local Box in the mail.
The unique gift package came with Music City-centric items such as biscuit mix and pecan brittle, but our favorite was the original Hatch Show Print of the skyline.
David & Veronica, GypsyNester.com
Big thanks to Viator for providing this musical adventure! As always, all opinions are our own. To see more about this tour, click here.
See all of our adventures in Tennessee!
YOUR turn: Have you been to Nashville? Have you seen all of the attractions in your own backyard?