Paris has an excellent reputation as one of the best cities in the world for food lovers. If you find yourself heading to the City of Lights, then make sure to treat yourself to some of the best food that the city has to offer. Knowing exactly where and what to eat can be tricky with so many great choices in Paris, so consider going on a Paris food tour.
Many foods in Paris have long historical roots, and learning about those roots will help you enjoy the food even more. Others have been brought into Paris from other regions of the country because people in Paris want the very best foods possible. Consider these five foods that you must try in Paris.
Oysters
Trying oysters in Paris needs to be on your list. Just crack open the shell, add a little lemon juice and let the oyster slide into your mouth. You will find oysters at many different locations, but some of the best are found at Dessiner in the 17th arrondissement from September to April. You will find a variety of oysters, including salty oysters from Utah Beach in Normandy, France, green oysters from Marennes-Oléron, France, rare huîtres plates oysters from Brittany, France; Étang de Thau, France, oysters that are raised in fresh and seawater and finely textured Arcachon oysters. You can expect impeccable service and great food from this oyster bar.
Macarons
Macarons are another food that you simply cannot leave Paris without trying. Legend records that Catherine di Medici, who eventually became the wife of King Henri II, brought these cookies to Paris from Italy in 1533. Many Parisian restaurants have perfected the art of making them, but you will want to try them at the original Charles Dalloyau location on rue du Faubourg Saint-Honoré. This location has been making macarons at this location since 1802. Ahead of opening this chocolate shop that is also known for its outstanding opera cakes, the family served as the royal pastry chef to King Louis XIV. The best macarons are made with 70 % Venezuelan cocoa, Bergamot tea, or champagne-cognac.
Duck Confit
Duck confit is made by salt curing the duck meat for at least 48 hours before slowly roasting it in its own fat. While you can find a version of duck confit on almost every restaurant's menu, the best is served at Josephine Chez Dumonet in the 6th arrondissement. In this typical Parisian bistro, you will not find any hard outer crust to their duck confit. As soon as you enter, you will think that you have arrived on a Hollywood set because of the Bentwood chairs and lacy white curtains, and you will be treated like a star at this restaurant that also serves outstanding beef bourguignon. Advanced reservations are highly recommended.
Baguettes
Austrian August Zang brought the first steam oven to Paris in the early 19th century, and he is credited with introducing Paris residents to the croissant. In 1920, Paris lawmakers passed a law that bakers could not work between 10 PM and 4 AM, which created problems trying to get the bread ready for breakfast customers. In turn, entrepreneurs created baguettes because the long slender breadsticks would rise and bake faster. Today, many urge that this food should be listed as a cultural icon by UNESCO. You can find the best baguettes at Boulangerie Maison M'seddi in the 13th arrondissement. This baguette that received top honors at the Meilleure Baguette de Paris in 2018 credits his family's secret recipe for his success. During the competition, baguettes are judged on taste, appearance, aroma, baking, and texture.
Camembert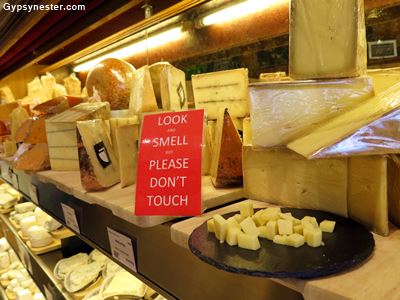 Marie Harel receives credit for making the first camembert cheese in Normandy, France, in 1791, on advice she received from her pastor who she was hiding during the French Revolution. If you can find it after it has just been made, then it has a bland crumbly texture, so you will want to wait until this cheese is aged as it becomes exceptionally creamy. Camembert cheese that is ready for consumption has a hard-outer rind that is a white fungus called penicillium candidum. This cheese that pairs perfectly with a light red wine can be purchased from many cheesemongers in Paris, but the best comes from Marie-Anne Cantin. This cheese shop has been open since 1950, and the same family operates it today. She has formed close relationships with cheese producers throughout France and in Portugal, so be sure to sample different cheeses when you are there buying Camembert.
A food lovers' dream vacation is a trip to Paris where you can find delicious foods at many locations. You may want to start with an appetizer of oysters or order a more substantial amount for the main course. You may also want to have duck confit as your main course. Baguettes are an excellent bread that you will want to try when you are in Paris. Consider finishing your meal with a macaroon or some outstanding Camembert cheese.
We are happy to present this collaborative post to offer valuable information to our readers.