It certainly seemed fitting to sail into Copenhagen from the water, aboard a Viking ship no less.
The city exists because of the harbor, which is basically its name, København, from the original Køpmannæhafn, meaning merchants' harbor.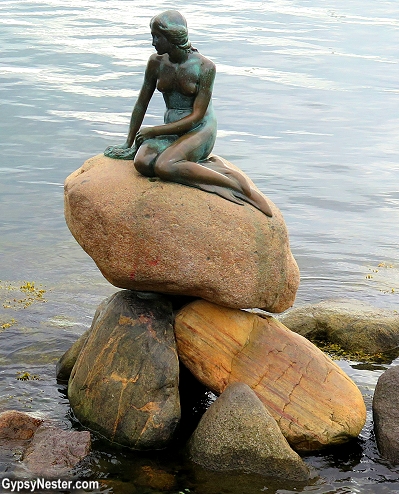 Before that, over a thousand years ago, Vikings used the port and established a fishing village.
It's hard to imagine what the hard-charging Vikings would think pulling into the port now, being greeted by a serene statue of The Little Mermaid.
The bronze tribute to Danish author Hans Christian Andersen by Edvard Eriksen has become a symbol for the city as she sits wistfully on a rock.
She's completely unViking-like, but very welcoming to us modern-day Viking cruisers.
Did our Guide Just Say the King was a "Short, Fat, Alcoholic?"
From the port, the easiest place to begin our exploration was at Amalienborg Palace, which is actually four identical palaces surrounding an octagonal courtyard.
The royal family has been living on this site for about four hundred years, including the current monarch, Queen Margrethe II.
Our guide pointed out an equestrian statue of King Frederick V in the center of the square and cheekily explained how, even though this whole complex was his baby, it doesn't really look like him.
It seems he wanted to be depicted as a god-like Roman emperor, when in the words of our guide, "the artist must have had quite the time of it; Frederick was a short, fat, alcoholic."
Got to love hilarious honesty in a tour guide!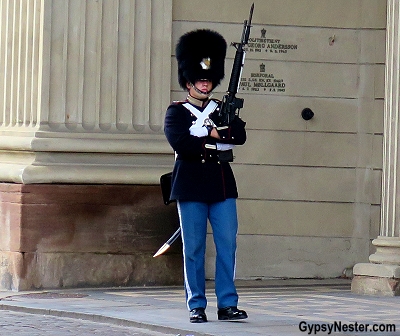 Much like Buckingham Palace, Amalienborg is guarded day and night by Royal Life Guards.
No, they aren't keeping an eye on the swimming pool, these sentries are from an elite infantry regiment of the Danish Army, founded in 1658 by King Frederik III, and are much more than ceremonial.
When they are not wearing funny hats, they serve in a front-line combat unit.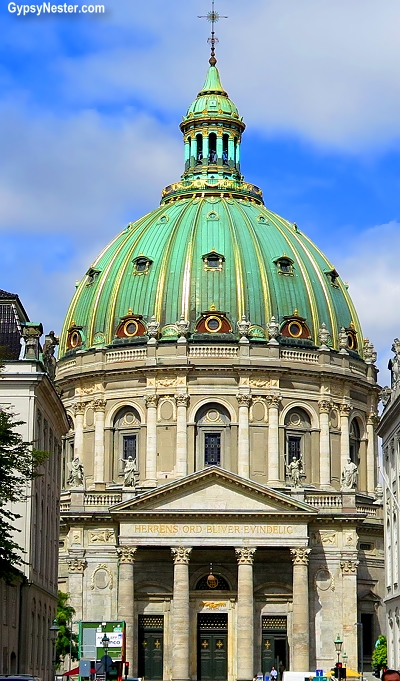 King Roman god want-to-be also wanted a church built in his honor, so Frederik's Church construction began in 1749.
Soon money got tight and the church was left incomplete and stood basically as a ruin for almost a century and a half.
When the church finally opened in 1894 it became known as The Marble Church.
So much for his big monument.
Going deeper into town we came to the Rådhuspladsen, or City Hall Square.
Normally this is a central gathering place for the city in the shadow of the impressive Palace Hotel and City Hall; unfortunately a massive reconstruction project had most of it hidden.
Checking the Weather
But it wasn't a total bust, we did get to see one of Copenhagen's quirky charms, The Weather Girls, perched on top of the Richs building in one corner of the square.
On nice days a sculpture of a girl with her bicycle rotates to the front, but when rain moves in another sculpture appears of her with an umbrella walking her dog.
Not exactly Accuweather, but fun nonetheless.
Government and a Sad Bear
Since we had missed one landmark due to renovations, we high-tailed it to another one nearby, the Christiansborg Palace.
This spot has been the seat of Denmark's government since 1167, when the first castle went up.
Two more castles and a couple of palaces later, and we were looking at the home of the Danish Parliament, as well as the Prime Minister's Office and the Supreme Court.
A rare sight indeed, since this is the only building in the world that houses all three of a country's branches of government.
That's a whole lot of history for just one spot, but it was a new addition to the courtyard that caught our eye, a work of art entitled Unbearable.
In the somewhat disturbing piece, an iron pipe portrays the levels of atmospheric carbon dioxide sky-rocketing into the belly of a polar bear like a spear.
The impact of the sculpture by Jens Galschiøt was immediate and unsettling.
It certainly made us want to investigate the work and what it was saying.
No doubt that was the idea when it was created in collaboration with the World Wildlife Fund.
There are Hippies in Copenhagen? Yes, Serious Ones.
With our thinking being pushed a little outside of the box, we broke off from our tour group to check out an area of Copenhagen that is not a part of the usual tourist programs, Christiania.
This uniquely odd community began back in 1971 when a group of oh… for lack of a better term, let's call them hippies, moved into an abandoned military facility.
The counter-culture squatters declared themselves to be an autonomous entity known as Freetown Christiania.
It didn't take long for a thriving cannabis trade to develop, and the business was generally tolerated and overlooked by the authorities for years.
The attitude among civil authorities became one of begrudging tolerance, deciding that keeping things confined to this area might not be a bad idea.
But in 2004 they decided to crackdown, and after that the dealings went undercover, but didn't stop.
Now things have relaxed again, but with some odd twists, one that we encountered as we approached Pusher Street in what is known as the Green Light District.
Booths are openly selling pot and hash, but the proprietors are all wearing ski masks or scarves to hide their identities and a no photos policy is strictly enforced.
Other than that somewhat dark underground feel of this small section we found Christiania to be mostly groovy, with folks enjoying the good vibes of a beautiful day while getting baked in a lovely setting.
Having dug the scene, we decided to split before we developed a serious contact high.
But we figured we'd check out some places nearby where folks go to satisfy their munchies anyway.
The City of Spires
A very cool landmark had been guiding our path since we set out to find Christiania from across the bridge, the distinctive spire of the Vor Frelsers Kirke.
Copenhagen is sometimes called the City of Spires because of all of the towers on its churches and castles.
But of all of them, this one on the Church of Our Saviour had been intriguing us all day with its external spiral stairway climbing all the way to the top.
Talk about getting high!
Uberfancy Sandwiches
Having found both the commune and the tower, we were ready to reward ourselves with a Scandinavian lunch treat, smørrebrød.
These are open-faced sandwiches meant to be eaten with a knife and fork. Toppings are artistically arraigned on brown bread to create an edible work of art.
We went with chicken salad and shrimp on avocado, two classics.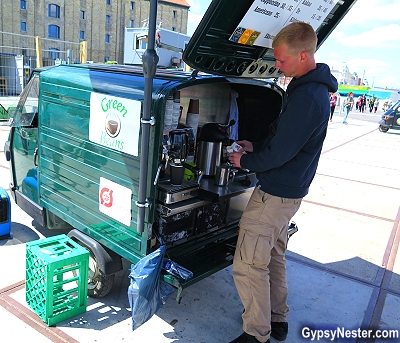 Once again we found ourselves wondering what a Viking might think.
It's hard to imagine one of the burly warriors accepting these dainty delicacies as a meal, but then we'd venture a guess that we might be less than enthusiastic about eating most of their fare too.
With that in mind we headed back to our ship content with our place in history… just as we suspect those Vikings of old were with theirs.
David & Veronica, GypsyNester.com
A big thanks to Viking Ocean Cruises for inviting us along and providing this adventure through the Viking Homelands! Sweden, Finland, Russia, Estonia, Poland, Germany, Denmark, and Norway. As always, all opinions are our own.
YOUR TURN: