Asking around, we got conflicting answers to the question, "Where do we spend the actual day of Mardi Gras?"
We had spent almost three weeks in Acadiana, celebrating all things Mardi Gras, but still hadn't landed on where to spend the big day.
Narrowing our many choices down to two, we focused on Eunice and Mamou, because each boasted chicken chasing, a big street festival and authenticity.
We were told Eunice was both "the best – by far"' and "too commercial." Mamou, on the other hand receive reviews like "the most authentic" and "just a bunch of drunks sitting on ice chests."
Like the idiots we are, we decided to visit both. (click here to find out more on Mardi Gras outside of New Orleans)
Mamou – Can a celebration be too authentic?
We arrived at Mamou at about 10:30 in the morning and it was already in full swing. Folks were already visiting the bars and dancing in the streets and we had to wonder about stamina.
Were they going to make it until three when the chicken chasers came in from their antics?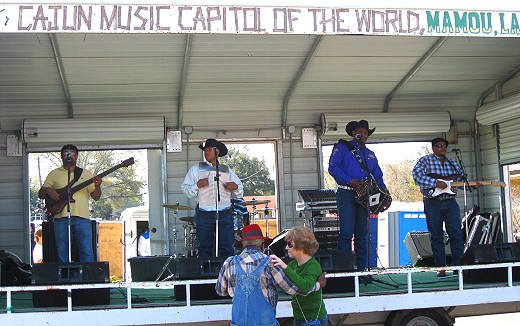 Uncertain as to what to call Mamou…unkempt, unruly, unprepared…we held our breath and jumped in. It seemed to us that the town may barely exist anymore.
The establishments we entered had names scrawled on windows and, with the exception of Fred's Lounge, seemed to be haphazardly opened for the day.
Standing water, bags of refuse and unworking bathrooms were everywhere. Porta potties were overflowing and not a bit of toilet paper was to be found.
Thank goodness Veronica always had her trusty baby wipes with her! But – if this is what folks call authentic – well, who are we to judge?
Fred's is a trip though. Alfred Tate opened his lounge in 1946 and revived the tradition of Courir de Mardi Gras in 1950.
In 1962, the radio station KVPI began broadcasting from Fred's, helping to keep the French Renaissance (Cajun music, language and culture) alive.
Other than Mardi Gras, Fred's is only open on Saturdays.
When the chicken chasers made it in from the countryside, the revelers whooped and hollered as they paraded through the streets.
click here to find out more on Mardi Gras outside of New Orleans
Eunice – NOW we're talkin'!
Eunice on the other hand, bills itself as a more family-friendly fare. Don't get us wrong – it's still a party, just a more put together one.
We bugged out of Mamou as soon as the parade came through and hightailed it to Eunice – a mere ten miles but worlds away.
More geared toward – and welcoming – of outsiders, Eunice was more than prepared for our arrival.
A lot of work went into their Mardi Gras celebrations, and it showed.
Click here to find out more on Mardi Gras outside of New Orleans
David & Veronica, GypsyNester.com
Delve deeper:
See our entire journey discovering Mardi Gras outside of New Orleans
Visit the crazy Courir de Mardi Gras, in Church Point – chicken chasing!
Go hog wild at an old-fashioned Boucherie meat fest!
Watch dogs celebrate Mardi Gras at the Krewe des Chiens Dog Parade
Find out how to get booze at a drive-thru window
Join us at the parades in Jeanerette and Lafayette
Learn more about the Acadian, Canadian, and Cajun connection
See our thank you to the mysterious person at the Dog Parade who commited a wonderful act of kindness!