A big thank you to Corning and the Southern Finger Lakes for providing this crackin' adventure. As always, all opinions are our own.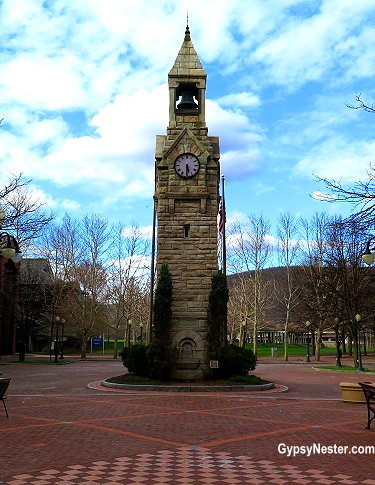 While it serves as the hub for the Finger Lakes region of New York State, Corning's main attraction isn't the water, though it is every bit as clear as the pristine lakes. In fact, the allure is crystal clear as glass.
The city began as a lumber town, but when the Corning Glass Works began in 1868 a new future was forged and, as anyone who ever ate a tuna casserole as a kid knows, the name Corning soon became synonymous with glassware.
But we discovered when we visited the Corning Museum of Glass that there has been a heck of a lot more than making oven-safe cookware going on.
Let's kick some glass!
We began by signing up for the Make Your Own Glass experience to gain a little hands-on knowledge.
Veronica chose to make a flower, where molten glass is brought out of the furnace at over a thousand degrees and stretched, pulled, twisted, and formed into a delicate blossom.
David's entry was a bit less flamboyant, the attempted ornamental knickknack came out looking a bit like a forsaken moon of some distant unknown planet, but he did get to actually blow the liquid glass into the spherical shape.
Of course none of this was done without supervision, we had no idea what we were doing and working with melted rock that is heated to somewhere around core of the earth temperatures can be just a tad dangerous.
Under the skilled — and patient — tutelage of expert glassworkers Kurt and Torey (and a ton of safety gear), we succeeded in finishing our creations unharmed.
WATCH: Your GypsyNesters learn to create glass masterpieces!

We were surprised to learn that we could not take our masterpieces with us since it takes several days to complete the cooling process.
The glass must be slowly brought down to room temperature or it will crack and shatter. When ready, they will be shipped to us.
Glass of the Ancients
With a slightly better understanding of how glass can be worked and manipulated, we headed inside the main building.
While the museum was founded by the glassworks, it is not about the company; instead it looks at the historic, technological, and artistic uses of glass over the centuries.
Actually, millennia would be more precise, since we started our tour with the exhibit 35 Centuries of Glass, a collection of ancient artifacts dating back several thousand years.
We began with ancient Egypt, where glass was valued in much the same way as gems, and continued with the Romans, the Islamic world, Venetians, the rest of Europe, and finally America.
That's a nice piece of glass!
The modern section features a dazzling display of paper weights, which would have seemed completely commonplace to us before learning what is involved in making them.
Layer upon layer of glass has to be painstakingly, and perfectly, added to create the finished product.
One flaw and end result is ruined.
A difficult task even for the normal-sized versions, but when we saw the world's largest behemoth we could hardly imagine the time and patience involved.
The massive sphere weighs in at one hundred and seven pounds, with over thirty layers of glass.
There's more than one way to tame a glass
This traditional, artistic use of glass had us ready to explore some more avant-garde examples in the brand new Contemporary Art + Design Wing.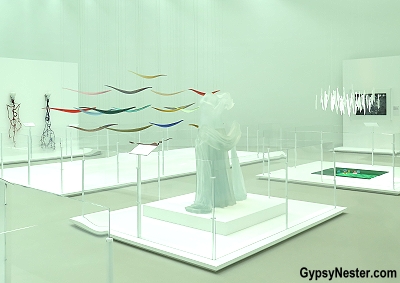 This is the world's largest space dedicated to the display of contemporary art and design in glass and features a sophisticated light-filtering system with diffusing skylights.
The lighting along with the stark design makes the artwork pop out of their surroundings; sometimes feeling like they are floating in space.
One of our favorites was Forest Glass by Katherine Gray, where an illusion of trees is formed from an assortment of everyday drinking glasses.
When we looked up close we noticed several styles that we had either used when we were kids or seen a ton of times in restaurants and cafes.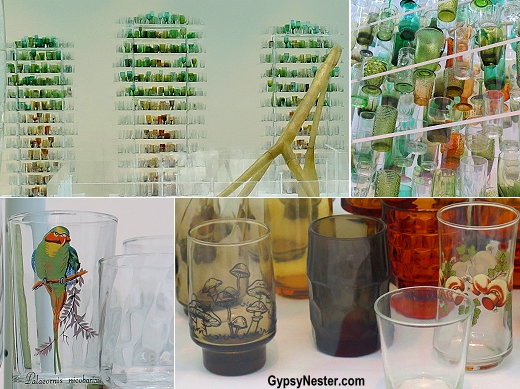 Another standout was Carroña, where the artist, Javier Pérez, intentionally dropped a huge chandelier and taxidermied crows pick over the broken shards.
The stark surroundings made a perfect background for this provocative piece.
That's a hot glass!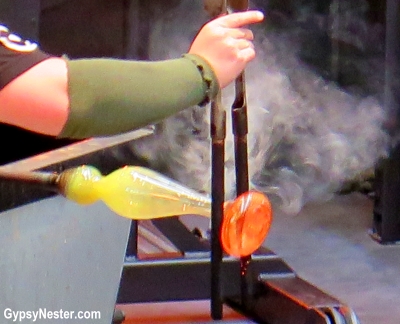 Before leaving, we stopped in for a couple of the many informative and entertaining demonstrations that take place every day.
The Hot Glass Show was a chance to watch professionals do what we attempted earlier while making our glass.
Not surprisingly, their results were markedly better than ours.
We're bustin' glass
Then we popped in on the Glassbreaking Demo, because, seriously, who can resist breaking a bunch of glass?
There was glass to be broken (yes!), but the presentation was more about the important advances in preventing or controlling how glass breaks, especially for safety improvements in cars, the workplace, and smartphones.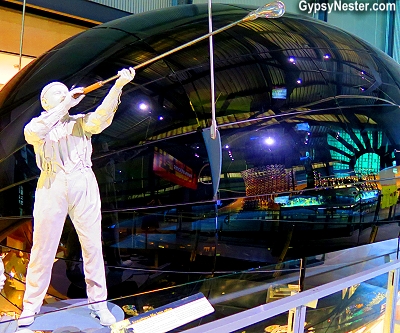 By closing time, we realized that we had spent an entire day and there was still more to see – guess that's why tickets are good for two days.
For us, one day would have to suffice because we had plenty of other things left to see in Corning… first things first though, dinner.
Craft beer and great food
In Corning, Historic Market Street is the place to go when hunger hits, and the Market Street Brewing Company offers everything from bar snacks to four course feasts.
Many of the selections were innovative, like the sushi nachos we began with.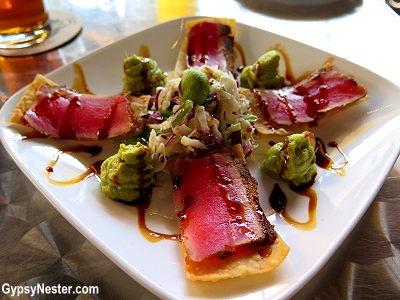 We never would have thought to put tuna, jalapeño coleslaw, guacamole, and wasabi together, but man does it work!
Wasabimole, baby… or is it guacasabi?
They need to patent the idea.
They also brew their own beer right on the premises.  We paired up our appetizer with the Mad Bug and Blackberry Lagers.
Both are crisp and clean, but one had a hint of fruit flavor. Guess which one.
Feeling feisty after our tankards of ale, we went more of the feast route, continuing on with steak salad, pork chops, and a dessert of brownie and homemade maple ice cream.
After dinner the owners, Theresa and Pelham McClellan, showed us around.
The brewery has been incorporated into a historic building, next to the antique bar.
In keeping with the city's connection to glass, the mirror behind the bar is a classic piece by Steuben that was a wedding present from the USA to Princess Diana and Prince Charles.
Victorian Splendor
Full as ticks, we were ready to call it a day.
Just a short stroll from Market Street, the Rosewood Inn was the perfect place to lay our weary heads.
We happily crawled into bed and slept away the night in Victorian splendor.
In the morning we got the grand tour from our innkeeper, Suzanne Sanders.
Built in 1855, the Rosewood Inn is on the National Historic Register, and Ms. Sander's homey touches enhance every corner.
About one hundred years ago the house was renovated in English Tudor style and then, in 1980, was restored to its current configuration as a bed & breakfast inn. Suzanne took over in 1991, upon falling in love with the Finger Lakes area and deciding to stay.
Corning, prior to glass
After saying goodbye to our new friend, we headed over to Heritage Village of the Southern Finger Lakes for some insight into how the earliest settlers of the area lived.
Inside the main building, the Benjamin Patterson Inn, we were met by Norma Bird who was laying a fire in the kitchen.
She explained how the old inn served as tavern, lodging, and meeting hall for the few hardy souls adventurous enough to make their way to this outpost.
When it was built, just after the Revolutionary War, this was America's frontier.
Without missing a beat in her history dissertation, Norma cooked up some authentic colonial food, root vegetables and corn meal mush, on the hearth.
The results were surprisingly palatable; pretty good eating from the days before refrigeration.
WATCH: Edutainment at its finest! We learned to cook on a hearth, blacksmith, and learned where the sayings "sleep tight," "strike while the iron is hot" and "bar and grill" came from!

In the tavern section of the inn, Norma gave us one of those historic tidbits that we love to learn – the origin of the term bar and grill.
The word grill has nothing to do with cooking; it comes from a protective grillwork used to lock up the liquor, which was a mighty valuable commodity back then.
The upstairs served as the sleeping quarters — no private rooms in this inn — often there weren't even private beds, depending on the number of patrons.
The Patterson family shared an adjacent room with mom, dad, and all of the kids living together.
From the inn we walked out to the fully operational blacksmith shop, circa 1870.
Leon, the resident smith, had his fire red hot and was busy making salt spoons out of horseshoe nails when we arrived. He makes them by the dozen since they are a favorite souvenir in the gift shop.
That is only a small project for him, as he showed us various methods incorporated into much bigger jobs such as making decorative iron fences, windows, and doors.
Leon's expert hammer work and knowledge of just where to place the metal on the anvil comes from years of experience.
Rockin' the Rockwell!
Bidding adieu to one frontier lifestyle, we made our way to the Rockwell Museum to check out another, the Old West.
The museum's emphasis is certainly unexpected for this neck of the woods.
Back in 1976, Bob and Hertha Rockwell donated their collection of Western art to the city of Corning and set in motion a process that not only created the museum, but saved the historic old city hall building.
The 1893 structure was about to be demolished, but fortunately the city found an opportunity to save the building — and the money to tear it down — selling it to the museum for one dollar.
It only took two-and-a-half million times that amount to transform the former city hall / firehouse / jail into a beautiful state-of-the-art museum.
Perhaps the most popular part of that renovation, and the first thing we noticed when we arrived, is Artemus (art is a must).
It's hard to miss a life-sized bison bursting through a second story brick wall. In one of the museum's many outreaches to local schools, he was named by a second grade contest winner.
Other programs include free admission for everyone under seventeen, a student gallery devoted to displaying artwork created by students, and the Alley Art Project.
Alley Art is a special collaboration between The Rockwell Museum and the High School Learning Center where young artists involved in the instruction program showcase their talents through murals in Corning's side streets.
We were thrilled to find several iconic pieces of Western art inside the beautifully restored gallery.
James Earle Fraser's The End of the Trail, was closely followed closely by Cyrus Dallin's Appeal to the Great Spirit.
Both statues depict Native Americans on horseback, but with vastly different emotions, one exhausted and trail weary, the other raising his arms in prayer.
We immediately recognized Appeal to the Great Spirit from the silhouette of it that was famously seen on The Beach Boys in Concert album from 1973.
It was also the logo for their record company, Brother Records.
Other well-known works in the collection include Albert Bierstadt's stunning painting Mount Whitney, and several by the king of Western art, Frederic Remington, including Winter Campaign, The Cheyenne, and The Arizona Cowboy.  (see more of the art in the Rockwell Museum)
Like any good cowpoke, Arizona is a tall drink of water… and now we know right where he can get the glass.
David & Veronica, GypsyNester.com
DELVE DEEPER and find more to do in the Finger Lakes Area of New York:
Follow us further into the Rockwell Museum
Watch us soar above it all while gliding in a sailplane
We drove our motorhome on Watkins Glen Speedway!
See all of our adventures in New York!
A big thank you to Corning and the Southern Finger Lakes for providing this crackin' adventure. As always, all opinions are our own.