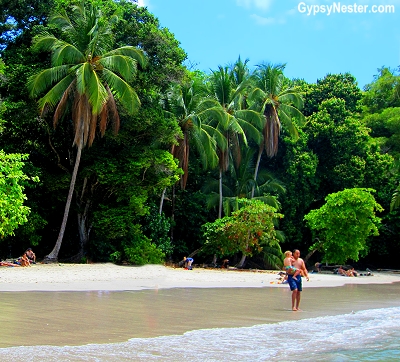 On the short bus ride from the Parador Hotel to Manuel Antonio National Park, we asked what seemed to us to be an obvious question, who is the park named for?
Who is, or was, Manuel Antonio?
Our guide laughed as if we must be kidding. As far as he or anyone else in the area seemed to know… nobody knows.
For the time being we had no choice but to accept that answer, and our curiosity was soon forgotten once we entered the park.
The small preserve along Costa Rica's Pacific coast has been rated by Forbes as one of the world's 12 Most Beautiful National Parks and is absolutely teeming with creatures, so our attention was directed elsewhere.
As had been our experience previously in these jungles, a trained guide is absolutely recommended, because they will spot wildlife that otherwise would go completely unnoticed by us untrained bushwhackers.
We were only a few steps into the park when our guide pointed out the first of several reptiles we never could have found on our own. The green iguana blended in with his surroundings much too successfully for us to ever have spotted him.
Next up, a couple of frogs that only the most skilled and eagle-eyed naturalist ever could have noticed. Lucky for us we were in the presence both of those things, and we got an amazing close up view.
Our guide's skills were not limited to reptiles hiding close to the ground either; he was just as expert at finding the residents of the jungle tree tops.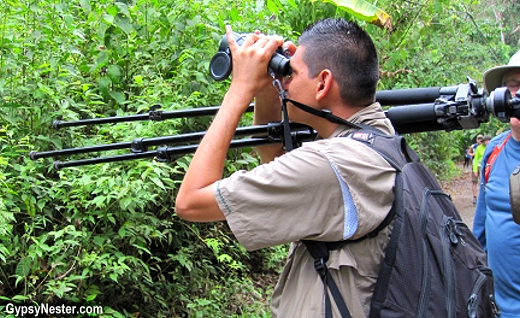 Sloths were all around us, we just had to know where to look up…
…as were many of the park's nearly two hundred species of birds.
For our aviary observation pleasure, a slaty-tailed trogo, which was kind enough to stay still just long enough for us to get a good look at him through the telescope, then a real prize, at least it seemed that way to those of us who grew up on Froot Loops, a fiery-billed aracari.
What? Oh yeah, he's much better known as a toucan.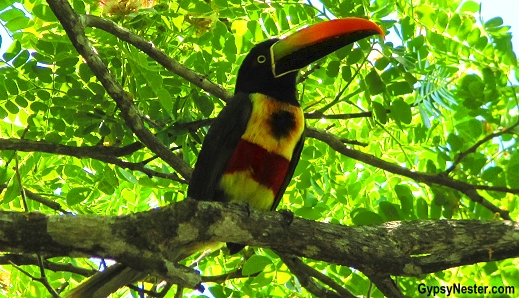 We didn't catch his name, but we must assume it was Sam.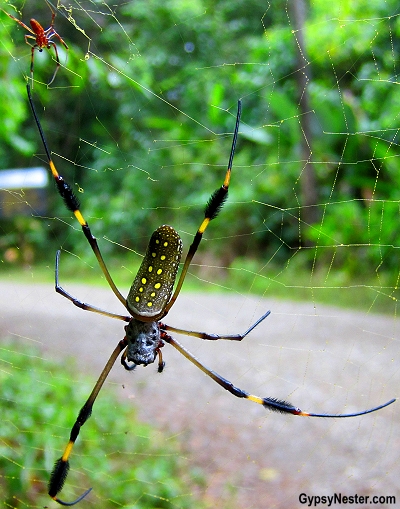 We didn't need any help when it came to spotting a giant banana spider.
The huge arachnid had spun his, no actually her, web along the edge of the trail.
On closer inspection we could also see her tiny mate hanging out nearby.
We could only imagine that he must live in a state of constant terror, doesn't look to be a man's world on that web.
Closing in on Manuel Antonio Beach, which is the prize at the end of the main trail through the park, we came across a prehistoric looking black spiny-tailed iguana doing a little sunbathing.
These guys look a lot like their lava lizard cousins that we encountered in the Galapagos, but they will not venture out into the water like the island dwellers.
No need, there's plenty to eat without having to swim for it.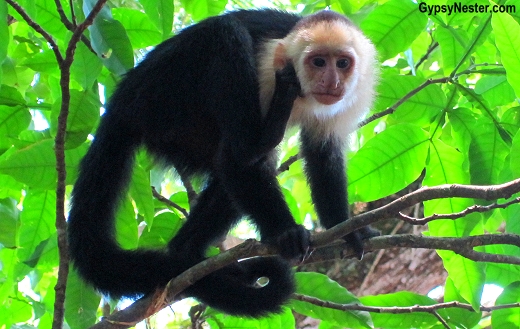 At the beach a mischievous troop of capuchin monkeys stopped by for a visit.
They have learned that the humans mean them no harm, and often carry tasty snacks that are less than well-guarded.
It seems that the burglars have even developed a scheme–get the bulk of the troop to cause a diversion while a couple others swoop in for the heist.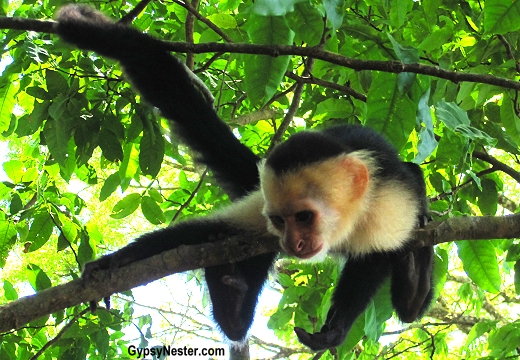 Food is the primary target, but nothing is immune from these primate pilferers, many a camera or cell phone has ended up as loot.
Watch: 1 minute of capuchin monkey goodness!
Just across the narrow isthmus connecting Punta Catedral, Cathedral Point, to the mainland we stopped briefly at another beautiful beach, Playa Espadilla Sur.
Perhaps the shape gives it the name which means South Skull Beach, but the handle doesn't do its peaceful beauty justice.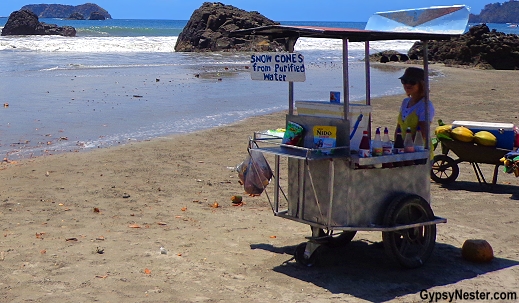 Speaking of names, since we were leaving the park we decided to take a little rest stop in the town of Manuel Antonio and do a little investigating in hopes of satisfying our earlier curiosity.
Perhaps town gives the wrong impression.
It is more a collection of colorful, sun-washed craft shops next to a strip of shops, hotels, and restaurants along the beach.
But it is the perfect place to start, or finish, a day at the park. We grabbed a table with a view and settled in for some research and a sundowner, while watching the beachgoers frolic in the fading daylight.
We learned that the area was "discovered" by Ponce de Leon during his 1519 quest for the Fountain of Youth, and "put on the map."
Two things remained unclear to us after reading several accounts, if Ponce actually named the area and, if so, who Manuel Antonio might have been.
Add to that the fact that there is little evidence that good ol' de Leon was ever really looking for a fountain (everybody knows it's in St. Augustine anyway) , and our inquiry ended up basically a bust.
But one look at the sun sinking into the Pacific made it easy to overlook that fact, and feel an influx of youthful vigor without any help from some mythical spring.
David & Veronica, GypsyNester.com
A HUGE gracias to Parador Resort and Spa for providing this adventure! As always, all opinions are our own.