Hajj is one of the most sacred experiences in a Muslim's life. Most people wait their whole lives for this one chance at seeing the house of Allah with their own eyes, to pray standing right in front of it; and when they finally get the chance it is like a dream come true for them. The sheer emotional value of the experience of the first Hajj performers is so immense that it cannot be ignored, and it is very easy for things to go wrong when you are in a new place for the first time. Therefore, it is important that first-time Hajj performers do their research thoroughly and go prepared with all the information they would need to make the trip fruitful and avoid any discomfort; after all, you would not want anything to distract you from your prayers on such a holy journey.
To aid first-timers, we have compiled a list of four hotels which would provide you with the most comfort and peace of mind while you undertake one of the most important religious rituals in Islam. Let's have a look:
1. Shaza Hotel, Makkah
Shaza is an intimate chain of family hotels across the Middle East. Shaza Makkah is a luxurious hotel which allows guests to enjoy their trip without worrying about the nitty-gritties. It prides itself on its luxurious services which put its guests at ease. The staying quarters are luxurious and comfortable and there is a range of rooms and suites to choose from with varying degrees of services included, the in-house restaurants offer delicacies of regions the world over, and the spa, pool and other recreational services make for a relaxing time. The hotel also offers its guests with a Morafik service (personal attendant) and a Mustachar (guide) is at your service to help you plan your Hajj trip down to the last detail. From airport transfer services to indulgent rooms, fine-dining, spa and guide services, Shaza has it all for first-time Hajj performers to pray in utter peace and leave the rest to Shaza.
2. Movenpick Hotel and Residences, Hajar Tower, Makkah
Movenpick Hotel is a five-star hotel located directly in the heart of the Haram court, facing the King Abdul Aziz Gate as part of the prestigious Abraj-al-Bait complex. Movenpick is an obvious choice for pilgrims, especially first-timers, not only because of its sheer proximity and closeness to the Haram itself but also for its excellent treatment of its guests. It offers an array of luxurious rooms to choose from, each with either a complete or a partial view of the Haram and/or the Kaaba to keep prayers even more soulful. The hotel offers airport transfer services for the guests to bring them to and from the hotel, and there are a number of in-house restaurants to cater to every kind of food craving. It is truly a five-star experience for first-time pilgrims.
3. Makkah Clock Royal Tower (A Fairmont Hotel)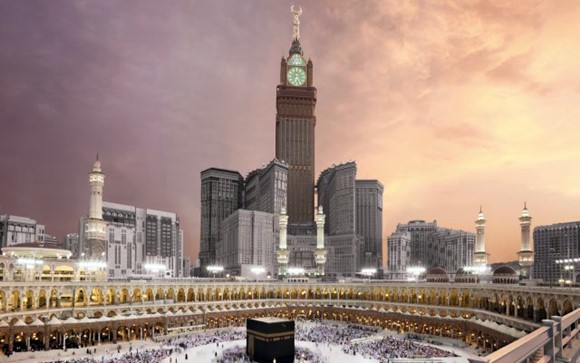 The Clock Tower is one of the most famous symbols of the city. Overlooking the Haram at 76 floors tall, it is the focal point of the Abraj-al-Bait complex. It is the most visible hotel in proximity to the Haram and this is its most interesting point. With an incredible 1650 suites and residences, the hotel boasts 56 elevators to allow ease of access from the rooms to the city beyond. The Clock Royal Tower combines luxury with unrivalled views of the Haram, the Kaaba and the city of Makkah to create a truly life-changing experience. If you are a first-time Hajj pilgrim, you will never forget your trip with the Makkah Clock Royal Tower.
4. InterContinental Dar Al Tawhid
Located what seems like just a few steps away from the Haram, The InterCon Dar Al Tawhid is another feather in the city's hat of providing comfortable and indulgent accommodation to pilgrims. With a private entrance from the hotel directly into the Haram, guests are sure not to lose time in the journey to and from the mosque and can utilize their time better in prayers. With a choice of rooms between classic, executive or suite, first-time pilgrims have a choice of comfort to spend their time and devote themselves to prayers.
Hajj is a sacred ritual which requires utmost devotion and dedication. A good accommodation is an important step in making the journey comfortable.
We are happy to present this collaborative post to offer valuable information to our readers.