The dishes of Nepal are as unique as the backgrounds and ethnicities of the people, and there are major differences in regional cuisine. The three main geographical regions have a dramatic influence on what type of food is available. Here are a few dishes to try in each of the three topographic regions of Nepal.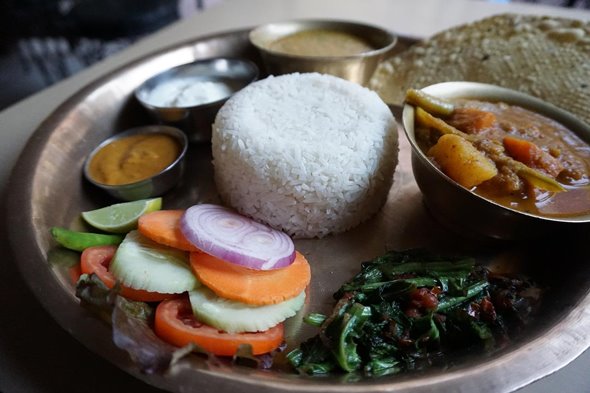 Terai or jungle region of the south
The jungle lowlands in the south have the widest variety of agriculture due to the climate and abundance of water. Rivers provide fish, and steamy lowlands are striped with stacked terraces growing rice and millet. Fruit grows abundantly in this region, including mangoes, papayas, bananas, and jackfruit.
Dal Bhat
The true staple of Nepalese cuisine is dal bhat. The base of the dish is lentil soup with rice and a steamed seasonal vegetable, but it varies regionally based on what is available. In the lowlands, it's served with sides like pickles, curry, yogurt, chutney, and fish.
Gundruk
Made by fermenting leafy green vegetables, this dish has an earthy flavor reminiscent of salty mushrooms. It is sometimes pickled and used as a garnish for curry or dal bhat.
The central hilly region
With a moderate climate throughout the year, the central hilly region diet is conducive to rice-based dishes. The original inhabitants of the valley have a distinct cuisine, architecture, and language. Agriculture varies wildly due to the microclimates, giving rise to many variations on a theme.  
Chatamari
A round crepe made from rice flour cooked with onions, meat, egg, and spices. Depending on the region and available crops, it can also contain local vegetables as a stuffing.
Mo mo dumplings
Steamed vegetables and meat make up the main ingredients of the dumplings, which are wrapped in a flour dough and steamed or fried. These tasty snacks usually come ten to a plate and are served with spicy chili dip. You'll find these served alongside main dishes in restaurants or at street stalls as a standalone snack.
Himalayan and high-altitude regions of the north
The high-altitude growing conditions and food scarcity of the Himalaya area in the north shaped the dishes toward stews and other warm dishes and drinks. At the highest altitudes, food becomes limited due to short growing seasons and the lack of transportation. Potatoes and other root vegetables are staples in hot, nutrient-rich soups and appear fried with vegetables, cheese, and eggs.
Thukpa with mo mo dumplings
A thick noodle soup that can include meat, egg or just vegetables is indispensable in winter. Often served with an accompanying dish of mo mo dumplings, the soup starts with a carefully seasoned rich meat broth made from available meats. Visitors are encouraged to try garlic soup to battle the effects of altitude but should avoid meat because it's unlikely to be fresh.
Pro tip
Taste the glorious flavors of each region on the Manaslu Trek. This unique circuit around the 8,000-meter peak takes visitors through each of the regions, allowing you to try each dish where it originated.
Conclusion
The influences of different cultures are best reflected in a country's cuisine. Due to tourism and modern travel techniques, you may find each of these regional cuisines in a cultural center like Kathmandu but beware the temptation to sample these dishes before you arrive. The local preparation and ingredients add an element that can't be duplicated elsewhere.
We are happy to present this collaborative post to offer valuable information to our readers.