What makes a great cycling holiday?
The answer depends on what anyone wants from their cycling holidays. In this case, I'm talking cycling as a means of Slow Travel. Immersing yourself in the rhythm of a place; trying to blend in as seamlessly as possible with the pace of local life, learning about culture, traditions, and gastronomy as well as getting to know the people and enjoying postcard-worthy scenery along the way.
To do that it helps to have an itinerary which has been designed to take cyclists on a voyage which weaves through eye-candy landscapes and chocolate box villages, passing tabernas/tascas/hüttes which are perfect for a pause to allow time to reflect on the memorable highlights notched up. Slow Travel specialists, Inntravel, have created an irresistible selection of self-guided cycling holidays across Europe which tick all of these boxes and then some. These are ten of the best of them.
Idyllic Istria – Croatia
Exploring Istria's coastal and inland cycle paths for the first time feels familiar and yet refreshingly different. Honey-coloured villages surrounded by olive and citrus groves bask on the edge of a sparkling Adriatic Sea.
At times there's a laid-back Mediterranean vibe, at others the feel is distinctly northern European. This melange of influences extends to menus in cosy little konobes (taverns) where the seafood is excellent and so are the pizzas. The pastel-coloured facades of Venetian houses in Rovinjo old town, Istria's shining star, squeezed onto a small oval-shaped peninsula, encapsulate the heady mix of visual treats this part of Croatia has to offer.
Salzburg's Lake District – Austria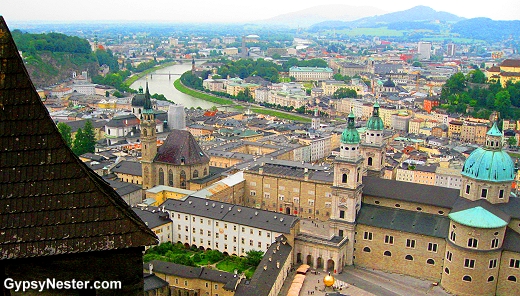 The journey takes in lakes whose surface are like glass, churches with onion-domed spires, cavorting rivers, and pristine meadows below saw-toothed peaks. It's an area with a musical lilt, from Julie Andrews belting out numbers in the Sound of Music to a village where Mahler spent sultry summer months composing symphonies.
Getting around involves scenic boat trips and a cog railway, as well as on two wheels, whilst local specialities to try include gröstl; an ideal brunch dish of bacon, potato, and onion topped with a fried egg. The highlight is the village of Hallstatt, a pearl of a UNESCO World Heritage Site rising up from the shores of Hallstätter See.
Medieval Mantova to Romantic Verona – Italy
The problem with cycling in Italy is, unless you're a cycling fashionista, you're never going to blend in with locals who look as stylish on two wheels as they do sipping chianti in a wine bar. This is an Italian classic encompassing the Renaissance architecture of Mantova; cycle paths alongside the River Minicio and Lake Garda; vineyards; orchards; a bird reserve; and Sigurtà Garden Park (the temple of nature) – a fabulous spot for a picnic. The cycling comes to an end in the most romantic of cities, Romeo and Juliet's Verona, where alluring restaurants serve taste-bud seducing plates of burrata cheese with crispy fried courgette flowers.
The Danish Riviera – Denmark
Denmark's countryside is the domain of elves and goblins; a land which inspired Hans Christian Anderson to pen fantastical tales. There's a literary theme running throughout this exploration of the Danish Riviera; from Kronborg Castle (the setting for Shakespeare's Hamlet) to a museum dedicated to Karen Blixen, author of Out of Africa. Trails connect simple fishing villages of thatched-roof cottages to more opulent attractions like the Royal Palace of Fredensborg, 'the Danish Versailles'.
Nature provides equally diverse surroundings, including forests, heathlands and sweeping white-sand beaches where sea views should be complimented by a lunch consisting of a crab sandwich and a sneaky shot of schnapps distilled by the monks of Esrum Abbey.
Impressions of the Camargue – France
Cycling through the Camargue rewards with an exhilarating roller-coaster ride of incomparable experiences. Whereas towns and cities en-route combine the historic (the Roman amphitheatre at Arles) with the artistic (St-Rémy where Van Gogh painted Starry Night). Camargue's wetlands are wildly beautiful and home to black bulls, pink flamingos, and white horses ridden by gardians (cowboys), too.
Highlight piles up against highlight, commencing with the 15th-century castle of Tarascon (now a bizarre art gallery) and continuing to the point you find yourself soaking up sea views from a church roof in Saintes-Maries-de-la-Mer before dropping to street level, hopefully not literally, for a tiered-tower lunch of freshly caught seafood.
Lagoons & the 'Silver Coast' – Portugal
What destination has canals, gondolas, and a lagoon but isn't Venice? The answer is Aveiro. Portugal's 'little Venice' is known by the Portuguese but not so much by people beyond the country's borders. It's a place to relax and take it easy, whether reclining in a Portuguese gondola or cycling along trails beside the Aveiro lagoon, salt flats, endless beaches, and through the streets of Costa Nova whose stripey, clapboard houses look like they belong on a film set. This is an area favoured by fishermen and fishing birds, a clue as to what traditional dishes are likely to be – bacalhau (salt cod) is particularly good in Costa Nova.
Dutch Discovery – Holland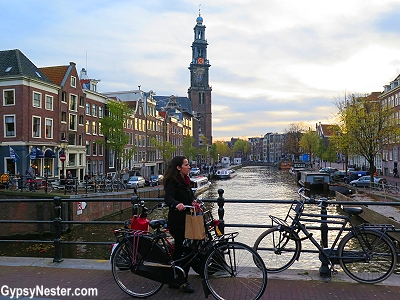 Any 'best of' cycling holidays must include the bicycle capital of the world, Amsterdam. However, the passion for cycling extends beyond the streets of the Netherlands' capital.
Dutch Discovery includes Amsterdam, but also freewheels its way from Edam to Gouda (no need to suggest what culinary goodies to try in either), passing windmills, lakes and meadows. Intriguing sights to be seen include Stelling van Amsterdam, a 135-kilometre-long ring of fortifications, and Oudewater, one of the Netherlands oldest towns.
In the 16th century, women accused of witchcraft were brought to Oudewater to be weighed. Any woman deemed too heavy to keep a broomstick in the air couldn't be a witch.
Bavarian Castles & Villages – Germany
If it's dramatic cycling you crave, Bavaria is brimming with all the requisite ingredients, ranging from clifftop fairy-tale castles with Gothic spires and striking mountain lakes to villages whose houses have frescoed walls. Route highlights include being transfixed by the intensity of the colours of the lakes in Das Blaue Land (the Blue Land) and a visit to Hohenschwangau, an opulent castle designed by and for a king.
Embracing gastronomic tradition involves indulging in the daily German ritual of kaffee und kuchen – coffee and a wedge of cake.
Idyllic Menorca – Spain
Cycling around country lanes on a sunny island in the Mediterranean is akin to being given a shot of instant relaxation. Obviously, there are oodles of sandy beaches and cosy coves to discover, but there are also pine forests, wild moors and fishing villages with white-washed cottages and harbour-side restaurants.
In Cuitadella and Mahón, Menorca has two contrastingly and equally picturesque small, historic cities. Mahón was the capital when the island was under British rule, so a good place to try Mahón gin, a Menorcan snifter first introduced by English sailors in the 18th century, but maybe only after the day's cycling is done.
In the Shadow of the Julian Alps – Slovenia
One of the most sought-after Instagram travel images is of a Medieval castle and church on an island in the centre of a cerulean lake. But whilst Instagrammers snap stunning Lake Bled and move on in search of their next trophy, cyclists can take their time to absorb more of Slovenia's paradisiacal landscapes in depth.
Travelling through Slovenia by bike is to discover a world of limestone peaks dusted with snow, cascading waterfalls, walkways through gorges, and villages where hay is stored in wooden racks and bees buzz around hives of many colours. It's not so much slow travelling as time travelling.
We are happy to present this collaborative post to offer valuable information to our readers.