Ever hear people say "I'd like to escape to an island somewhere?"
Well after the insanity of the past year and a half, who could blame them? Not us, that's for sure.
In fact, we think that they might just be on to a really good idea. Escaping to a far away island sounds like just the ticket to put all of that craziness out of site and out of mind. And with the days getting shorter, and cooler, now just might be the time to start planning a getaway.
So let's take a look at two outstanding options for a little self-imposed island exile, Mallorca, in the sunny Mediterranean, and Hawaii, out in middle of the tropical Pacific. And while we are thinking about this escape, we are also thinking that this is a good time for a vacation without any hassles.
No worries about where to stay, what to do, or what to eat. That means we will be looking at some all-inclusive alternatives. There's no better way to relax. And even with the Covid considerations not completely behind us, we can feel confident in the precautions these resorts are taking.
So, let's begin by looking at some Mallorca all-inclusive resorts. Most are either on the beach, or only a few steps away, and all of them are perfect for exploring this unique and exciting island.
Mallorca has been the historic home to the Talaiotic Culture, Phoenicians, Romans, the Crown of Aragon, and now Spain. Along the way, many others dropped by hoping to enjoy the beautiful island, or maybe ransack and conquer it.
Either way it has been a popular destination ever since the first boats began to sail the Mediterranean. Of course, now things have settled down and taken a turn for the luxurious. Catering to visitor's comfort has become a way of life.
Still, enjoying the extravagance of an all-inclusive resort doesn't mean that we can't do some exploring on our own. I mean, if we are going to Mallorca, we have to see a few of the sites.
We wouldn't want to miss Sa Calobra, The Snake Road, through the Serra de Tramuntana mountains, and especially not where the Torrent de Pareis meets the Mediterranean Sea. The mouth of the canyon opens right into the ocean, with spectacular cliffs on either side.
There is also no way we could visit Mallorca and not see the capital of the Balearic Islands, Palma. The city was founded way back before Roman times and the historic center has retained several noteworthy landmarks.
Without a doubt, the most magnificent is The Cathedral of Santa Maria of Palma, or as locals call it, La Seu. Work began nearly eight hundred years ago and it certainly rivals any of the great cathedrals of Europe.
Keeping the sight-seeing simple, the Royal Palace of La Almudaina is right next door. We figure, why not stop by since everybody likes a good palace.
But we might consider a more tropical alternative with a hint of a chill beginning to arrive. With that in mind let's check out some Hawaii all-inclusive vacations.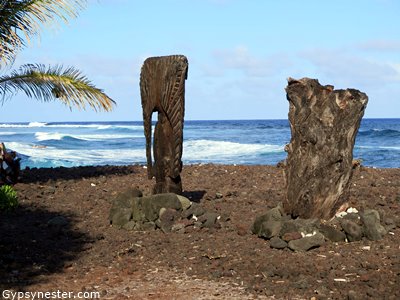 Hawaii has been very serious with taking Covid precautions, and so have the resorts. Many have reduced their capacity and extended service hours in restaurants to help with social distancing. This means we can enjoy one of the world's greatest tropical paradises without worrying or waiting for all of the restrictions to be removed.
Great deals are available on several of the islands, so there is no problem exploring rain forests or volcanoes, surfing world-class waves, or just hanging loose and soaking up some sun on the beach with that classic Aloha Spirit.
We know the fantastic feeling of all our cares and problems from back in the real world melting away in the warm breezes and tropical sun of Hawaii, and it is tough to beat it.
And again, whether it is in the Mediterranean or the Pacific, nothing makes an island vacation more relaxing than having everything included.
David & Veronica, GypsyNester.com
We are happy to present this collaborative post to offer valuable information to our readers.