As we began investigating Whitefish before our trip, we discovered a winter option that we knew we had to try… dog sledding!
Much less bone crunching than skiing, and possibly even more fun. Next stop Jeff Ulsamer's Dog Sled Adventures just up the road a piece in Olney.
When we pulled up over one hundred dogs were barking their brains out. To be exact, one hundred and twenty-four according to Jeff.
He explained that the barking was because the teams were being set up with the sleds, and the dogs that were not chosen to pull were pretty upset. They love their jobs! So we showered some of the unchosen with affection – they are incredibly friendly dogs – and readied ourselves for the run.
We wedged our way into a comfy, warm sled and, without a word from our driver, we were on our way. Instantly all of the racket stopped. We slid through the forest with surprising speed, and an even more surprising lack of sound.
Turns out that the cracking whips, yelling of "mush," and constant barking of the teams are just movie make-believe. In fact, we've never seen so much tail wagging in our lives!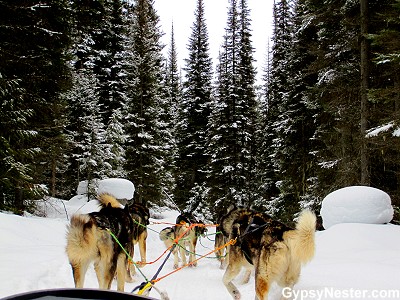 In real life the dogs respond to subtle signals from the driver. Most of these are made by shifting the sled, but a few are audible, including periodic "good dogs."
The team also works on feel, knowing when the sled picks up speed down a hill, or to pull harder on the way up one.
For over an hour we glided through Stillwater State Forest with goofy grins pasted on our faces. It was impossible not to smile watching those eight huskies pull us along.
Actually, we asked about the dogs and they are not necessarily pure bred huskies. They are mixed husky, German shepherd, greyhound, and other breeds that mostly come from a line of rescue dogs that Jeff has been refining since 1979.
Through the years more dogs have been rescued, and the ones that have the right mix of temperament and desire to pull are added into the bloodline. Some might not have any husky in them at all.
In fact, perhaps Jeff's most famous dog, Bowser (star of local parades, festivals, and fundraisers), is a Blue Tick Hound. Don't tell him though, he thinks he's just one of the guys and loves to pull a sled.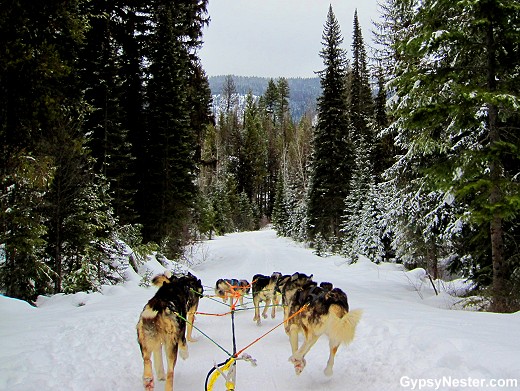 After the ride we warmed up by the fire with hot chocolate, fresh cookies, and some conversation with Jeff and the folks from the other sleds.
Then it was time to say goodbye to the dogs and make way for the arriving next batch of riders. As we pulled away, the barking told us that the team selection was underway, and rumor had it that Bowser was going to get to pull this time.
David & Veronica, GypsyNester.com
See more:
– Sled Dogs & Snow Ghosts – Whitefish, Montana in the Winter
– A Winter Wonderland Aboard Amtrak's Empire Builder