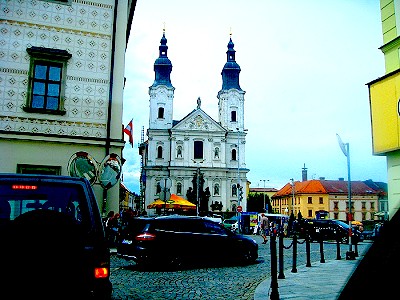 Driving in a foreign land can be challenging, but we have found that it affords us with opportunities to discover out-of- the-way gems we would never see from trains, planes or tour buses.
It is only by car that we can truly stumble upon things GypsyNester-style.
The superhighways in Europe (Autostrada in Italy, Autobahn in German speaking countries, Autopista in Spain and Autoroute in France) are fantastic.
Smooth, wide, incredibly well maintained roadways where folks drive FAST! Especially in Germany, where there are no speed limits. On the downside, they are usually toll roads, with the exception of Germany, and pretty expensive.
Secondary roads are generally well marked, but can be somewhat slow going due to traffic and their tendency to go right through the center of every little town.
It is very important to always know the name of the next town along the way, because that is how the routes are indicated.
These routes are by far the best way to see the countries up close and personal, but not a good choice when trying to cover a long distance on any kind of schedule.
Having learned these elements and becoming reasonably competent at navigating our way through several countries, we felt comfortable enough to venture into Bohemia and give driving in the Czech Republic a try.
Since the creation of The European Union and the adoption of the Euro, the hassle of clearing customs at every border while driving across Europe is a thing of the past.
Still, we had no idea what to expect as we ventured into the former Czechoslovakia, since they are not a part of the currency zone.
Years ago David had an experience while trying to enter Croatia involving several hours in a trailer next to one of those red and white striped wooden gates that always show up in old war movies.
While the Croat border personnel were perfectly cordial, at least as far as he could gather with absolutely no ability to communicate, their technology on hand to check our visas consisted of a black rotary dial phone and a giant hand written ledger, leading to some considerable delays.
We had visions of a repeat performance or worse. Luggage strewn all over the side of the road while stern faced guards yell at us in Czech, point guns, wave hands and fling underwear.
As we approached the crossing, a giant Communist era border check point building looming on the horizon didn't ease our tension.
But it was closed. Empty. Hadn't been used in years. The Czech Republic, while not yet a member of the Euro currency zone, is in the E.U. and so has no customs clearance at the border. We drove right by the scary old edifice without a single siren or flood light chasing us.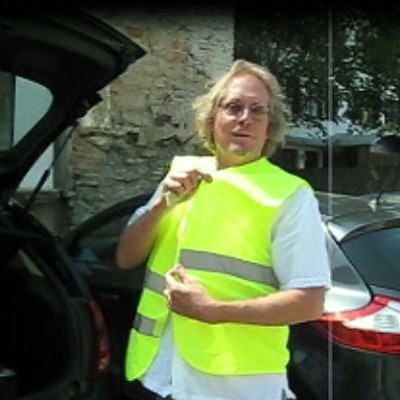 A few points must be addressed immediately upon entering The Czech Republic – headlights must be on at all times and every vehicle must have a bright yellow safety vest (included in most rental cars) to wear in case of a break down, it's the law.
A toll sticker is required to drive on the major highways. They are available to cover tolls for a few days, a month or a year.
We bought our sticker at the border for two hundred fifty Koruna, about fifteen bucks, for ten days of compliant driving. Way cheaper than the tolls in Italy or France, where we spent that much for every few hours of high speed locomotion.
The Autobahn we had taken through Austria turned into a two lane at the border, but it was a good one, complete with frequent passing lanes.
Not being in a hurry, we were pleased with the smaller road because we wanted to see everything along the way. Little did we know that everything would include hookers.
Lots of them. Prostitutes were standing at almost every little crossroad, leaning on guardrails and sitting on bridges for about the first twenty miles into the country.
We learned later that this is legal, or at least in a semi-legal decriminalized gray area, and completely common on every road entering the Czech republic from Germany and Austria. The truckers and tourists seem to like it enough to keep the business flourishing.
Following the highway wasn't too difficult, at least until we reached České Budějovice, a pretty good sized city famous for brewing the original Budweiser beer.
This is where we first encountered what would become our main problem with driving in the Czech Republic… signs written in Czech. It's hard to know what the name of the next town is when the letters are almost all consonants with odd marks over them.
Trying to retain unfamiliar street names really came into play a little later when we tried to find our hotel in Kutná Hora.
The town is small and we got to the general vicinity of our lodging fairly easily but between the tiny winding one- way streets and the incredibly indecipherable signs, it took over an hour to find it… three blocks away.
We decided to explore the town on foot after that.
The Czech Republic is having to play a bit of catch-up with the rest of The E.U. as far as its roads are concerned.
There are few superhighways and many of the secondary roads, even the ones marked on the map as major national routes, are very narrow with barely enough room for two vehicles.
Often they lack any sort of lines painted on them. Driving at night would not be an undertaking we were ready to try.
Another escapade we decided to pass on was trying to navigate the city streets of Prague.
In the past we have been brave enough to venture a vehicle into the depths of Paris, Milan, Rome and even the most insane traffic of all European cities, Naples, but that was when we were a little younger – and a lot crazier.
Plus, in the aforementioned cities we could make a bit of sense of the traffic signs.
After the difficulty we had locating our Prague hotel, that we specifically chose for its convenient location on the outskirts of town, we felt pretty good about our decision to use the subway and our feet for our sightseeing.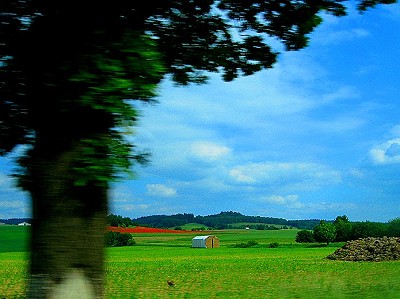 For a metropolitan area of over two million people, Prague has very little freeway system, but construction is rampant.
Projects are frantically trying to change that, still for us strangers in a strange land, the road closings and detours became quite an adventure.
This was especially true when trying to find our way out of Prague. Several times we followed a detour only to be diverted right back to where we had been before.
Either the Czechs really suck at routing detours or we missed some tiny little orange signs with indecipherable words and symbols on them. By the time we finally found our way out, we had settled on it being a little of both.
From Prague we got our first experience of a Czech superhighway, or Dálnice. We wound our little rented Citroën up till the engine was screaming and barreled down highway D-5 toward the town of Plzeň and the German border.
Maybe it was because this route headed toward Germany, or maybe Czechs just like to drive fast too, but we were getting blown away while doing the posted speed limit of 130 kilometers per hour, a little over 80 mph, which was about all our French compact cruiser could manage.
Blurs were blazing by us and every time we passed a truck, a Mercedes or BMW traveling at NASCAR speed would climb up our back bumper from out of nowhere. We made a command decision to pull a green flag pit stop and return to the pastoral peace of a two lane highway to do a little low speed exploring.
During our last couple of days in Bohemia we didn't have any set plans. We wandered down some off-the-map back roads and into some amazing little walled towns.
Ending up in the moderate sized village of Klatovy, we simply stopped in at the first open establishment that had food and rooms.
Turned out to be a fine place to lay our heads and gather our wits before venturing back out onto the crazed speedway conditions of the German Autobahn. A driver must be rested and ready for that experience.
David & Veronica, GypsyNester.com