WATCH: How Peruvian rugs are made – you'll never believe some of the "secret" ingredients that are used in the dying process!
High in the Andes many people live and work much as they have for centuries, farming small plots of land using little more than hand tools, raising sheep, llamas and alpaca, and weaving their wool into beautiful blankets and garments.
In the tiny village of Chincheros, in the Sacred Valley of Peru we got a first hand look at every step in this weaving process.
The town's weaving co-op is an effort to preserve these ancient ways by passing them on to new generations.
The artists and members of the cooperative work together in a way that generates a source of income by demonstating their techniques and selling the finished products.
Upon entering the small adobe building, we were offered coca tea to help us deal with the side effects of the high altitude of The Sacred Valley. We sipped as we staked out a spot on one of the benches that lined the walls.
Click here to learn how we dealt with altitude issues while in Peru
Within minutes, several women brought out items used in transforming loose wool into the beautiful blankets and garments that we saw all around us.
Speaking through our guide, Eddy, as translator, Adelma introduced herself, then spoke for the group and began the demonstration.
First the wool is washed using a soap made from a plant known as Sacha Paraqay.
When grated into water, the root makes detergent-like suds and the animal fibers come out naturally clean and white.
See all of our adventures in Peru!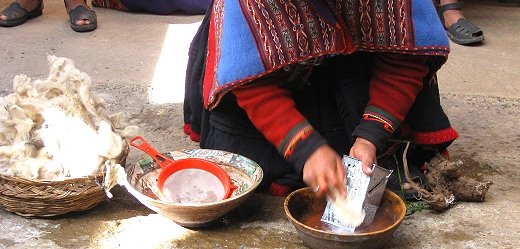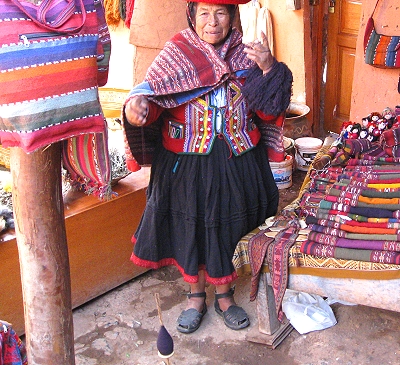 After drying, the wool is spun into yarn on small spindles that spin like a toy top.
The spinning motion winds the fibers around each other forming a continuous strand that can then be woven into cloth.
But first some colors are added to liven things up. Only locally available, natural ingredients are used in the making the dyes.

A wide variety of plants and minerals are demonstrated as sources for the vibrant colors.

Aldelma shows us how a bug that lives on the local cactus provides a red dye when crushed.
We learned that urine from children 6 to 15 years-old is kept for a month to ferment and then used to set the colors into the wool. According to Adelma, it must be kids' pee.
When we asked why, the answer was simple, urine from anyone older is "not good." We can only assume that over time they have tested this theory and discovered it to be true.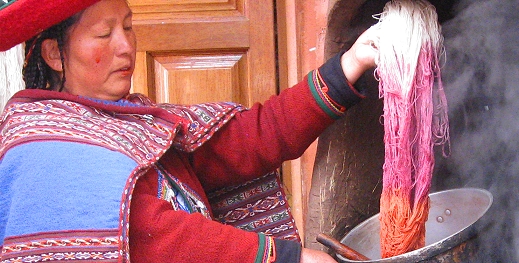 Colors may be changed drastically – simply by adding ingredients like lemon or salt into the mix.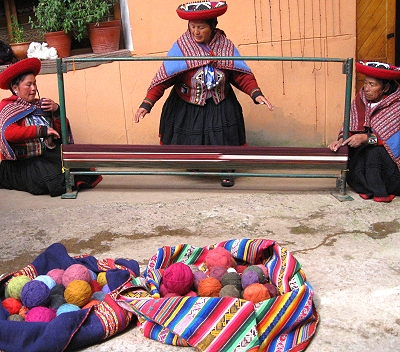 Once the yarn is colorful, it's time for the weaving to begin. Two types of looms were demonstrated.
The first loom is very simple and stands upright. Two people thread the yarn through the loom by tossing it back and forth, producing a fabric that is reversible.
The backstrap loom is a bit more complex, but still uses the same basic methods. It is designed for one person and is named for the strap worn around the weaver's back that keeps the strands tight.
This is better for the more complex designs and figures that are woven into the final fabrics.
It was amazing to watch these forms take shape one line at a time, as each strand of yarn was added. There are no patterns involved, each work is firmly rooted in the mind of the artist.
Most of the symbols are taken from nature, animals, mountains, rivers, plants or the like, in a showing of reverence for Pachamama, Mother Earth.
Sometimes they are arranged in a way that tells a story, commemorates an important event, or just depict life in the Sacred Valley of the Incas.
A day-to-day life that remains remarkably untouched by the so-called modern world.
In town Eddy tells us how the people of The Sacred Valley hold on to their traditions and directs our attention to the roofs of the houses. Small shrines including a cross indicating the family is Christian, ceramic bulls for strength and fertility, a cask of corn beer to tie them to their ancestors, and a vial of holy water to sanctify the house.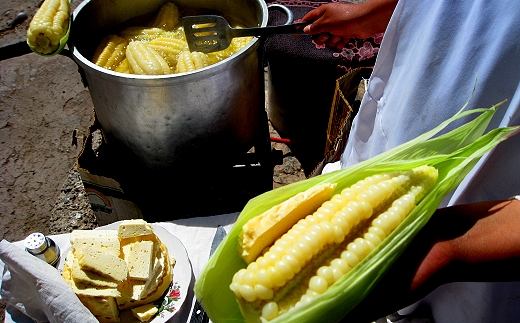 We sneak in some street food and grab a choclo con queso – yum! The cheese is unbelievably buttery.
David & Veronica, GypsyNester.com
Delve Deeper:
See more secrets of The Sacred Valley in Peru!
Click here to learn how we dealt with altitude issues while in Peru
Click to see all of our adventures in Peru!
Click here to see our full adventure with Road Scholar – a not-for-profit organization – through Ecuador, Peru, The Galapagos Islands, Machu Picchu and much, much more!