Like most travelers, we enjoy putting another notch on our suitcase handle by adding to our list of visited countries.
We found this remarkably easy to do while in Buenos Aires, just hop on a ferry across the river to Uruguay.
The delightful town of Colonia del Sacramento lies on the other side of the Río de la Plata, so after a forty-five minute ride on the Buquebus, we were adding a stamp to our passports.
In the killing of two aviary entities with one chunk of earth's crust department, this also gave us an opportunity to do one of our favorite things, spend a little time on the water.
The boat was very nicely appointed, full service with restaurant, bar, shops and power outlets for the gadgets, but we spent more time up on deck watching the skyline of Buenos Aires disappear behind us and looking for the first sight of Uruguay ahead.

Click to enlarge images and learn more about Buquebus
The Plata here is more like an ocean bay than a river. It is thirty miles wide at this spot and over one hundred downstream.
With the waves coming in from the Atlantic it is difficult to determine just where the river ends and the sea begins, perhaps the saline content of the water is the determining factor.
When we arrived in Colonia del Sacramento we disembarked into the oldest city in Uruguay, though the tiny outpost of Villa Soriano up the river may dispute that, and many parts of the town feel like they have been preserved in a time capsule.
Colonia, as the name is generally shorten to, has been very successful in this, which has earned the historic quarter designation as a World Heritage Site.
In its long history, the city has been batted back and forth numerous times between Portugal, the original founders in 1680, and Spain, who disputed ownership and invaded that same year. The next year, the Spanish returned it to Portugal until the next attack in 1705.
This scenario continued through the 1700s, with a new flag flying over the fort every few years, until 1816 when the city became part of Brazil. Ultimately Uruguay split off from Brazil in 1828 and Colonia has since enjoyed peace.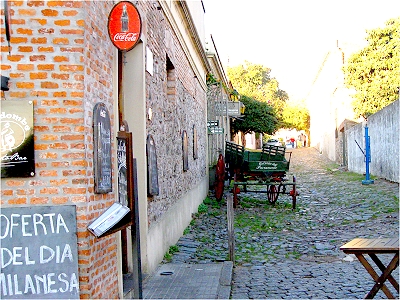 After checking in to our digs for the night at El Viajero, a funky little hostel that seemed just right for this excursion, we set out to see the historic quarter.
The old part of Colonia is small, packed onto a little peninsula, so there was no need for a vehicle. Everything is within an easy walk.
Many of the original buildings still line the cobblestone streets, so we simply wandered aimlessly around the district taking it all in.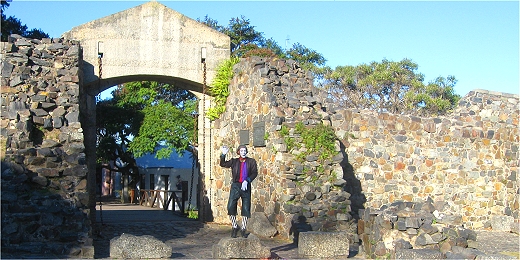 Two things struck us immediately, there are an absolutely insane amount of dogs running loose which we hesitate to call stray because they seem well fed…
… and almost all of the locals were carrying thermos bottles and interesting little cups with silver straws.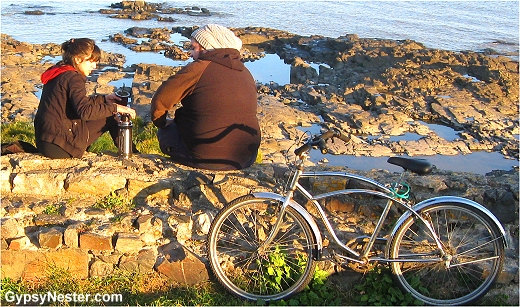 This was the yerba maté we had heard about.
Since it seemed like the thing to do in these parts, when in Rome and all that, plus we had been walking for quite some time, we decided to find a place to sit down and try some.
As luck would have it, El Drugstore, just off the main plaza, had a chalkboard out front advertising a maté special.
It's not really a drugstore, it's a quirky, funky little restaurant with a great feel.
Being the middle of the afternoon the kitchen, which is out in the open by the main dining area, was closed, but we immediately decided to return that very evening for a meal.
On to the maté. Drinking yerba maté is often a communal ritual, so we only needed one cup.
The waiter brought us a thermos of hot water, a silver straw with a strainer on the end called a bombilla, and a small hollowed out gourd filled with the crushed plant.
The maté plant is a relative of holly and has been used to make this sort of tea for centuries, mostly in the southeastern parts of South America.
We poured water into our gourd, let it sit for a minute, and then gave the bombilla a good suck.
First impression… awful. We tried again, still awful. It remained awful no matter how much we tried. Guess there's no risk in us getting addicted.
Less than refreshed from our maté moment, we set back out toward the point of the peninsula.
The entire old town is surrounded by stone bulwarks due to its early unsettled history, and much of the stone work remains, especially along the water.
For a better view, we figured we'd climb up to the top of the lighthouse.
Well, it's not like we snuck up, for a small fee anyone can make the climb. A tiny spiral staircase, with many head thumping hazards, led us to a fantastic overview of the entire area. We could even see all the way back to Buenos Aires, through what looked to be not so buenos air.

Click to see more Colonia Lighthouse pics!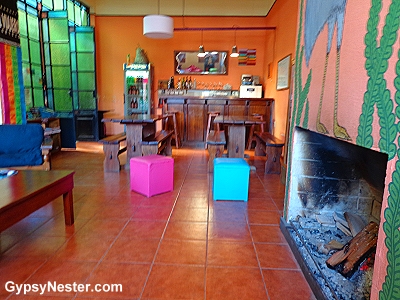 Feeling like we had seen enough for one day, we headed back to the hostel to clean up and return to El Drugstore for dinner.
But along the way we were sidetracked by Mercosur, a sidewalk cafe with people eating giant plates of beef, ham, french fries, eggs, lettuce, tomatoes, cheese and who knows what else. Chivito, we had to have it.
We took a seat and prepared for our feast by sipping a cold Patricia, the local brew, and watching the other patrons devour their chivito.
Just before we couldn't stand it any longer, our platter arrived sporting two huge hunks of cow, slices of ham, slabs of bacon, pounds of potatoes, and a veritable garden, all topped off with a couple fried eggs.
Chivito Gigante! It's not fancy, but it was certainly tasty and no one walks away hungry. In fact, we could barely walk at all.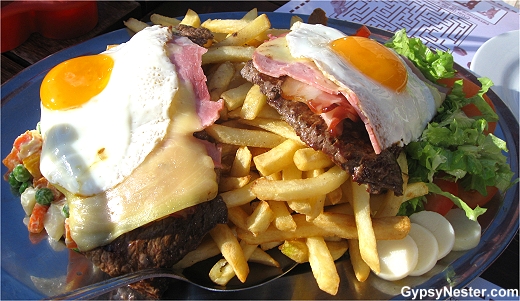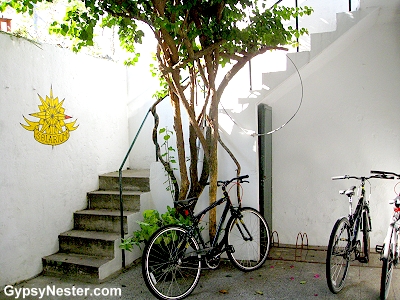 The next morning we were feeling the need to work off the chivito, and El Viajero Hostel happened to have bikes for rent, perfect.
This gave us a chance to see some of the rest of the city of Colonia, where most of its twenty-five thousand residents live.
We rode down the main drag a while, then several miles north along the water, where beautiful parks had trees filled with bright green parakeets.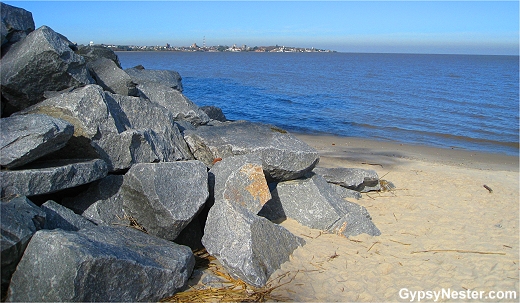 At the edge of town we turned inland and found the Plaza de Toros Real de San Carlos, an abandoned bullring dating back to 1910. The arena only hosted eight bullfights before Uruguay outlawed them in 1912.
According to our maps this was the last of the highlights we wanted to see, and El Drugstore beckoned, so we pedalled back into town for some lunch before we had to catch the afternoon ferry.
El Drugstore offers quite an array of seating choices, indoor, outdoor on the plaza, and even in an antique car parked on the side street, but on this day they had live music inside, so we took a seat near the stage.
With our appetites well worked up from the morning's ride, we checked out the menu and low and behold, more chivito!

Click to enlarge images and learn more about El Drugstore
We concluded that the classic dish was worth an encore, chivito for two and beet soup, por favor. The soup was tasty and unique, but the chivito actually suffered a bit from an attempt to make it a touch more fancy.
Not that it was bad, and the cuts of meat were better, but we preferred yesterday's simpler version.
The undisputed star of our lunch turned out to be the dessert, a crepe creation that we ordered by pointing at our neighbor's table and indicating that we wanted one too.
The crepe arrived warm and smothered in orange sauce with fresh orange slices and spinkled with grated chocolate.
A delectable top-off to our whirlwind tour.
David & Veronica, GypsyNester.com