A big thank you to Visit Norway and Visit Oslo for providing this peaceful adventure – and to Eurail for the 15-day rail pass that inspired us to undertake it! As always, all opinions are our own.
Give Peace a Chance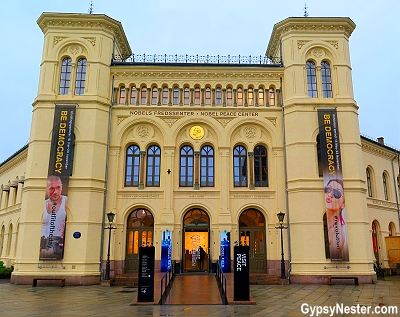 As unfamiliar visitors making our first trip to Oslo, Norway, we were certain of only one thing, we wanted to see the Nobel Peace Center.
Our prize awaited us at the harbor, where the Center serves as a focal point for the bustling waterfront.
The main entrance opens into a space that is used for timely, temporary exhibitions, which during our visit was featuring a program called BeDemocracy.
The exhibit examines the role social media plays in spreading and maintaining democracy around the world.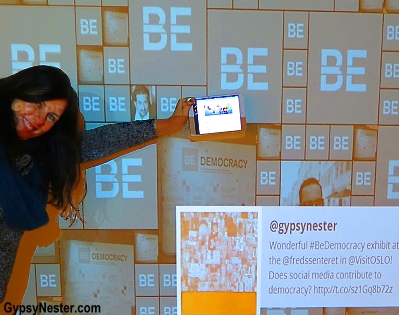 There are several interactive displays showing the spread of internet activity around the world, and a giant video board in the center of the room showing tweets in real time.
Of course we couldn't resist sending one and watching it come up.
Climbing up to the second floor, we were awarded with the main attraction, a high-tech display of video screens featuring photos of every Nobel Peace Prize laureate and descriptions of their accomplishments.
The darkened room was captivating, as each presentation lit up and came to life when we approached, automatically scrolling through biographies, notable achievements, and other information about the honorees.
Another interesting presentation delivers new information every year on the fiftieth anniversary of each recipient's award.
All of these details are kept strictly secret until the required passage of five decades, so this is the first opportunity to see who else was nominated or may have come close to winning.
The most recent files released revealed the specifics behind Dr. Martin Luther King Jr. winning the prize in 1964, and we were fascinated by the process.
He was chosen from among forty-three candidates and became the youngest person ever to receive the award.
See more of our travels in Dr. King's footsteps
Leaping into the abyss
With our primary goal achieved, we set out to find the rest of what Oslo had to offer.
All we had to do was look up. Being winter Olympics fans, when we think Norway, we think Nordic, and as far as we know the word Nordic is always followed by the word combined.
So we boarded the tram, and off we went to the site of the 1952 Winter Olympic Games, Holmenkollen and the Holmenkollbakken ski jumping hill.
The city has grown so that now it surrounds the hill, making for a bit of an oddity in the suburban setting.
But this also makes it easy to get to; there is a metro stop just a few minutes' hike away, just about the same distance as the skiers go when flying off of the hill.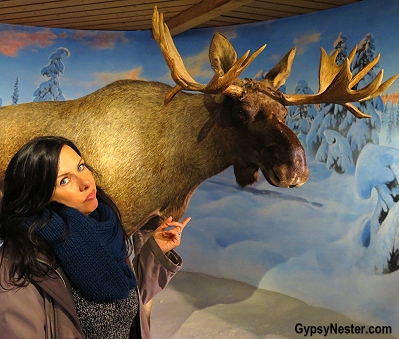 Sorry Norway, but Veronica STILL doesn't believe in moose!
The sport of leaping off of a huge ramp while on skis was invented in Norway about a hundred and fifty years ago, and the Norwegians have dominated the event ever since.
So underneath the huge ramp is a fitting site for a ski museum, with a fascinating collection of old ski equipment, some of which looked mighty familiar from back in the days of David's first set of skis.
While we have been known to strap boards to our feet and slide down a snowy slope, never in a million years would we dream of launching ourselves off of a hill like this.
We go in more for the peace and quiet of a gentle slope.
Still, somewhere in the back of our minds we always wondered what it would be like to try, and here was our chance to find out.
The complex includes a simulator that recreates the sensation of flying down the ski jump, no skis, or skills, required.
We actually got to experience the victorious thrill of jumping (without the inevitable agony of defeat that would have occurred in real life) while sitting down.
That position turned out to be ideal because the thing rocks, rolls, tilts, and bumps enough that we felt every bit like we were flying through the air… right down to the piped in wind in our faces.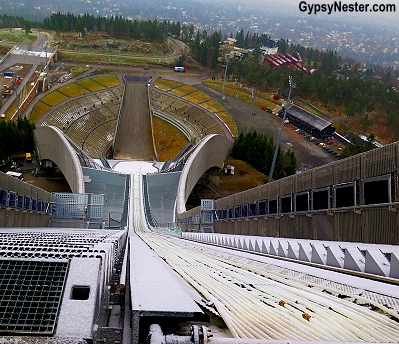 Now that we were seasoned jumpers, we felt ready to go to the top and stare down the beast.
But the view down the slope left no doubt in our minds that the simulation was the closest we would ever get to taking such a leap.
WATCH: Your GypsyNesters get schooled on how scary ski jumping is!

From our perch, we could see skiers practicing the other part of the Nordic Combined, cross country skiing. But their skis had wheels. The falling snow must have inspired them, but the lack of accumulation wasn't about to stop them.
As for us, we just enjoyed the view of the city, especially since we knew that we would be taking the elevator down.
Just put us on ice!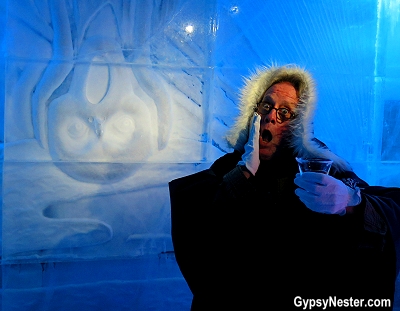 In keeping with the frozen frolics theme we stopped in at the Magic Ice Bar which, as the name implies, is a bar made of ice… entirely of ice.
The bar, walls, floors, tables, chairs, artwork, even the glasses that the drinks are served in are all ice.
<–10 Second video: Click the pic – and Veronica comes to life!

Needless to say, it is cold inside, so before we entered we were issued parkas. The coats not only helped keep the cold at bay, but added to the Nordic explorer look that we were embracing at this point.
Our stay was brief (did we mention it was cold?) but we felt like we got a little dose of what the famous ice hotel must be like, moving a stay there up a notch on our list.
Storming the castle, well storming a meal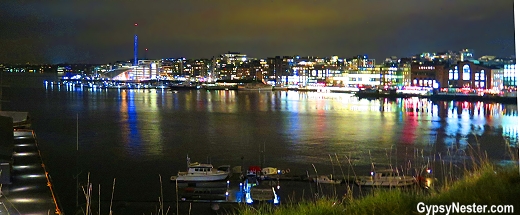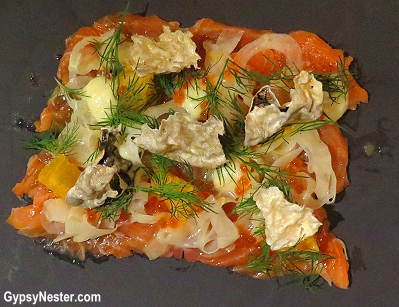 We decided to walk to dinner to warm up because the nearly freezing temperature outside felt warm compared to the ice bar.
After a bit of scouting through ancient cobblestoned streets, we found the Festningen Restaurant tucked away beside the walls of the Akershus Castle.
Festningen means fortress, but in this case it also meant great food in a historic, and now peaceful, setting.
Fast-fjord-ward and some amazing Viking finds
The next morning found us back at the harbor to jump on the ferry to Nesoddtangen.
This gave us our first look at one of Norway's famous fjords, the Oslofjorden, as well as some great views of the city from the water.
No wonder the Vikings liked it here.
Speaking of Vikings, the Viking Ship Museum beckoned from just across the bay.
It was specially built to house three ships, the Oseberg, Gokstad, and Tune, which were put on display after being discovered in the late eighteen and early nineteen hundreds.
The vessels were remarkably intact, since they had been intentionally buried centuries ago.
Important Vikings were entombed in these ships, which were filled with items to help them make the journey to the next world and have a well-deserved rest in peace.
The custom gives us an unparalleled look into Nordic life from over one thousand years ago. Carts, sleds, weapons, furniture, clothes, and many more items, including human remains, were found and are now on display.

Amazing details, click here to see more
Walking in, the Oseberg dominated the main hall. It is the best preserved of the three, in fact it is widely considered one of the finest finds to have survived the Viking Age.
It was also the first to be moved into the museum in 1926. New wings were added as the other ships were brought in, until the project was completed in 1957.
Follow us into the Viking Ship Museum…
We don't know art, but we know we like Munch
Just a few years later, in 1963, another museum opened across town. This one was dedicated to Norway's most renowned artist, Edvard Munch.
The Munch Museum collection began with a large portion of his work that he bequeathed to the museum.
This has been expanded upon until the gallery now has over half of his paintings, including his best known piece, The Scream, and copies of all of his prints.
After spending a couple of hours with his work, we both agreed that Edvard is our new favorite artist.
We could see his influence in a wide variety of mediums — obviously other artists that followed him — but also in pop culture; cartoons, advertisements, television shows, and movies like Edward Scissorhands and the Scream series of horror films.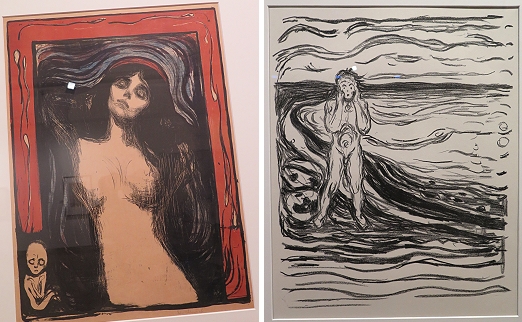 Munch was known for creating several renditions of many of his works, for instance The Scream has four versions. In order to do a comparison, we headed over to the National Gallery for a look at another one, the first one he painted.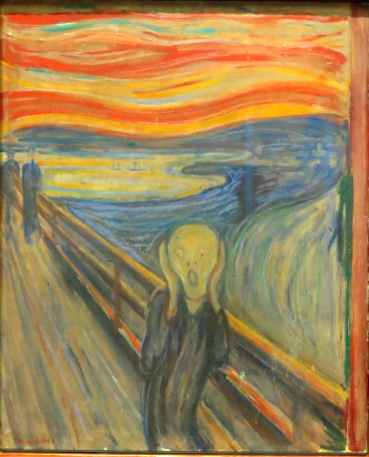 The Nasjonalgalleriet is part of the National Museum of Art, Architecture and Design, and has a remarkable collection, much of it by Norwegian artists, but it also includes selections from Renoir, Monet, Cézanne, and Picasso.
No offense guys, but we are here to see the Munch, specifically his original Scream from 1893.
This first effort is a bit brighter colored and more vibrant than the later 1910 version that we saw at the Munch Museum and, being the distinguished art critics that we are, we deemed it the better of the two.
No doubt both museums, and the art world as a whole, will be incredibly interested and influenced by our spur-of-the-moment decision.
Perhaps a nomination in a new Nobel category of art critic awaits.
Fun with locals; the best way to learn about local food
Maybe it was time to move on to a subject we know a little more about, eating.
For a taste of the sea we chose the uber-sleek Havsmak, which means, well, taste of the sea.
As we settled in, a boisterous group of guys next to us struck up a conversation.
Before long they were challenging us to see just how adventurous we might be when it came to trying new things.
Little did they know, we'll try just about anything… bring it on!
After generously buying us a round of the obligatory Aquavit, they tested us with some rakfisk, which translates as "rotted fish," more specifically trout which has been salted and fermented for weeks or even months.
This is eaten on potato bread with onion, beets, and sour cream.
When we gave it a try and didn't freak out, our new friends were forced to up the ante.
So they brought on a bizarre form of reconstituted cod, lutefisk.
The description, which granted may have been less than clear due to language barriers, involved dried cod that has been rehydrated using what our new amigos referred to as caustic soda.
By all means, let's give it a go!
When consumed with all of the accoutrements it went down right nicely, but the texture left a lot to be desired. It had a jelly-like consistency reminiscent of the cod tongues we had in Newfoundland.
Having met the challenge, and passing muster, we figured it was time to get back to our real meal — if only to make our server feel better, he'd lost all control of the situation (actually he rolled with the flow quite nicely and jumped in on the fun).
We were set free to enjoy the rest of our meal of brosme, a fish much like cod, prepared with foam of potato, deep fried rosemary, and almonds and hake, a member of the cod family, along with a lentil ragu with mushrooms and a quail egg.
Both, happily, were properly cooked as opposed to fermented or reconstituted.
And, yes, we shared with our new friends. Just another way to keep the peace in Oslo.
David & Veronica, GypsyNester.com
Delve Deeper:
See more about the Viking Ship Museum
Make sure you pick up an Oslo Pass card, which is good for all public transportation and entry into dozens of museums and attractions.
We continued our journey through Norway to the Arctic Circle by train – check out where else we went!
A big thank you to Visit Norway and Visit Oslo for providing this peaceful adventure – and to Eurail forvthe 15-day rail pass that inspired us to undertake it! As always, all opinions are our own.
YOUR TURN: Are you glad we gave peace a chance?