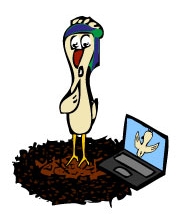 Here's the thing.
My best features come from my Romanian roots. I've always enjoyed having dark hair and blue eyes.
I am psyched that my "gray" hair is silver, some people pay big bucks for that.
Dracula was Romanian, and by most accounts was a particularly handsome man-thing.
That being said, we Romanians are a very hairy people. My beloved Grandpa not only had follicles growing out of his ears, but in his later years his lobes looked like small woodland creatures.
My stunningly gorgeous mother had quite the collection of creams, bleaches, waxes and other tortuous means of ripping hair out of unwanted locations. No hair loss treatments in her bathroom! She was just the opposite.
Luckily, I have a dash of the less hirsute Western European DNA in the mix, so I don't look like Cousin Itt. Yet.
Armed and ever aware of my Romanian hairy-heritage, I remain on steadfast lookout for the inevitable mustache, the gratuitous nose whisker or stray fur bearing mole. I've been beating back a unibrow since puberty. I am immune to the pain of tweezers.
But as the years have passed, I've been forced to employ magnifying reading glasses to keep up my persistent plucking practice. Seeing is a top priority while I keep unruly outgrowths at bay.
But nothing prepared me for what I found in the mirror recently.
I HAVE AN EYEBROW ON MY EYELID! And it's a honker. Browbeating me, as it were.
Let me clarify a bit. My newest brow tress is situated on the lid that covers my eye when I blink. This position gives the little monster the undue advantage of not being visible when look in the mirror with my eyelids open.
I've concluded that the ten-foot-long eyebrow hair achieved its great length by hiding under the rim of said eye-wear. But discovering the existence of the strong willed stray gave me no advantage, it had cleverly chosen an impossible-to-tweeze spot. This fact did not detour me from the task at hand though, the sucker had to be plucked.
In order to get close enough to the mirror for my assault, I donned my cheater-glasses and hoisted one knee up on the vanity for hands-free support while leaning in at a vertigo inducing angle.
With one eye closed, clutching the tweezers in my right hand, I used my left forefinger to gingerly reach behind the lens of my cheaters whilst trying not to leave a view-obstructing smudge. I could therefore elevate my upper lid high enough to see the offending hair.
Unfortunately, this feat prevented any light from coming in from above, seriously impeding my efforts. The thought of pinching even a teeny part of my eyelid with the tweezers during the yanking procedure promptly precipitated my aborting of the mission.
Three more eye-wateringly unsuccessful attempts and I had resigned to the fact that the obstinate sucker was never coming out. I was destined to go through the rest of my life with a marmot covering my eye. Maybe I should just treat it as a pet and name it.
Problem is, the only moniker I can come up with should not be repeated in mixed company.
Veronica, GypsyNester.com
This post may contain sponsored links.