How about a terrifying tour of the globe just in time for Halloween? As GypsyNesters, our quest is to see the world and share it in our own quirky way. But why should we have all the fun?
For some varied perspectives, we asked the web's best independent travel bloggers to send us their best "Weird Food" experiences. We hit a goldmine of unusual, unappetizing, or just plain unnerving regional food photos from around the world!
Gruesome Duck Embryo in Thailand from Living the Dream


Says Jeremy, "My weirdest regional food is Balut from Vietnam and other SE Asia countries.  Between you and me, it tastes like chicken."
A Slimy Selection in Africa from Backpack ME



Says Zara, "If you thought eating snails (or fancy escargot in France) is too "been there, done that" try getting your mouth around these African Snails that can weigh up to 1Kg!!"
Rocky Horror Oyster Show in Montana from GypsyNester.com

What sort of outrageous ogre goes around eating the reproductive organs of innocent animals? Rocky Mountain oysters, considered a delicacy by many Montana mountain folk, are made by slicing and frying — you got it — bull testicles. More on this delicacy and the Testicle Festival
Baked House Pet in Peru from Trips That Work



Says Irina, "For me the weirdest food out there is the one that's cooked with teeth & nails… It was crappy to eat this little guy in Cusco because I actually owned a pet guinea pig before." (We ate cuy too- near Machu Picchu!)
Impaled Worms in Peru from Shoutography

Says Lydian: "As big as your thumb, these little worms – locally called 'suri' – will happily crawl around in a bowl until they will be put on the grill to be prepared for you. As a vegetarian I passed on this 'exotic' experience, but I have been told that as soon as you get used to the soft structure of the suri, the taste is actually pretty ok."
Voodoo Doughnuts in Oregon from GypsyNester.com


Says David, "Portland Oregon's breakfast of champions, for sorcerers that is. Nothing hits the spot like a "Voodoo Doll" with a pretzel stick through his heart, bleeding raspberry-blood filling. Our little chocolate frosted supernatural pin cushion was a-dough-rable, and tasty to boot. Best of all, curses don't cost extra." More on Voodoo Doughnuts in Portland, Oregon
Abominable Snowman Chow in Singapore from Sidewalk Safari

Ice Kachang looks like simple shaved ice on the outside but then you dig in you find all sorts of goodness, like corn, kidney beans, and jello cubes.  It's like parents conspired to hide healthy fillings in a child's favorite treat.  It's definitely a weird medley of flavors and textures!
The Screaming of the Lambs in Norway from of Sophie's World



Sophie tells us, "Smalahove is a traditional delicacy in Western Norway, especially at Christmas. The lamb's head is torched, then salted or smoked, and finally steamed and served with potatoes, vegetables, sausages and sometimes peas and bacon. So – it's really only smoked lamb, only the way it's served is different. You're left in no doubt as to what you're eating."
No mention of whether it's best served with fava beans and a nice Chianti.
The Vampire's Favorite – Blood Sausage in Spain from GypsyNester.com

Says Veronica, "Warning, may cause the Transylvania Two-Step… even in Spain. True story, when we asked our waitress what it was, she mimicked slitting her wrist. Didn't make it more appetizing! We gobbled as many tapas we could get our greedy mitts on in Barcelona"
An Electrifying Discovery in Spain from Travel Past 50

Says Tom, "Gee, it's going to be hard to top bugs, so I'll just go with baby eels. Delicious baby eels in Spain. And a mother of pearl spork to eat them without tainting their delicate flavor with a metal fork."
Bite Your Tongue in Newfoundland from GypsyNester.com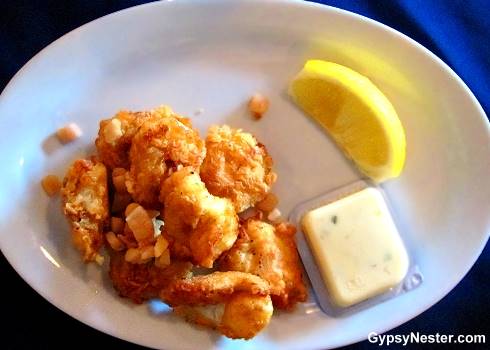 Says David about the delicacy of the Newfoundland cod tongues, "Fried tidbits straight from the fish's mouth, served with scrunchions, deep fried pork fat bits. The tongues just tasted like cod, with a very slight gelled consistency. And everything's good with a little pig fat on it." We ate cod tongues here.
Toxic Creepy Crawlers in China from Points and Travel

Says Cacinda, "I found plenty of strange foods in China during my visit, but was particularly afraid of eating these things!"
Eat Your Heat Out. And Your Lungs in Austria. From GypsyNester.com

Says Veronica, "A meal fit for a zombie: We spotted Beuscherl on the menu, which was translated into English as "Salsburgs Calf's Lights served with Dumpling." Without the slightest idea what "Calf's Lights" might be, we ordered it. Our waitress must have seen this mistake made before, because she immediately asked, "You do understand that this is heart and lungs of baby cow?" Bet she's grabbed a torch and chased a monster back to the castle a time or two." Ingested in Salzburg, Austria
A Ghoulish Goo from Our Oyster

Says Jade, "Ok so this isn't as weird as some of the others – but its a Canadian favourite… Poutine! French fries, gravy and cheese curd… nom nom nom" More on poutine here!
Headless Horseman Cheese from GypsyNester.com

Now we know where ole Ichabod's head ended up. Head Cheese, meat jelly made from the head, with chunks of meat tossed in. Creeped us out on market day in Wangen, Germany
Decapitated Bunnies from Ferreting Out the Fun

Says Heather, "I saw loads of weird food items during my two years in China. Skewered insects, fried chicken feet, bowls of rotten tofu, the list goes on. But the most memorable has to be the platters of roasted rabbit heads sold on the street in Chengdu. There was something about those curving teeth that sent shivers down my spine!"
Platter of Entrails – Argentine Barbecue (for one) from GypsyNester.com

A meal fit for a monster. We found most of it barely edible, a bit of a ghastly gastric experience. Tripe, sweetbread (which is a fancy name for pancreas or other mysterious glands), kidney, some kind of intestines or something and, udder? Holy cow! Literally, holy cow! Lots of tricks and very little treat. Cautiously nibbled upon in Buenos Aires, Argentina
Jumping Jiminy in Mexico from Lunaguava

Says FW, "I eat shrimp and other bugs of the sea, so I'm usually fine with trying some crunchy terrestrial goodness as well. Case in point, these chapulines (grasshoppers) with chile and garlic we had in Oaxaca, Mexico. They went really well with bits of orange, to cut the spice and add a bit of zest."
A Platter of Pupae from GypsyNester.com

Says Veronica, "The incredibly unpleasant aroma led me to trying the garnish first, asking every member of the staff how to go about ingesting the worms, bringing one right up to my lips and chickening out (by the way, they most decidedly do not taste like chicken), and utilizing every other excuse I could come up with to delay the inevitable. Seriously, a medal for bravery might have been in order. Don't believe I ate silkworms? Click here!"
David & Veronica, GypsyNester.com
YOUR TURN: Got a fiendish favorite?