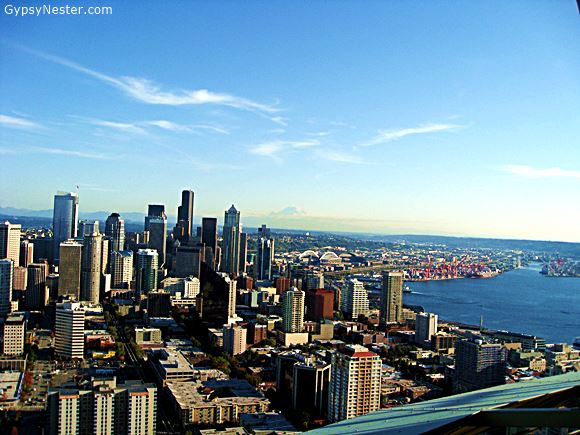 Every year, on the first Saturday in May, something wonderful happens in Seattle. This is the official start of the boating season. The city has celebrated this occasion every year since 1913. For that reason alone, it should be obvious that Seattle takes boating very seriously! If you want to enjoy some of the best of what Seattle has to offer, a boat rental in Seattle is a no-brainer for anyone travelling to this special city.
From the scenic beauty of Poulsbo, to the tranquility of Bainbridge Island, Seattle has a lot to offer anyone who wants to rent a boat for a day or the weekend.
The great thing about this list of the 7 best sailing places in Seattle is that there's something for just about everyone. Whether you want to relax on calming waters, or find yourself just a heartbeat away from Downtown Seattle, we have some wonderful ideas to consider:
1. First Saturday in May: This one is obviously a little dependent upon being in Seattle, but if you love sailing and boating, it's well worth trying to make the occasion. Thousands fill up the shores that make up Montlake Cut. This is also known as the easternmost portion of the Washington Ship Canal. Head there yourself to watch hundreds of sailboats and other water vehicles along the water. There are even races.
2. Lake Union restaurants: Looking for a unique experience with our boat rental in Seattle? Check out the array of restaurants that can be found along Lake Union, as well as Lake Washington. Many of these restaurants, such as Chandler's, feature slips, so it's easy to stop somewhere for a bite.
3. Poulsbo: Some people visit Poulsbo for the day. Others can make a weekend of it. Regardless of which you choose, Poulsbo offers some of the most stunning scenery to be found anywhere in Seattle. Also known as Little Norway on the Fjord, it is the perfect way to experience everything the historic downtown locale contains. The calming waters of Liberty Bay serve as a lovely backdrop.
4. Bell Harbor Marina: Anyone who wants to experience Downtown Seattle in singular fashion will want to keep the Ball Harbor Marina in mind. You can get to the legendary Pike Place Market with ease. You will also have easy access to some of Seattle's best restaurants. Docking options are available for guests, affording you a view of the city that has to be seen in person to be truly appreciated. You will likely find yourself overwhelmed with the majesty of the Olympic Mountains. Imagine this place during the 4th of July!
5. San Juan Islands: Surrounded by deep blue waters and gorgeous, natural greenery, there is something about Seattle's San Juan Islands that gives you the impression of an entirely different universe. Indeed, given the marvelous peace and quiet of this area, it is amazing to remember that the city of Seattle is essentially just around the corner.
6. Port Orchard: Just fifteen nautical miles from Seattle, Port Orchard is a detour well worth taking. The historical maritime atmosphere of the area is just lovely. Beyond some great opportunities for salmon fishing, Port Orchard also connects you to some of Seattle's best local restaurants. Visiting this area, it is possible to catch glimpses of anything from orca whales to submarines.
7. Lake Washington: If you just like the idea of being able to have a quiet picnic on the water, or if you're really into water sports, this thirty-three-square-mile body of water is a must-visit destination in Seattle. The fishing is just perfect, no matter what your taste, and this is where you can find some of the best sailing the state has to offer.
Conclusion:
No matter what you're in the mood for, our boat rental in Seattle can accommodate you. The above list should make it pretty clear that Seattle and Seattle's sailing culture has something for just about everybody. If you want to have a peaceful afternoon, Seattle can give you that. If you want a day of wild fun in the sun, Seattle can make that possible, as well! The possibilities can seem endless, with great activities for all ages and interests.
We are happy to present this collaborative post to offer valuable information to our readers.