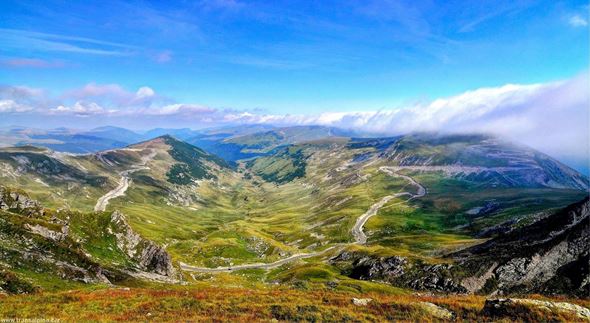 When you are thinking about a vacation in Europe, popular countries like Italy, France, Greece and Spain are the first to come to mind. But there are other hidden gems of Europe that are worth visiting and Romania is one of them.
Romania is one of the countries with the most diverse biogeography in Europe. From the 2,500m high Carpathian Mountains covered in snow until late Spring, to the Danube Delta which is Europe's largest wetland area and the Black Sea where you can to relax on fine sand beaches, Romania has it all. There are many hidden natural wonders and sights that make Romania one of the best places to visit if you are planning a trip to a lesser-known destination so here's a couple of suggestions on what not to miss:
The famous region of Transylvania
Transylvania is mostly known for being home of Dracula, but this region in central Romania offers much more than that and tourists that chose to visit it are in for a big treat. Bound by the Carpathian Mountains in the South, West and East, the region of Transylvania offers many attractions and places to visit. Set up base in the cities of Cluj-Napoca, Sibiu or Brasov and start planning your trip. And don't miss the chance to go on tours in Transylvania countryside where traditional and authentic Romanian village life is well preserved to see what a simple, far from civilization life looks like.
Turda Salt Mine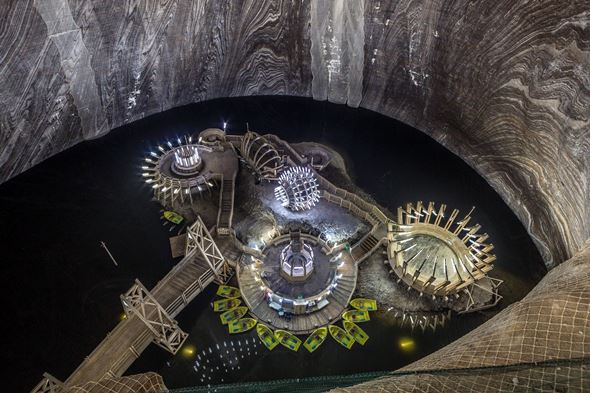 This mine turned musem and amusement park is included in the top 10 must-see underground places in the world and is one of the oldest salt mines in the world. The first salt exploitation was started 2,000 years ago by the Romans and since then the mine has had many uses throughout history, including a bomb shelter in WWII. Measuring about 400 feet in depth, Turda Salt Mine has been transformed into a breathtaking underground theme park. There's minigolf, bowling, a Ferris Wheel and even a lake where you can practice your rowing skills. And did you know that breathing salty air is good for your lungs?
Hoia-Baciu Forest
If you're looking for an adventure that will send shivers down your spine, the Hoia-Baciu Forest near Cluj-Napoca is the place for you. Locals consider the forest to be haunted as it got its name from a shepherd that once entered with 200 sheep and never returned. In the 1960s a UFO was sighted and photographed above it and this added more even more hype – or terror, to the forest's reputation. Nevertheless, the forest is a popular choice for travelers and daring campers in search of adventure and mysticism. The forest presents some very peculiar vegetation with trees growing in spirals or bending in unnatural ways and a large circle-shaped area where nothing but grass seems to grow.
Transalpina Road
Though not as famous as Transfagarasan Road, Transalpina Road was built during the reign of King Carol II and is also known as King's Road. Located between Sebes and Novaci, after a steep climb during which your car's strength will be tested, you emerge on a road going over plateaus and mountain crests at 2,200m altitude. Surrounded by breathtaking landscapes, the road has many twists and turns and is a must-do for any passionate driver. Due to heavy snowfalls in the area, the road is closed during Winter so the best time to visit is during Summer or Fall. Some people even go camping in the area as Parang Mountains are among the wildest and beautiful in Romania. When planning your drive on Translapina Road start early in the morning so you have enough time for stops to admire the views, but also at local guesthouses serving delicious traditional Romanian food.
Retezat National Park
Speaking of camping and mountains, Retezat National Park in South-Western Romania is a popular choice for traveler interested in hiking in Romania. Reaching a maximum altitude of 2,509m at Peleaga peak, the park is one of the top destinations for hikers thanks to its impressive landscape of untouched nature and challenging trails. It is also home to one of the last pristine forests in Europe with 130 rare species of plants, 120 species of birds and 55 species of mammals. The Park is also known as the "Blue Eyed Land" thanks to the 80 glacial lakes it hosts, including the deepest one in Romania Zanoaga (95.1 feet) and the largest Bucura (21.8 acres). That's why the 3 lakes hiking trail is the most popular!
Mud Volcanoes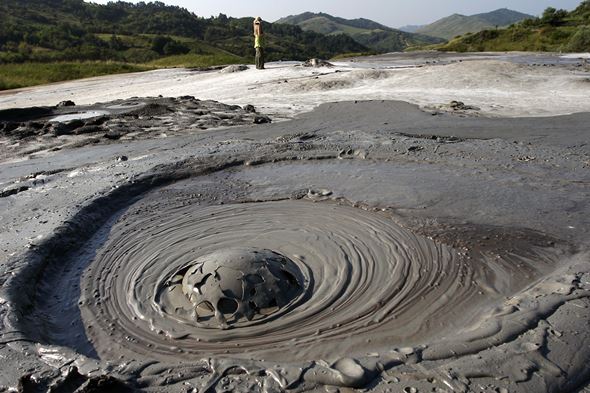 First discovered in 1867 in an attempted search for petroleum, this peculiar natural attraction is about 2h away from Bucharest and is protected by law since 1924. The Mud Volcanoes are both a geological and botanical reservation due to the rare plants found in the area. The explanation behind the phenomenon is quite simple actually: gas coming from 30.000 meters underground goes through a layer of clay and then water, thus forming mud that is pushed to the surface almost constantly. In time small cones resembling the shape of a volcano were formed and now the 'volcanoes' are almost always active. Due to heavy deforestation in the area, the place looks out of this world, similar to the surface of the Moon – which makes it one of the most photographed areas in Romania.
Danube Delta
After passing through ten countries and four capitals, the Danube River finally reaches the Black Sea in Romania forming the largest and best-preserved delta in Europe. Rated 3rd of the top 300 natural reservation in the world due to its ecological importance and biodiversity, the Danube Delta is home to more than 300 species of birds and a paradise for ornithologists around the world. Only around 15.000 people live in the area thus preserving its wilderness, with accommodation and transport being usually provided by locals with boats that can navigate the canals. The Danube Delta is also the home of Romania's largest aquarium hosted by the Danube Delta Eco-Tourism Museum Center. A rare finding for this part of the world are also the ancient forests found on the small islands of the delta, where subtropical vegetation grows among sand dunes surrounded by white lilies. Letea Forest is the most popular and you shouldn't miss it!
We are happy to present this collaborative post to offer valuable information to our readers.