There's nothing more important in starting your first cycling tour than a mountain bike on budget that you can rely on.  Of course, there's always the matter of how much you would be willing to spend on such a bike to ensure that everything is smooth sailing. To get an idea you might want to check out this Buyer's Guide For Every Cyclist.
Fortunately, a sturdy and reliable mountain bike doesn't necessarily have to be expensive. In fact, if you're lucky enough, you can find one under 500. If an offer has caught your attention, then you should definitely check this article for more information on the best mountain bikes under $500.
Our Picks for the Best MTBs Under $500
1. Diamondback Response XE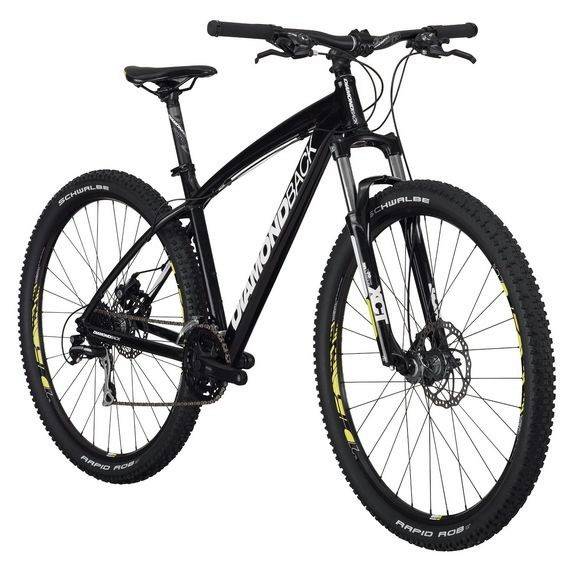 Let's start by talking about one of the most awesome mountain bikes that will surely give you a run for your money. The Diamondback Response XE is our number one choice for touring bikes. It is solid, yet light since it packs a Redesigned 6061-T6 Aluminum frame. This MTB has a 7-speed drivetrain, which is more than enough for both uphill and downhill rides.
Are you concerned about potholes or anything that might send you into the ditch? No worries, because the Diamondback Response XE has a 100mm frontal suspension fork to ensure a smooth ride. Because the bike was designed exclusively for off-road trails, it sports a twin mechanical disk brake system, which guarantees a smooth and accident-free stop.
On top of that, the Diamondback Response Mountain Bike comes equipped with 29-inch wheels which are more than a match for any kind of terrain, no matter how rough things get.
All in all, we have to say that the bike's name really managed to capture its strong points. It's very responsive, and with a price tag of $400, we think this is the best choice of an MTB for your first cycling tour.
2.  SE Bikes Big Mountain 24 Complete Mountain Bike
Our second MTB pick for your first cycling tour is the SE Bikes Big Mountain 24 complete. Not as responsive and light as the Diamondback Response SE, the Big Mountain 24 is still a good companion. The bike's frame is an SE 1 double butted and semi-integrated alloy to ensure uniform weight distribution.
Terrain-wise, even with the 27.5-inch wheels, this bike will take you everywhere you need to go. More than that, to help you across hills or slopes, the SE Bikes Big Mountain 24 pack comes equipped with a Shimano 24-speed shifter. The MTB has frontal 100mm fork suspension and two 160mm mechanical brake discs.
An elegant and trustworthy companion that will be sure to offer you an unforgettable experience. Word of advice – make sure you familiarize yourself with the shifter and gear. It might be a bit disconcerting to a newbie to see so many gears. So, give it a spin before beginning your first cycling tour.
3.      Nashbar AT1
Because this article is about the best options in terms of affordable mountain bikes, we give you the Nashbar AT1, a ride that was built for those on a budget. Although it is cheaper compared to the Diamondback or the SE Bikes Big Mountain 24, it doesn't mean that it cuts back on the quality. It is actually the opposite. AT1's frame is durable and excellent for panniers or another kind of bike attachments. It comes with a two 24-speed shifter system (Shimano and Sram), and, of course, a pair of double-walled wheels that are more than a match for any terrain.
We can definitely say that this is the best choice if spending too much of that hard-earned moolah on a mountain bike was not in your plan.
4.      Diamondback Hard Tail
Diamondback's Hard Tail is what you might call the Rolls Royce of mountain bikes, meaning that it was built to last. The only reason it is not our number one choice is its price. Unfortunately, if you want something this good, you'll need to dig deep into those pockets. More specifically, this bike has been made to go above and beyond the duty when it comes to difficult off-road trails.
It has an 8-speed Sramx3 shifter in the back, complemented, of course, by the 27.5-inch double-walled wheels. What does it all mean, you ask? Well, it basically refers to how the bike handles everything – it flies uphill like it is propelled by an invisible hand and blazes the trails as if it has a NASCAR engine.
5.      GT Karakoram Sport 29'er
The last item on our list is the GT Karokoram Sports 29'er, a unique, and, why not, trustworthy mountain bike. This 9-speed neon demon comes equipped with a lightweight T6 29-inch aluminum frame and a Zerostack tapered head tube. Although it doesn't have a frame suspension, the frontal one is more than enough to get you through almost every obstacle you could encounter on the trail.
The bike sports two types of shifting systems – front and back, both from Shimano Altus. Of course, this awesome mountain bike couldn't have been complete without a proper braking system– two Tektro Hydro discs with 160mm rotors. One can say that it is an MTB enthusiast's dream come true.
Conclusion
As you can see, there are many choices when it comes to mountain bikes for you first cycling tour. Check out Bike Stores Toronto to find amazing deals on bikes. Bear in mind that each bike has been designed for a certain purpose – some have impeccable braking systems, others can help you go up or down the hill faster. Some are cheaper; others are expensive. As always, it is up to you to decide which one suits your cycling style best.
We are happy to present this collaborative post to offer valuable information to our readers.