We are big believers in celebrating the empty nest, but one downside we've found is that getting the whole family together keeps getting harder and harder as our kids have grown and scattered across the globe. Add to that aging parents, along with the next generation of kids, and managing to vacation together becomes even more difficult.
But it's not mission impossible. A great solution can be a family friendly cruise holiday.
This solves so many of the problems associated with planning and pulling off a multi-generational getaway. Rather than booking hotels, restaurants, tours, and attractions for the individual tastes of each family member, the ship offers almost anything anyone could desire, and one booking covers everything.
Believe me; we still remember what it was like to travel with three kids in tow, so we understand how important keeping them occupied can be. Let's face it, mom and dad, and grandma and grandpa, are going to relax and enjoy the trip a lot more when they have some free time of their own.
Activities
These family-friendly floating resorts offer something for everyone, from children's play areas, puppet shows, and active dance and movement classes for toddlers; to sports days, game shows, music, and discos for the teens. And all ages are sure to love the water slides and pools at the Aqua Park.
As for the other two, or maybe even three generations, they can while away a day at the gym, or stretch out at yoga, or maybe feel the burn at a Zumba class. Perhaps a spa day is more in line, or a wine tasting, or best of all, just unwind and watch the ocean roll by with a good book.
Then everybody can meet up at the swimming pool for an ideal afternoon together.
Dining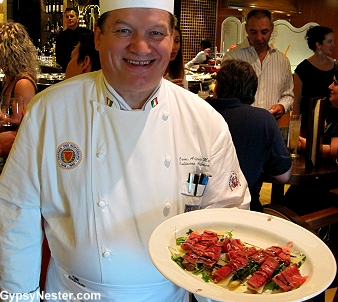 In our family, getting everyone to agree on a restaurant is like negotiating an international arms treaty, so we really can appreciate the value of the numerous dining options on board.
Whether it's kicking back at a coffee shop, or nibbling on tapas or sushi, or bellying up to a sumptuous spread at the buffet, the arguing will be replaced with happy sounds of contentment.
For a more memorable meal and family reunion, specialty restaurants offering culinary delicacies from across the globe can arrange an amazing dinner, and even accommodate reserved seating in a private space.
Entertainment
Whenever we get together with our extended family, after dinner doesn't mean the fun calls it a night. Good thing the options include shows featuring live acrobatics and circus feats guaranteed to astonish any aged audience.
For the older kids, and we are happy to still think of ourselves in that group, there are comics, dazzling dancers, or Broadway shows to choose from. After the show any number of nightclub choices await for cocktails, casino games, music, dancing, or just hanging out.
Often our best family memories are made when we get goofy and throw caution to the wind. So we always look to laugh it up at some of the crowd participation activities like trivia contests, or karaoke.
Accommodations
One thing we have learned on our previous cruises is that we don't spend much time in the room. Still, comfort and amenities are important, and with the whole family along having options is essential.
Many ships have Mini –Suites that sleep four, just right to fit a new family with younger children. They are conveniently located near the kids' area, and even have a private balcony.
Other couples, and singles, can split into convenient groups for cabins that provide privacy in the midst of all of the comradery.
Destinations
As fantastic as the ships are, nobody wants to spend all of their time onboard. Good thing there are almost endless choices of destinations to discover on a family-friendly cruise.
The most popular tend to sail to the Caribbean, leaving out of Florida and Texas, and we understand why. Young parents and kids can't always get away for more than a few days to a week and these trips work perfectly for those schedules, without sacrificing visits to incredible ports of call.
The wide array of destinations is extraordinary, such as Costa Maya and Cozumel in Mexico, where everything from Mayan ruins, to scuba diving, to jungle treks and motorcycle tours await, or Belize, famous for its rainforest nature reserves.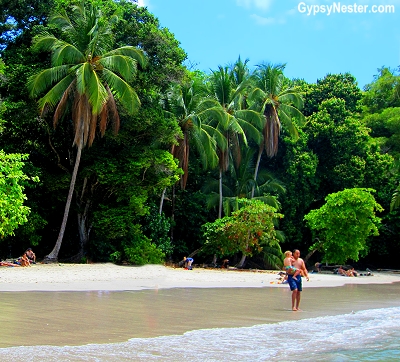 We even found a place that we have never been before, and those are getting rare, so the remote island of Roatán is over the top intriguing to us. About 30 miles off the coast of Honduras, it is known for gorgeous beaches and sensational snorkeling along beautiful reefs.
There are also a host of more far flung adventures available, such as exploring the ancient civilizations of the Mediterranean, the fjords of Scandinavia, the Spanish coast along with Portugal and Gibraltar, Hawaii, and something that has been on our list for ages, a voyage through the Panama Canal.
All of these deliver once in a lifetime experiences that will live on in the family lore for generations to come.
David & Veronica, GypsyNester.com