A big thanks to Ontario Travel for providing this beautiful adventure! As always, all opinions are our own.  
We wanted to check out every nook and cranny!
We got a taste of the 1000 Islands while visiting Kingston, but that was only an appetizer—or perhaps a salad.
Because the true entryway to Canada's side of the archipelago in the St. Lawrence River is the town of Gananoque, Ontario, known as the Gateway to the Thousand Islands.
Since the day was just about perfect, we took the opportunity to see them by both air and water.
In case an afternoon shower might pop up, air got to be first on our itinerary.
An early morning stop at 1000 Islands Helicopter Tours turned out to be the ideal way to start our day.
A Seagull's Eye View!
Once airborne, we could see for miles and miles—all the way back to the good ole USA.
We headed out across the water along the coast of the largest of the islands, Wolf Island, looking down at the eighty-six windmills—or more accurately turbines—that occupy the western end of the island.
We suppose that if we were inclined to try to verify that there are at least one thousand islands, this would be a good time to try for a count.
Watch:
Instead, our pilot, Eric, informed us that there are actually 1,864 islands, which begged the question: "What officially constitutes an island?"
Captain Eric's answer, and he certainly seemed to know his stuff, was that an island must be a minimum of one square meter above the water and have at least two living trees.
But it seemed that almost everyone we spoke to in the area had their own variation.
Of the several different definitions we heard, all were similar, but various amounts of square feet that were all close to one square meter, and sometimes only one tree, were common deviations.
No one addressed the possibility of dying trees.
By these rules, we worried that the total number of islands could be constantly changing.
Like poor Pluto, could an island be downgraded?
Enough of that, we were just happy to be soaring over them on a morning when it seemed as if we might be able to see them all.
The time flew right along with us, and before we knew it we were gently setting the chopper back down after an incredible flight.
Gorgeous Gananoque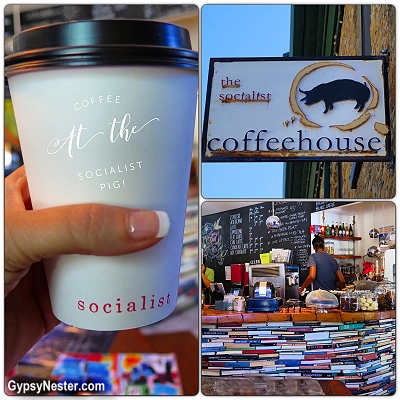 With our feet on the ground, we took a spin through Gananoque and a quick caffeine fix at the Socialist Pig Coffee House (with a name like that, we had no discipline to resist!).
A quick walk through the park across the street and we had just about covered the town and made way for the waterfront.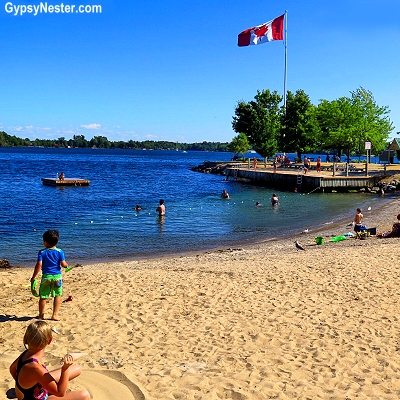 Though Gananoque is really not much more than a village, she has a hoppin' harbor where private pleasure craft and sightseeing excursion boats are constantly setting sail out to the one thousand eight hundred and sixty-FIVE islands.
In a matter of an hour, they seem to have found one more!
How are we supposed to keep up with that?
How a 1000 Islander Lives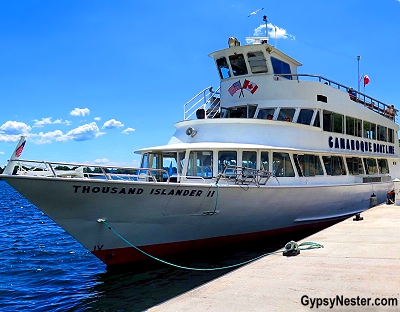 Having seen them from above, by boat looked to be our obvious next choice.
We booked the Shipwreck Cruise on The Gananoque Boat Line, which struck us as a little strange since all of the unfortunate vessels were well under the surface.
Underwater cameras revealed each of the sunken wrecks as we passed over them.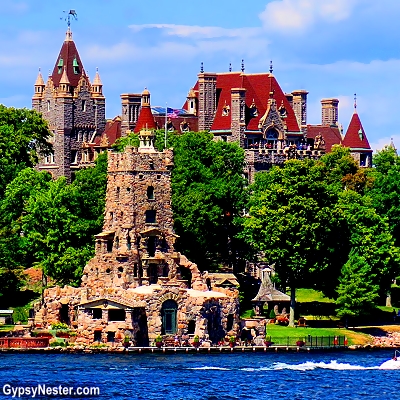 Cool as that was, for us the main attraction of the voyage was to see Boldt Castle.
 This six story stone structure was designed by George Boldt, creator and manager of the famous Waldorf-Astoria Hotel in New York, as a gift for his wife.
Tragically, she passed away before he could finish and the project was abandoned.
In 1977, the Thousand Islands Bridge Authority acquired the Island for one dollar—with the stipulation that all of the revenue from the castle's operation would go towards restoration.  Now, fifteen million dollars later, it looks better than ever.
The homes surrounding the castle aren't too shabby either,

our boat floated down what's been nicknamed Millionaire's Row

Boldt is also said to be responsible for bringing Thousand Island salad dressing to the attention of the world.
Once again there are variations to the story, but the most common tale is that a fishing guide's wife, Sophia LaLonde, made the dressing for her husband George's dinners. A client, actress May Irwin—famous for the first screen kiss in cinematic history—loved it and asked for the recipe.
She passed it along to Boldt, who then added it his hotel's menu in 1894.
The Pirates of the St. Lawrence River
St. Lawrence looks out over the goings-on of his river
The St. Lawrence River is a thoroughfare for shipping traffic, and has been since French trappers first began floating furs down the river, but we also learned about some of the less than legit boaters along the waterway over the years.
Early on, pirates preyed on shippers because the islands offered so many good hiding places.
For the same reason, bootleggers and smugglers had a heyday during prohibition.

The one and only man made 1000 Island. Regulations now

restrict this practice, so there will be no more of those

shenanigans!

With much more lax liquor laws in Canada, rum-running became a thriving business, often hiding the contraband on an island for pick up later.
Legend has it that some of the contraband is still hidden away on a few particularly secluded islands, or maybe on some of those dots that aren't even counted, since the smugglers would tend to forget where they put things every now and then.
We found ourselves fantasizing about stumbling upon one of those treasure maps where X marks the spot.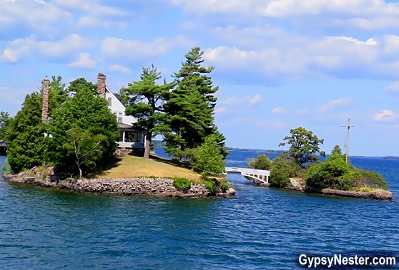 Our captain expertly picked his path through the myriad of islets as we turned toward home and we passed the smallest international bridge in the world between two of them.
Somehow the house on Zavikon Island is in Canada, while the tiny Little Zavikon Island just next to it is in the USA.
The owner built a tiny bridge, but not a customs office, which on closer inspection turned out not to be necessary since new technology has set the border barely below the southern tip of the little outcrop.
Hope they counted both of them.

Most folks use this bridge to cross between the neighboring countries.
Soooooo, How Many Islands Again?
In fact, that got us thinking, so we checked online at National Geographic. Certainly they would have the definitive number.
Quite the opposite, they decided to go the vague route saying only that the chain is made up of "some eighteen-hundred islands."

This island home was an important stop on the Underground Railroad, once past here fleeing slaves crossed into Canada.
Okay, we give up!
It was plain to see that we weren't going to solve our dilemma, and this action-packed day called for a relaxing evening.
The Glen House Resort proved to be just the spot.
Originally a collection of quaint Victorian era-homesteads and boathouses, the resort has managed to modernize without losing any of the charm it had when Trudy and Ed Seal purchased the property in the fall of 1962.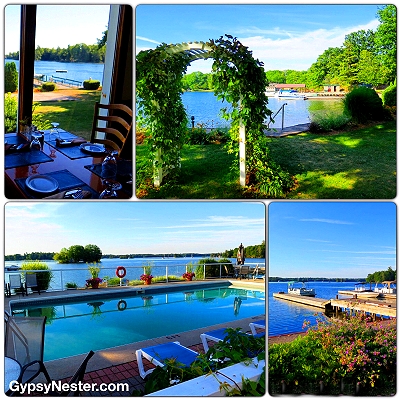 It helps that the view of the river and the surrounding islands has changed very little since then, and in the lounge they have maintained the feel of a North Woods fishing cabin.
The result is a perfect place to slow down, kick back, unwind, and forget all about counting.
After all, what difference does it make exactly how many islands there are in a thousand islands when they all look so good?
David & Veronica, GypsyNester.com
A big thanks to Ontario Travel for providing this beautiful adventure! As always, all opinions are our own.